This Major Clue About The Kardashian Pregnancies Has Been Hiding In Plain Sight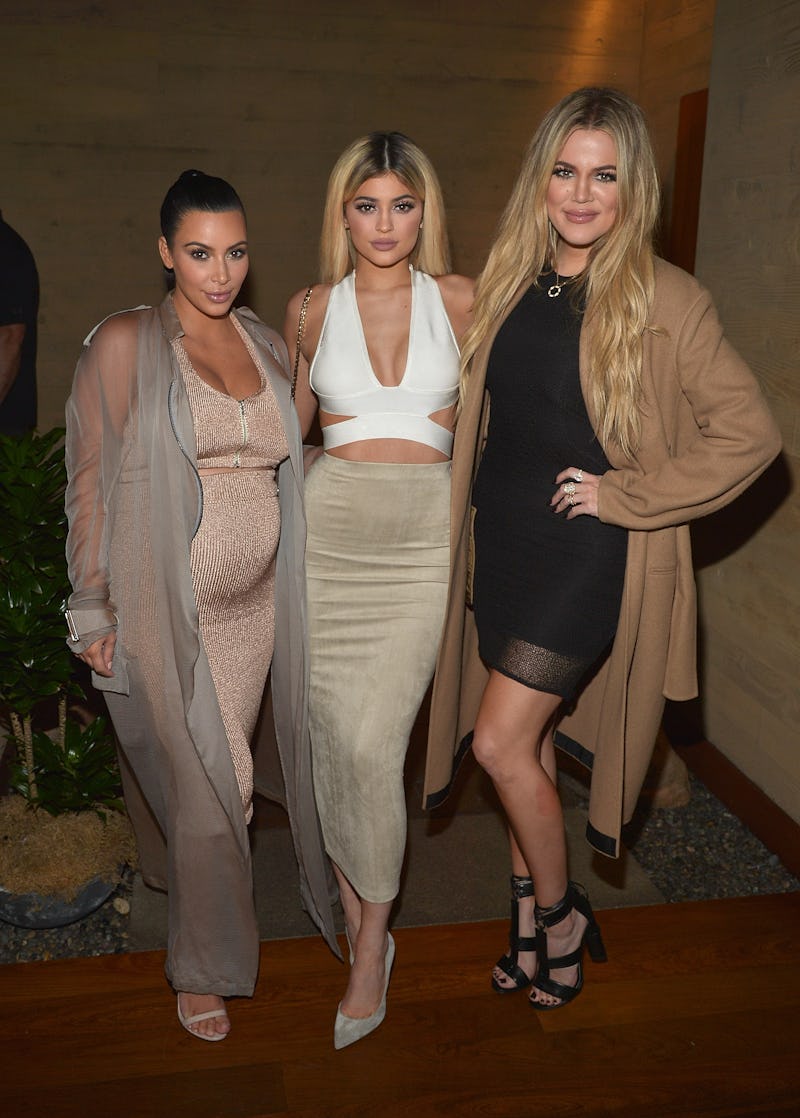 Charley Gallay/Getty Images Entertainment/Getty Images
As speculation around the rumored Kardashian pregnancies wears on, it looks like the biggest clue may have been hiding in plain sight: on Kim Kardashian's Instagram. In a cryptic photo posted back on Sept. 3, Kim may have confirmed all three Kardashian pregnancies in one fell swoop. Key phrase being "may have." And if you've been keeping up with the famous family, Kim appeared to officially confirm that she's expecting her third child via surrogate in a promo for the upcoming 10th season of Keeping Up With the Kardashians on Thursday, but for now, Kylie Jenner and Khloé's reported pregnancies are still strictly hearsay.
What fans do know? Multiple sources have reported that both Khloé and Kylie are pregnant; Jenner with her boyfriend, rapper Travis Scott, and Khloé with hers, Cleveland Cavaliers player Tristan Thompson. Neither Khloé, Kylie, or their respective significant others have commented on the rumors. (When the news broke, Bustle reached out to Khloe's rep and Thompson's agent, but did not receive an immediate response. Bustle also reached out to Scott's rep, but did not receive an immediate response; Kylie's rep could not be reached.)
Before the reports surrounding Khloé emerged, the sisters' mother, Kris Jenner, addressed the rumors circulating Kylie to The Cut, yet didn't confirm or deny her pregnancy either way. "She's not confirmed anything. I think it's kind of wild that everyone is just assuming that that's just happening," the momager said. Meanwhile, Kim dismissed some of the stories regarding Kylie as "fake" via Twitter, but also did not confirm or deny whether her younger sister is pregnant.
Nonetheless, the Instagram below feels a little too spot-on to be merely a coincidence. The image Kim posted earlier this month is innocent enough — Kim, Khloé, and Kylie are all just hanging out by the pool — but the caption is a little more suspicious. It plainly states, "The 3 of us..."
The Kardashians rarely do anything without intention, so it seems nearly improbable that Kim just so happened to post a snapshot of the three of them just weeks before all this baby news surfaced, and as the internet well knows, that ellipsis can speak volumes.
Plus, online sleuths have already put together a convincing well of evidence. Kylie has always been vocal that she wants kids sooner rather than later, so the fact that she could potentially be starting a family at 20 years old isn't all that surprising. She's also noticeably scaled down her social media, and according to Page Six, has stepped back from the spotlight in recent weeks, which could mean she's trying to keep things under wraps until she's ready to announce the pregnancy.
And the clues for Khloé are even stronger. During the Season 9 finale of KUWTK, she personally admitted that she was no longer taking birth control, and that she and Thompson had already begun talking about starting a family, though at the time, they hadn't decided anything. And then there was this heavily publicized Snapchat from June, in which Khloé and Thompson are pictured together alongside the caption "dad + mom." Granted, those are popular slang terms used by fans to denote their favorite celebrities, but could it also have meant something more, as the internet initially assumed? At this rate, it's looking very, very possible.
That being said, the Kardashians are some of the most visible, talked about figures in the world, and crazy, unconfirmed, and usually untrue rumors sprout up about them all the time. In fact, both Kylie and Khloé have shot down false pregnancy stories on numerous occasions, and during their recent KUWTK 10th anniversary special, the whole family laughed off some of the ridiculous things that have said about them over the years. So yes, Kim's photo seems like a pretty sold indicator that this time around the reports are valid, but until we hear it from them directly, no one knows for sure.