Kim Kardashian May Have Hinted At Her Baby Name & Fans Are Freaking Out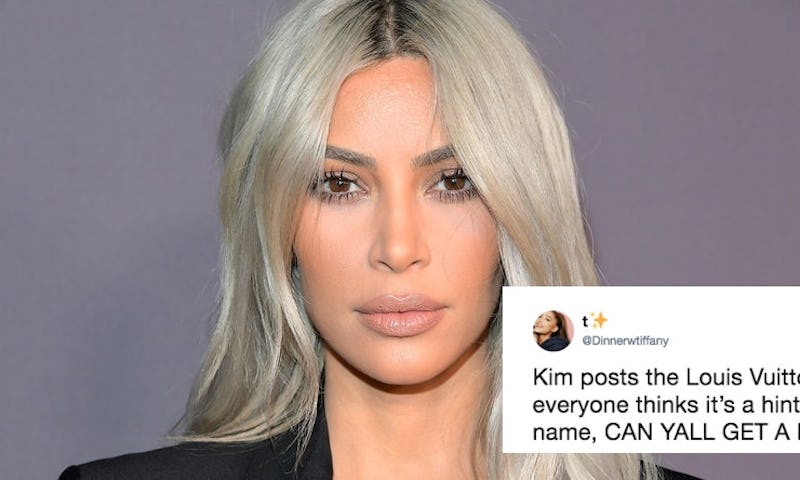 Charley Gallay/Getty Images Entertainment/Getty Images; Dinnerwtiffany/Twitter
Just a day after the reality star shared some major news, fans are already so eager to find out Kim Kardashian's baby name. After all, she announced the arrival of her and Kanye West's third child via surrogate on Tuesday, yet kept the details pretty scarce. After an intriguing Instagram post, fans are now wondering if Kim Kardashian named her baby Louis, as a reference to fashion designer Louis Vuitton. (Bustle reached out to Kardashian's rep for comment, but did not receive an immediate response.)
UPDATE: On Thursday, Kardashian confirmed the baby's name is not Louis Vuitton. Responding to a tweet from Us Weekly, she wrote,
"NOPE! It was Kim Jones last show and saw how amazing Naomi and Kate looked and wanted to snap a LV pic"
She also threw in a cry-laugh emoji to emphasize the humor in the situation.
EARLIER: First of all, this is Kim K — who named her other two children North and Saint West. Anything goes, and she should be allowed to name her offspring whatever she chooses. Secondly, fans will cling to any clues they can. When the reality star posted a photo of a close-up of a Louis Vuitton handbag on Wednesday night, the speculation went wild. So many comments, as well as tweets, are popping up and suspecting this is her way of teasing the big news.
Plus, given Kardashian's taste for luxury brands, you wouldn't put it past her to give her child as over-the-top a name as Louis Vuitton. Switching things up and naming her daughter Louis could also be a cool way to flip outdated gender stereotypes. But again, she has not confirmed anything.
Still, the internet is the internet — and they really do think this is a key clue. Or in the very least, hints at a few options.
Some People Are Convinced It's Louis
Just look at the caps lock in that comment.
It Could Be A Reference To Kanye's Lyrics
As this fan pointed out, it could fit Kanye's "Gold Digger" lyrics... but then again, would he really name his baby after a song called "Gold Digger"?
Still People Loved This Possibility
Yet another reference to the well-known lyrics.
Don't Worry, There Are A Few Options
Maybe it's not Louis Vuitton, but the initials that she was hinting at. "Elle V" could be cute.
Seriously, So Many Options
Again, anything is possible. These are all plausible name ideas. (OK, maybe not actually the VIP ones.)
Others Think It's A Stretch
This fan is very direct about their feelings.
But Some Are Genuinely Curious
Knowing Kardashian, it's a valid question.
This Person Felt Inspired
That's one way to make new life purchases.
People Are Committed To The Idea
This fan on Twitter spotted a fan account already popping up for the rumored baby name. That is dedication.
Keep The Clues Coming
From now on, fans will be keeping a close eye on any and everything she posts to social media. People just need answers.
While it does seem like the handbag could be a clue, let's all keep in mind that the Daily Mail reported on Wednesday that paparazzi asked Kanye West about the baby's name and he reportedly said, "Can't think of a name!" Is it possible that after saying they couldn't choose one, they had a burst of inspiration just hours later? Sure, anything can happen, especially when you're keeping up with the Kardashians. But until it's officially confirmed by the couple, it looks like everyone will have to wait this one out.
As for what fans do know, Kardashian's baby announcement read:
"Kanye and I are happy to announce the arrival of our healthy, beautiful baby girl. We are incredibly grateful to our surrogate who made our dreams come true with the greatest gift one could give and to our wonderful doctors and nurses for their special care. North and Saint are especially thrilled to welcome their baby sister."
Whether the name is Louis or not, there's a new Kardashi-baby. And that in itself is worth celebrating.