This Is What Really Happened When Pink Spit Out "Gum" At The Super Bowl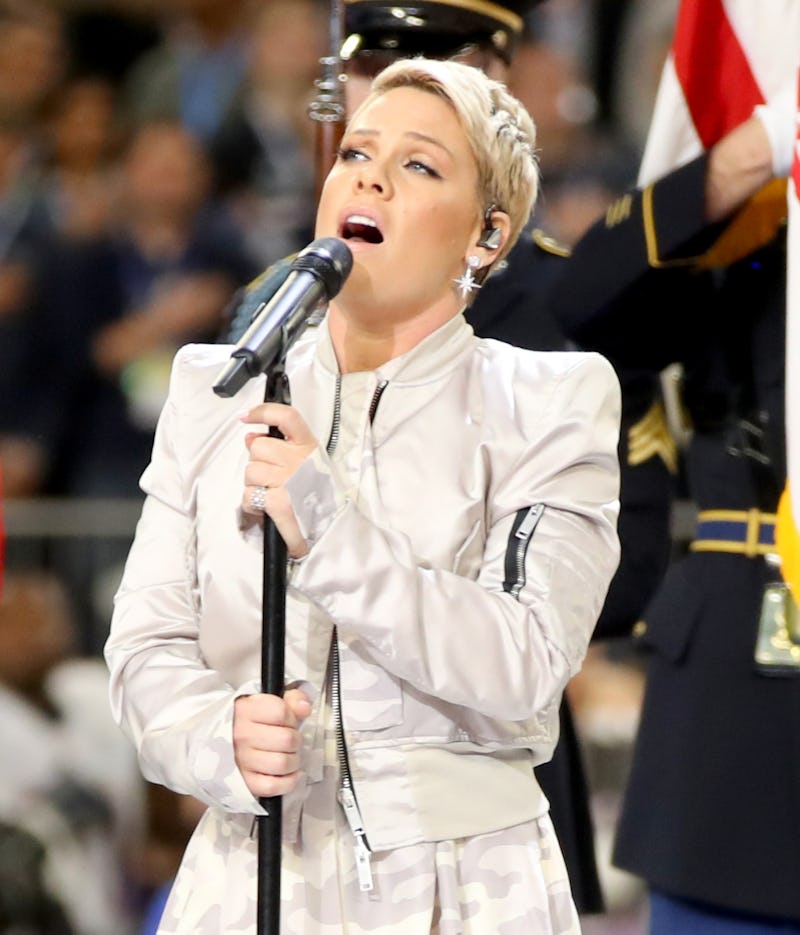 Christopher Polk/Getty Images Entertainment/Getty Images
Everyone loved Pink's halftime performance at the 2018 Super Bowl. The fact that she sang while suffering from the flu just added another layer of wonder to it, and the fact that she seemingly spit out gum right before made it even more amazing. Afterwards, Pink explained her Super Bowl gum moment on Twitter, and it turns out, it wasn't gum at all. In fact, it was a throat lozenge. That makes sense, considering that the Beautiful Trauma singer wasn't performing under the best conditions.
Nevertheless, Pink nailed the National Anthem, and not just for someone who's recovering from the flu. Nope, Pink nailed the National Anthem by a healthy person's standards. The singer has given the world thousands of reason to respect her. From her aerial performances to her willingness to speak truth to power, Pink has proven she's a remarkable woman. Now, with her flu-ridden performance, she's won everyone's hearts yet again — even before people knew she had to spit out a lozenge before singing.
In fact, people on Twitter praised the brazen singer for taking out what they thought was gum. Because who hasn't forgotten to throw a piece of gum out until right before they went into an important meeting or something like that?
For many, Pink's last second gum-disposal became the highlight of their game. It didn't really matter who won after that, as long as they'd seen Pink spit out her gum, it was worth it.
Even though people were ready to welcome Pink's gum-chewing habits into their lives with open arms, the singer herself set the record straight on Twitter. She didn't respond to anyone's specific Tweet about what happened, but she simply sent this message out to the public:
That makes much more sense. While it's fun to joke about that moment when Pink took something out of her mouth and threw it onto the field, that should not overshadow the jaw-dropping performance of the National Anthem that she gave.
Not only was Pink's performance a beautiful start to the Super Bowl, but it also marked a special moment in the singer's life. On an Instagram picture of herself practicing on the field, Pink wrote, "I've been waiting to sing this song since 1991 when I saw my idol, Whitney Houston, own this song." She then candidly explained why her health problems came up at the time. "Now, my chance has finally come. And it just so happens that this chance comes when I have two small Petri dish kids who literally cough INTO MY MOUTH and rub their snot on my cheek." That is exactly the kind of frankness that makes Pink so charming. And it's also the kind of casual spirit that made her gum/lozenge moment feel so perfect for her fans.
Aside from having wanted to sing the National Anthem at the Super Bowl since 1991, Pink had another personal connection to this year's football championship. The singer comes from Pennsylvania, and the fact that she would perform at a Super Bowl with the Eagles competing made it all the more perfect.
In another tweet folloiwng her freak out half-written in gibberish, she wrote, "I would bet money that my big brother is somewhere crying right now." Pink's husband, Carey Hart, posted a photo on Instagram of his wife's brother, Lieutenant Colonel Jason Moore, standing and saluting while Pink sang the National Anthem.
Fortunately for Pink — and her brother — the performance went perfectly. She belted the National Anthem so well that it didn't matter if she were chewing gum or sucking on a lozenge. She represented the country in a beautiful way, and her voice is what everyone should remember from the performance.