Pink Slammed The Grammys President For Saying Women Need To "Step Up" In This Twitter Note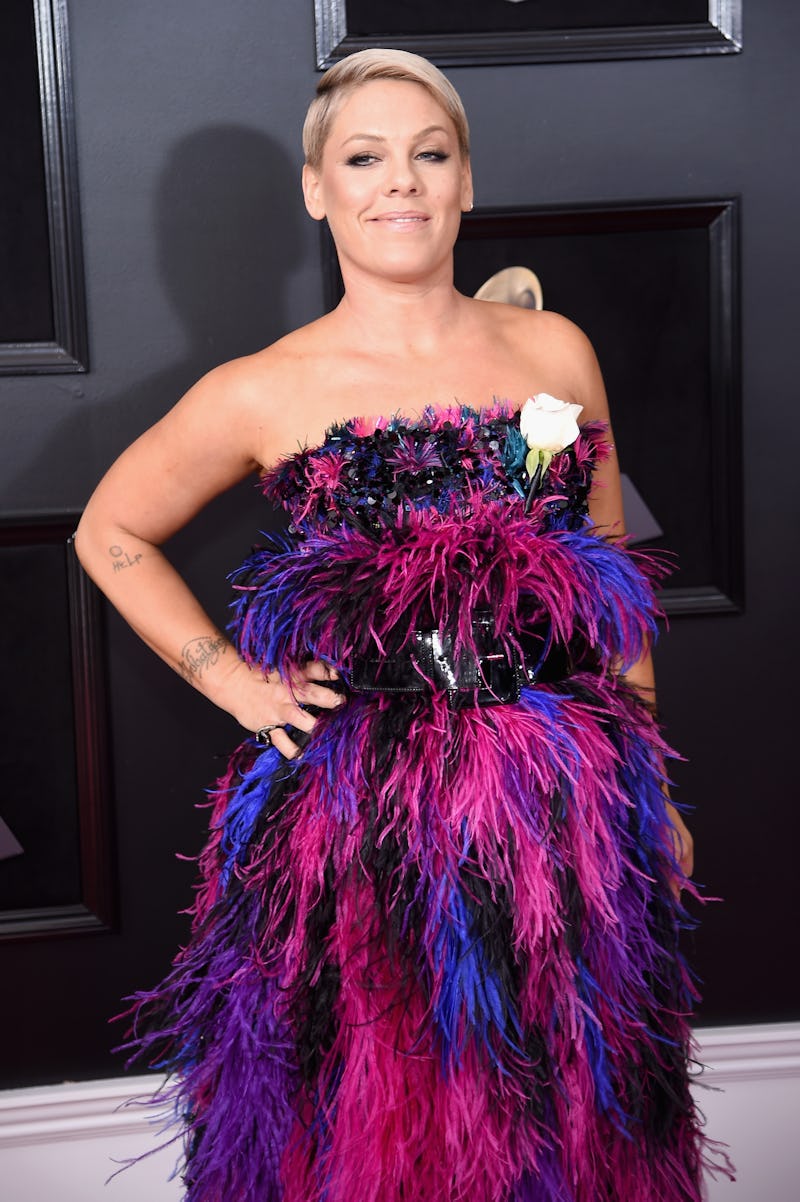 Dimitrios Kambouris/Getty Images Entertainment/Getty Images
Pink is taking Grammy President Neil Portnow's advice and stepping up against the comments he made about this year's #GrammysSoMale controversy. After male artists swept the majority of the categories featured on the 2018 Grammys broadcast — eight of the 10, to be exact — Portnow encouraged women to "step up" so that the Grammys will start honoring more of them. Pink slammed those women need to "step up" comments by noting that women have been killing it for years, whether the Grammys choose to notice it or not.
In a handwritten letter, which she posted to Twitter the day after the awards, Pink wrote:
"Women in music don't need to 'step up' – women have been stepping since the beginning of time. Stepping up, and also stepping aside. Women OWNED music this year. They've been KILLING IT. And every year before this."
After Pink's tweet, Portnow clarified his comments in a statement to Variety, saying that the words "'step up,' when taken out of context, do not convey my beliefs and the point I was trying to make." He added, "I regret that I wasn't as articulate as I should have been in conveying this thought. I remain committed to doing everything I can to make our music community a better, safer, and more representative place for everyone."
But his initial comment implied that it's the "women who have the creativity in their hearts and their souls" that are to blame for the Grammys not honoring more of them in major categories like Record of the Year or Album of the Year. He put the onus on female artists to change "because I think they would be welcome," instead of looking at what he and others in the industry can do to support them.
Pink wrote that honoring those female artists that have been leaders in the industry sends an important message to fans. "When we celebrate and honor the talent and accomplishments of women, and how much women STEP UP every year, against all odds, we show the next generation of women and girls and boys and men what it means to be equal," she said, "and what it looks like to be fair."
She makes the point that it's not women that need to change; it's the Grammys and how they treat their female artists. This year, they didn't exactly exemplify fairness when it came to their Album of the Year nominees. For the first time ever, there were no white male nominees for Album of the Year, but only one of those artists nominated was a woman: Lorde. But it was reported that she was the only one not invited to perform solo. While Lorde's fellow AOTY nominees — Kendrick Lamar, Childish Gambino, Bruno Mars, and JAY-Z — were invited to perform on their own (JAY-Z didn't perform, but was reportedly asked) — she was only offered a chance to perform in a Tom Petty tribute with other artists.
After this was reported, Lorde's mom Sonja Yelich tweeted a photo of the New York Times with a paragraph about the lack of female representation at the Grammys circled. It specifically said that "Of the 899 people nominated in the last six Grammy Awards, the report found nine percent were women." In parenthesis, it then noted that Lorde was the only woman nominated for Album of the Year, "she is not scheduled to perform." "This says it all," Yelich tweeted.
But these tweets don't say it all because the Grammys also missed opportunities to show their support for women. Kesha's powerful performance of "Praying" was the most-talked about of the night, but fans were disappointed when Ed Sheeran beat out Kesha at the Grammys in the Best Pop Solo Performance category. He was the only male artist nominated for that award, but more disappointing was knowing that he beat out Kesha and Lady Gaga whose songs dealt with personal pain.
"Lady Gaga wrote 'Million Reasons' in a healing process to recover from a severe heartbreak. Kesha wrote 'Praying' after being through her literal worst nightmare," one fan tweeted about the nominees for this particular award. But, as they pointed out, "Ed Sheeran wrote 'Shape Of You' about a club girl he was horny for. Congratulations Recording Academy. Thank you for this."
Other female artists disagreed with Portnoy, thanking Pink for her powerful words. Katy Perry tweeted, "Another powerful woman, leading by example." And Halsey tweeted that Portnoy's comments are an example of the bigger conversation music needs to have. "Nominees are selected by peers and their opinion of the music," she tweeted. "Which means it's a conversation about the standards of which the ENTIRE INDUSTRY expects women to uphold."
It's not just on women to make these changes, but on everyone to stand up and speak out for what is right. And, at the 2018 Grammys, what was right was standing up for the idea that women deserve more respect than they are currently getting. Portnow recognized this too in his new statement, where he said,
"Our industry must recognize that women who dream of careers in music face barriers that men have never faced. We must actively work to eliminate these barriers and encourage women to live their dreams and express their passion and creativity through music. We must welcome, mentor, and empower them. Our community will be richer for it."
Pink's words resonated with so many because so many want to see the Grammys do more to support its female artists — as Portnow's second statement emphasizes. But sadly, the statement doesn't change the fact, that this year, the Grammys definitely failed to do more.