Pink's 'Super Bowl' Performance May Sound Different For This One Relatable Reason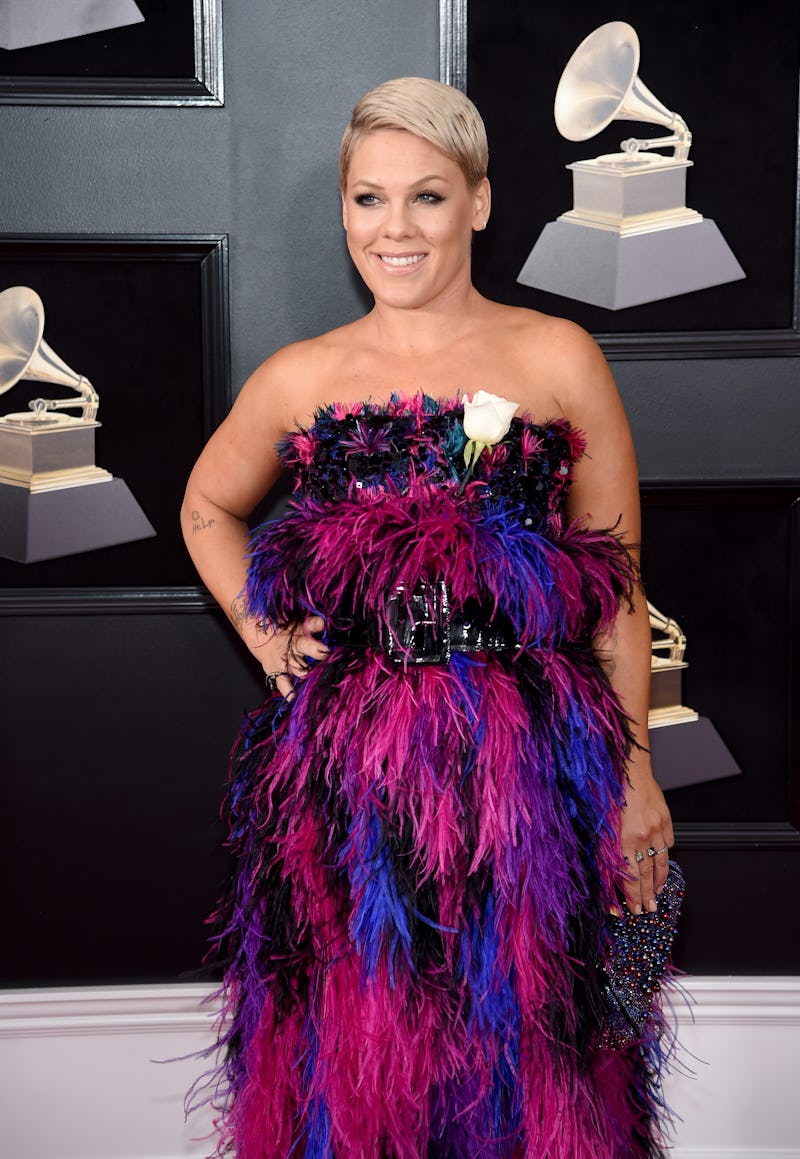 Jamie McCarthy/Getty Images Entertainment/Getty Images
Even when your dreams come true, there's no guarantee that life isn't going to throw a coughing and sneezing fit in your path. On Instagram on Saturday, Feb. 3, Pink revealed that she has the flu just one day before she's set to perform "The Star-Spangled Banner" at the 2018 Super Bowl.So, Will Pink still perform at the Super Bowl? As long as her voice doesn't disappear completely, it sounds like the "What About Us" singer isn't going to let anything stop her from taking to the field — and that includes germs with bad timing.
It seems that Pink caught the flu from her kids — Willow Sage, 6, and Jameson Moon, 1 — and parents everywhere are likely relating so hard to the singer's plight. The flu season is worse than ever this year, and avoiding getting sick when you have kids is almost impossible. Even though Pink sounds frustrated about trying to rehearse when she's not at her best, she made it clear that her kids come first no matter what. After lamenting the irony of having her longstanding dream of singing the National Anthem at the Super Bowl come true only to be hit by a bought of the flu, Pink wrote on Instagram,
"As far as the gremlins that got me into this mess, you can cough at me for the rest of your lives. If it's a contest, babies, you win."
Not only is Pink a total fighter, it also sounds like she's an amazing mom.
She's also not giving up on her dream without a fight. According to her Instagram post, Pink has been daydreaming about performing at the Super Bowl since she watched her "idol" Whitney Houston sing the National Anthem at the 1991 game. In the caption on her rehearsal photo, Pink explained exactly why this performance is so important to her. The singer wrote,
"I've arrived at another one of my dreams which is slowly becoming a sort of nightmare. I will tell you, this is one of the biggest honors of my life, singing this song in front of my family, my military family, my dad and brother and step mama and family and the world. And the EAGLES!?!?! I promise I will do my best, as I always do."
It's clear that Pink is simply not a quitter. Even ailing from the flu, she's pushing herself to make sure she can give the best possible performance for her family and fans. Her perseverance is as inspiring as her flu predicament is relatable.
While it's amazing that Pink is fighting so hard to make sure her Super Bowl performance goes ahead as planned, it's important to remember that the flu is no joke. This flu season has been particularly severe in the United States, and according to the CDC's weekly report, this flu season has already led to the highest number of hospitalizations (51.4 per 100,000 people) since they began tracking the statistics in 2010.
Pink is definitely not alone in dealing with this awful virus, but it's safe to say that not many people have to deal with the flu and performing in front of most of America at the same time. The singer's situation is one that no one is going to envy. Who wants to do anything when they don't feel well, never mind performing at the Super Bowl?
Just remember, if Pink does head out on that field this Sunday, then she's doing it despite feeling awful. No matter what, she's a total champ, and after she rocks the National Anthem, this loving mom deserves to be whisked away somewhere warm and cozy where lots of soup and rest are readily available.