Why Jelena Fans Shouldn't Be Too Worried About The Rumors They're On A Break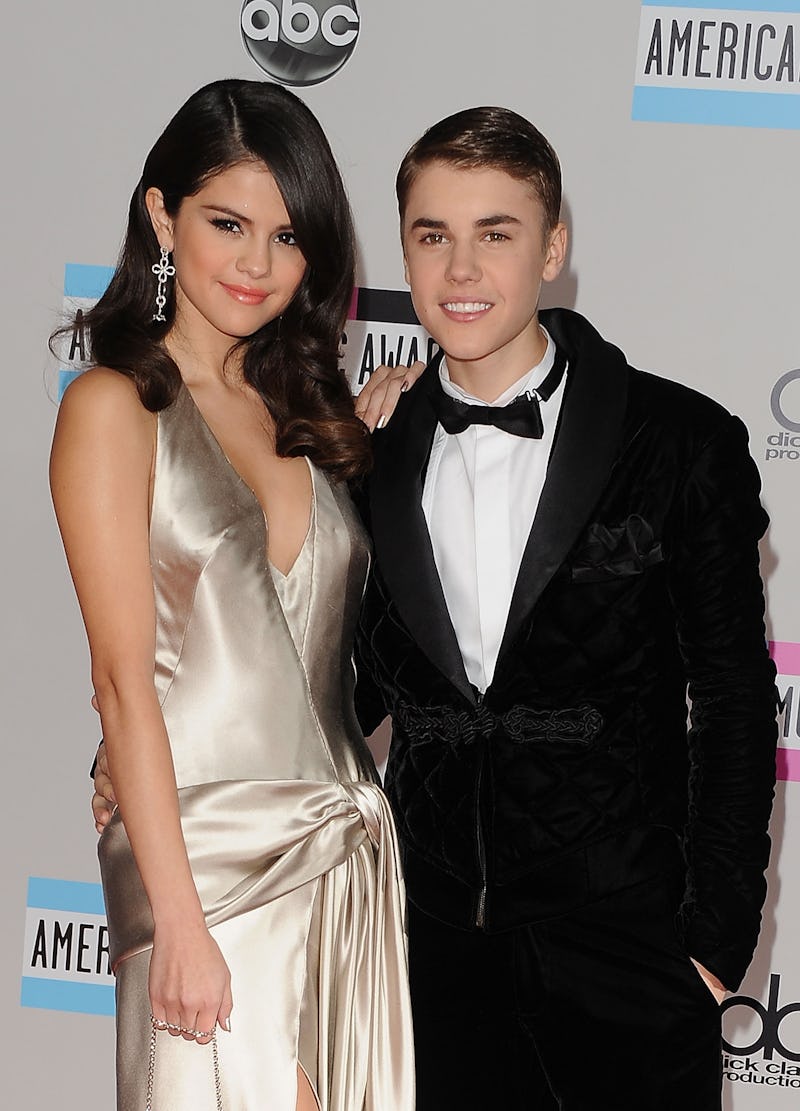 Jason Merritt/Getty Images Entertainment/Getty Images
Jelena fans, prepare yourselves. According to a Wednesday report from E! News, Selena Gomez and Justin Bieber are taking a break. What does this mean exactly? Did Bieber and Gomez break up? Per multiple sources, it doesn't sound like they are over for good, but simply need a breather and even continue to talk during their reported hiatus. (Bustle has reached out to reps for both Gomez and Bieber for comment, but did not receive a response at the time of publication.)
An insider told E! News, "They were having a lot of little disagreements recently and one fight in particular blew up and caused them to decide to 'break up,' however, they've been in contact the entire time and their feelings for each other have not changed."
If shippers are worried this supposed break is permanent, fret not, because the same source added, "They will absolutely get back together and they are not over, but they both need some time away from each other."
However, another insider told E! News that the "Wolves" singer hasn't seen Bieber since the day before his birthday on March 1. Another source also told E!, "They both have expressed that they have been feeling overwhelmed with a lot of pressure that has come with their public relationship, and haven't been seeing eye to eye on things."
All that said, if you ask Entertainment Tonight, Gomez and Bieber are "still together", per a source who spoke with the outlet. Jelena was even spotted together leaving church in Los Angeles Wednesday evening, which disputes reports that Gomez hasn't seen the "Sorry" singer since around his birthday. Maybe this is their way of shutting down rumors that they're taking time apart?
According to ET's source, it's not uncommon for them to have distance between them. "It's not because they are broken up or taking a break," the source clarified. The same source explained that even though Bieber and Gomez aren't breaking up, "They have issues just like any other couple."
Ever since reconnecting in October 2017, after dating on and off four for years and then splitting up in 2015, Gomez and Bieber haven't been able to escape the spotlight. In November 2017, the 13 Reasons Why executive producer spoke with Billboard about why she brought Bieber back into her life. She said, "I'm 25. I'm not 18, or 19, or 20. I cherish people who have really impacted my life. So maybe before, it could have been forcing something that wasn't right. But that doesn't mean caring for someone ever goes away." To be clear, neither Bieber or Gomez have ever straight up confirmed they are dating or together romantically; although they have been spotted together often, including being affectionate with each other at his father's wedding.
As you can see above, Gomez wished Bieber a happy birthday on Instagram on March 1. Next to an image of herself with what appears to be a photo of Bieber on her forehead, she wrote, "March 1, 1994 someone I know that happens to be super cool was born. Boom." Seeing as that was only six days ago, that seems to be a good sign that all is probably still well between the two, even if they are on a break.
Whatever is going on between them, fans can't help but react to the news. Here are just a few of many tweets.
Stop Being Dramatic
Selena's Feminism Is Being Applauded
Wait, Are They Even Together?
None Of This Makes Sense
This Isn't Surprising At All
They Sure Do Take A Lot Of "Breaks"
When Will They Stop Making Headlines?
Who knows what's going on with Bieber and Gomez, but any news surrounding them certainly puts their fans into a frenzy.