Selena Just Posted Her First Insta About Justin Bieber Since They Got Back Together & WHOA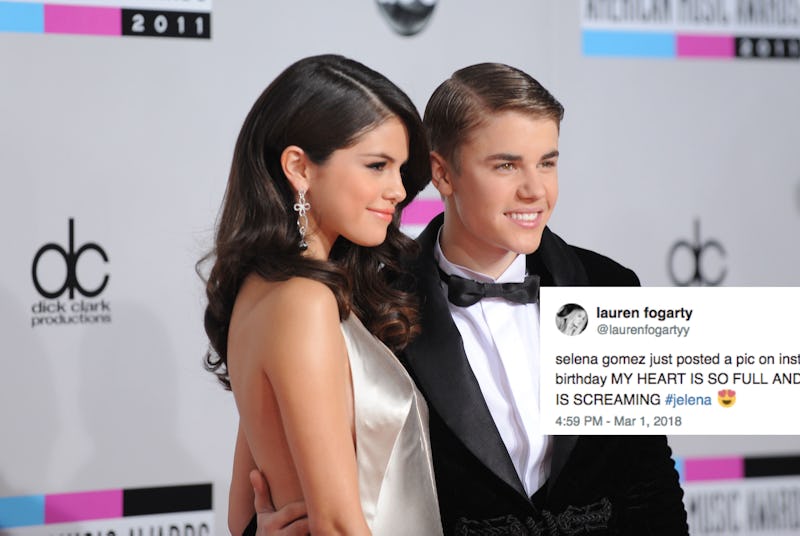 Jason Merritt/Getty Images Entertainment/Getty Images; laurenfogartyy/Twitter
She can't keep her 'gram to herself. Y'all, it sure looks like Selena Gomez wished Justin Bieber a happy birthday on Instagram. However, she kept things vague enough that fans were left to piece it together themselves. Gomez wrote in the caption:
"March 1, 1994 someone I know that happens to be super cool was born. Boom."
On Thursday, March 1, Bieber turned 24. That same day, Gomez Instagrammed the above birthday shoutout to a special someone. And while they haven't made any official public declarations regarding their current relationship status, Biebs and Gomez have been hanging out a whole lot as of late. Put all of those details together, and what have you got? A Jelena birthday moment, that's what.
The "Hands To Myself" singer doesn't come right out and say the post is dedicated to Biebs, but uh, it's probably dedicated to Biebs. Unless there's someone else in her life who also was born on March 1, 1994, it seems reasonable to assume that the post is about Bieber. And that Polaroid that's in the picture? It may or may not be of Bieber. You know what this means: Jelena really, really seems to be happening. And yeah, fans have some feelings about this birthday message.
The Ballad of Bieber and Gomez began in 2010 when they went on a date to IHOP. Over the next few years, they broke up and got back together several times, rode Segways around Calabasas, butted heads on social media, and started seeing other people. The two pop stars seemed to be through once and for all in 2016 when Gomez told Rolling Stone, "And honestly, what I would love to be printed is that I am so beyond done with talking about that, and [Bieber]." It sounded like she was trying to move on from her on-again, off-again boyfriend once and for all.
But then, it happened: Some time after she and the Weeknd broke up last year, Gomez was seen out and about with Bieber. They were spotted smooching at Bieber's hockey game. They reportedly celebrated Valentine's Day together. They were photographed at Bieber's dad's wedding together. And now, one has been spotted wishing the other a happy birthday on Instagram. Boom. Cue the freakout.
Fans Are Thrilled
There's a lot of happiness going on at the moment.
The Image Will Be In Hearts Forever
As it should.
Hearts Are Full
And happy screams are happening.
So Many Happy Screams
Let 'em rip. Let every last happy scream rip.
Fans Are Letting Their Jelena Love Shine
The wait seems to be over. Celebrate accordingly.
Jelena Hearts Can't Take It
Totally understandable.
Feels Are Happening
Also perfectly understandable.
Fans Are Shook
*Sings "Wildest Jelena Dreams" to the tune of Taylor Swift's "Wildest Dreams."*
You Don't Have To Be A Jelena Stan To Care About This Post
This post is just that cute.
This Is Too Real
Such is the power of a Jelena birthday post.
Jelena Is Rising Like A Phoenix From The Ashes
Let Jelena soar.
Jelena Birthday Mood Is A Thing
Embrace it.
This Is Quite True & Relatable
Kylie Jenner shared an adorable photo with Stormi and Gomez posted a birthday note for Biebs on the same day? It's overwhelming in the best way.
And Finally, Here Are Some Wise Words To Live By
An A+ piece of advice.
Needless to say, Gomez's post was a major moment for Jelena shippers far and wide. On March 1, 2019, be sure to wish Bieber a happy 25th birthday and to wish this iconic birthday Instagram post a happy first birthday.