'Dirty John' Is More Than A Story About A Woman In Need Of Saving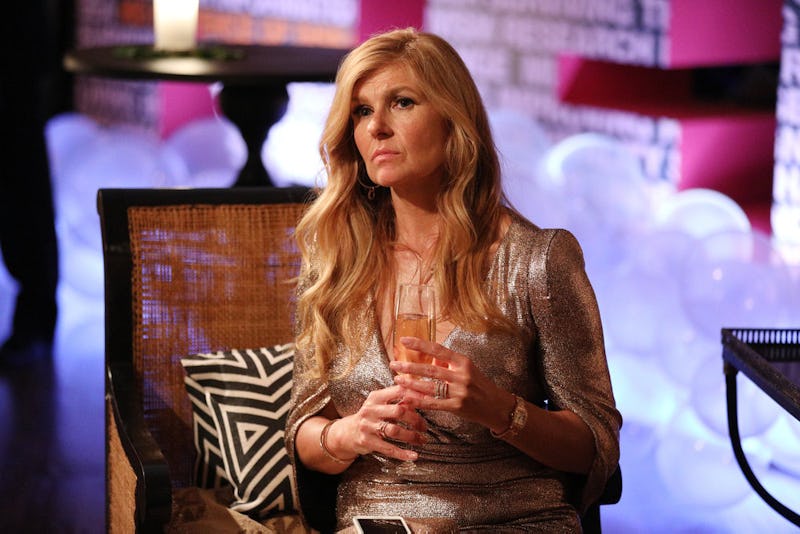 Jordin Althaus/Bravo
As anyone who has watched a significant amount of Lifetime Original Movies knows, films and TV series that feature a woman being conned by a deceptive man can fall into certain tropes. Which is why Bravo's Dirty John, based on the real story of Debra Newell and John Meehan, made an effort to go deeper. As showrunner Alexandra Cunningham recently explained in an interview with Variety, Dirty John doesn't give a stereotypical portrayal of women as unsuspicious victims.
Newell's story gained national attention due to a series of articles and a podcast by Los Angeles Times reporter Chris Goffard. However, according to Variety, Newell and her family weren't as involved in the production of the podcast — beyond giving interviews — as they were in the production of the new series. And, by working with the real Newell and her family, Cunningham was able to give more insight into Debra's mindset, allowing Dirty John to go beyond the oversimplified interpretation of a man just taking advantage of a woman.
The first episode is a prime example of the difference between the Dirty John podcast and Dirty John the television show. "The first episode is doing something that the podcast didn't do — it's putting you deep into the emotional situation that gave birth to all of this in the first place," Cunningham said to Variety. "We wanted to put people into the middle of the experience that Debra was having with John so they could understand why all of these things happened." The premiere of Dirty John, which doesn't air until Nov. 25, but is already streaming, really focuses on the emotional circumstances that caused Newell, a smart interior designer, to fall for con artist Meehan.
Even if you don't know every detail of Newell's story, audiences watching Dirty John will know that Bana's John is placing Britton's Debra and her two grown daughters (portrayed by Juno Temple and Julia Garner) in jeopardy. And kind of like with horror movies, that can make viewers feel superior to the characters that are being manipulated. But Cunningham said she didn't want to Dirty John to come off as "just a woman in peril story."
Even though Dirty John takes some liberties with the truth, Cunningham strove to highlight the real-life complexities behind how an intelligent, accomplished woman could be conned by this man — especially when her daughters voiced their concerns. So, while the podcast spent quite a bit of time on all the warnings and red flags seemingly ignored or misunderstood by Newell, the show is quick to move on. Instead, according to Cunningham, Dirty John makes an effort to quickly get to "the part where she understands what she's dealing with, as opposed to telling one of those stories where everyone knows he's bad but her for a very long time." Instead, the showrunner said the show addresses one main quesion: "Why don't women listen to themselves or each other, and what does that have to do with how we've been conditioned to relate to each other and men?"
Beyond the Bravo series, Newell's story will also be told through an Oxygen documentary. The actual Newell has been involved in these projects and told Variety, "It was really important to me to get through to other women what could happen for them, and for the ones that it has happened to, to let them know that they're not alone."
So while the events of Dirty John are certainly sensational, the team behind the series didn't want them to be sensationalized. Rather Dirty John attempts to explain how Newell could end up in this position through the intricacies of human nature and the established dynamics between the genders.