The DJ Taylor Swift Sued Finally Paid Her $1, But In The Most Insulting Way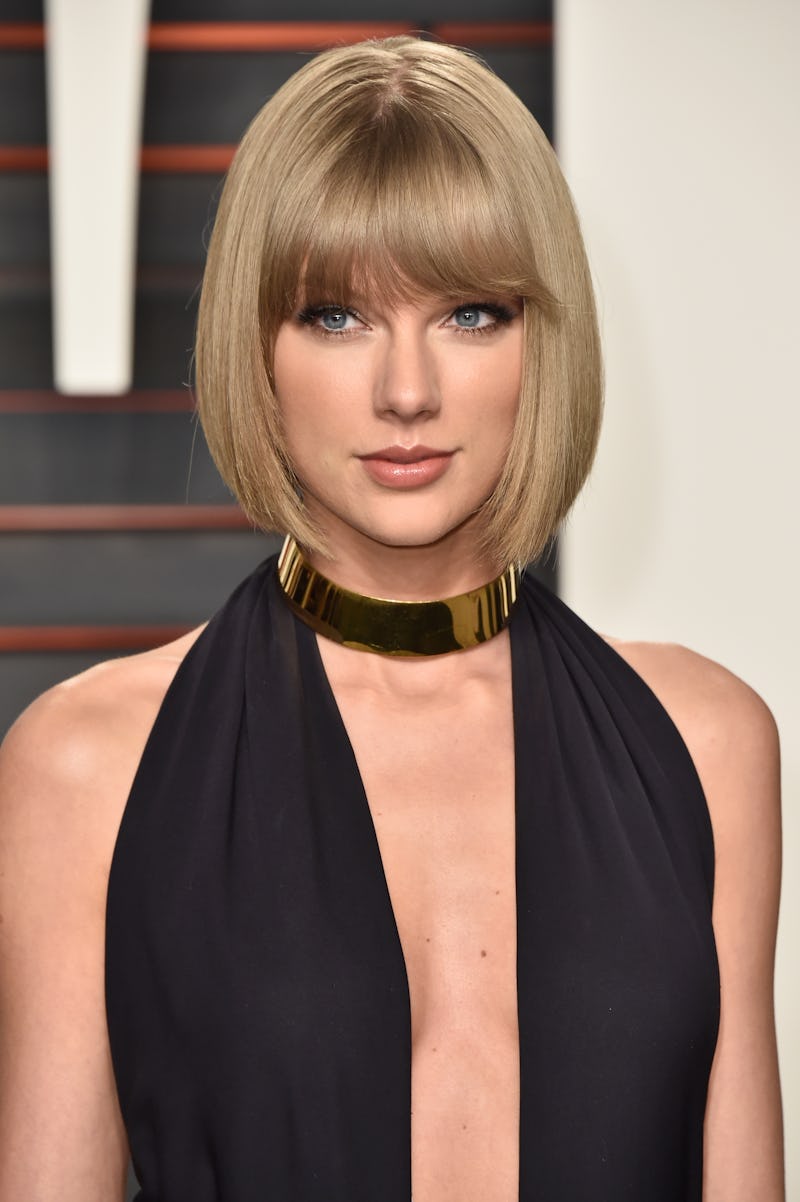 Pascal Le Segretain/Getty Images Entertainment/Getty Images
A few short months after Taylor Swift's lawsuit against David Mueller wrapped up, the DJ has paid up — but not in the way you'd expect. While talking to the Associated Press, Mueller said he paid Swift the symbolic $1 in the form of a Sacagawea coin as a way of getting one last jab in at the singer. But because of what Mueller was trying to communicate through his creative payment, it's quite obvious that he still doesn't get the point Swift was trying to make by holding him accountable for his actions.
According to the AP (via People) Mueller said that he sent the payment last week, reportedly sending proof of payment being made on November 28. Swift claimed she still hadn't received the dollar in her Time Person of the Year interview, which was released earlier this week, although, the interview may have happened before Mueller sent in the payment.
In August, when he first revealed that he was thinking about issuing this form of payment, Mueller also shared with the AP that the reason he wanted to use the $1 coin was because Sacagawea is a woman, and he wanted to take a "poke" at the idea that Swift is fighting for women's rights.
"I mean, if this is all about women's rights. . . this is a poke at them, a little bit," Mueller said. "I mean, I think they made this into a publicity stunt, and this is my life."
Bustle reached out to a rep for Swift for comment on Mueller issuing his $1 this way, but did not receive an immediate response.
The battle between Swift and Mueller first began when Swift claimed that Mueller groped her during a meet and greet in 2013. Although Mueller initially sued her for $3 million because he felt her accusation led to him being fired from his radio job, Swift filed a countersuit against him for that infamous $1. In August, Swift took the stand when the suit finally went to trial, and the jury ruled in her favor.
That should have been the end of it, but it wasn't. Mueller is obviously still miffed about the trial's outcome and retaliating by taking a "poke" at women's rights is the wrong choice. With all of the recent allegations about sexual assault constantly coming out of Hollywood, women are finally being heard and men are finally seeing consequences for their actions. For so long, women haven't been taken seriously, and as a result, a lot of assault goes unreported and these women never get the help they need. Acting like Swift and women like her need to be taken down a peg is the wrong message for Mueller to send anytime, but especially during a sexual assault reckoning like the one we're all living in right now.
Women shouldn't have to apologize for standing up for themselves or be retaliated against for reporting their assault. Mueller losing his job isn't Swift's fault — seeing as he has now been found guilty, it's his own.
When Swift won the case, Rape, Abuse, & Incest National Network (RAINN) president Scott Berkowitz told ABC News that her victory was "a great demonstration to other victims" who could be encouraged to come forward because of the example she set. He added, "Seeing someone that they respect, that they identify with [state they've been assaulted], has a big impact."
That's obviously no small task, and for Mueller to undermine that is dangerous. Sending the coin is incredibly petty, and it speaks to the idea that women may not come forward to report abuse or harassment for fear of not being taken seriously. Taking action against someone who has sexually assaulted you should never be called a "publicity stunt," including what Swift did by countersuing.
In fact, what Swift did in holding Mueller accountable, even for that symbolic dollar, is an awesome thing for women everywhere. Instead of being blamed for Mueller's downfall, she deserves to be recognized for calling attention to a serious issue that affects far too many women.
If you or someone you know has been sexually assaulted, call the National Sexual Assault Telephone Hotline at 800-656-HOPE (4673) or visit online.rainn.org.