These Exes Could Help Each Other Find Love On 'Bachelor In Paradise'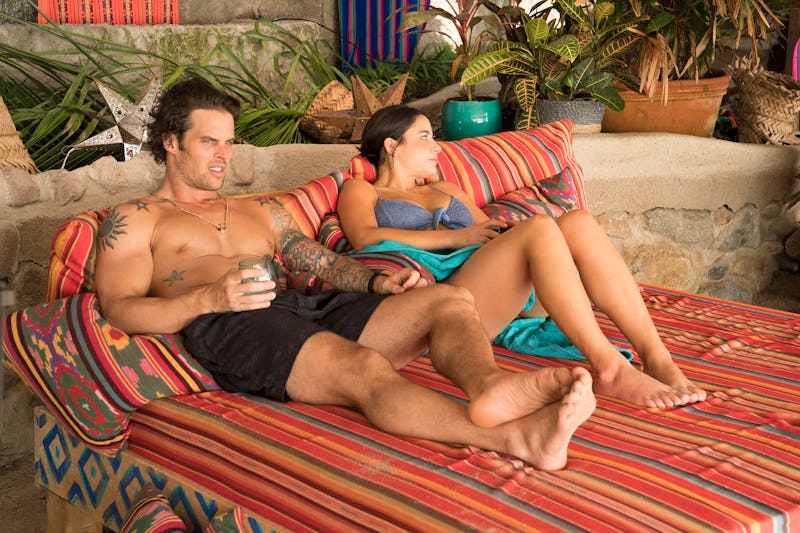 Paul Hebert/ABC
Although Kevin ended Bachelor Winter Games dating Ashley I., she wasn't the only contestant he had his eye on during the show. And, now that Kevin and Ashley have broken up, and he's on Bachelor in Paradise, will Kevin and Bibiana get back together? It seems like fate that they were cast for a potential second chance on the summer spinoff together.
A lot has happened in Bachelor Nation since Bachelor Winter Games aired back in February, so you'd be forgiven for forgetting Bibiana and Kevin's brief relationship. At first it seemed Ashley I. was destined to be the losing part of another love triangle like she was on Bachelor in Paradise with Jared and Caila (although, come to think of it, she's won that one now).
Ashley was totally into Kevin on Winter Games, but so was Bibiana. Kevin and Bibiana hit things off when he taught her how to ski, and he later asked her out on one of the show's first dates. After that, though, he ended up pursuing Ashley for the majority of the season. As for Bibiana, she later gravitated towards former Bachelor New Zealand star Jordan.
Ultimately she and Jordan also called it quits though, because Bibiana thought the relationship was moving too fast. She said on the show of the breakup:
"You find this amazing guy who makes you laugh, who makes you feel all these things, who you just have like these crazy coincidences and you can't believe he's right in front of you but then you just rushed. And you realize that you're not on the same page."
Now, Bibiana is entering Bachelor in Paradise as a single woman ready for her third chance at TV love. Will she rekindle it with Kevin? Probably not, as she told Entertainment Tonight that she and Kevin were just friends. "He's such a cutie though," she added, stating that she hopes he finds his own person during BiP. "He's a good friend of mine. I adore him, he's a charming man, and he definitely deserves to find someone."
Bibiana could rekindle something with another Winter Games flame, though, because Jordan will also be in Paradise. She seemed very excited about that possibility in her interview with ET. "If [Jordan] shows up here, it's because he's looking for the same thing I am, and it's just another chance at finding someone," she said.
Maybe now she'll be more ready to explore a future with him since she's already gotten to know him and it won't be quite as rushed of an experience (although BiP does film over only a matter of weeks). In any case, she told ET she's looking for a man with sense of humor, confidence, and drive. Time will tell if Jordan can be that for her this time around.
And, if you're sad that Kevin won't have a second chance with Bibiana in Paradise, don't be. The trailer shows him kissing a mystery brunette, so maybe he did find love after all.
Of course, another trailer also shows him sobbing, so who knows how this whole experience goes for him. Viewers can find out for themselves beginning Aug. 7 on ABC.