This Is How Long 'Bachelor In Paradise' Season 4 Actually Filmed For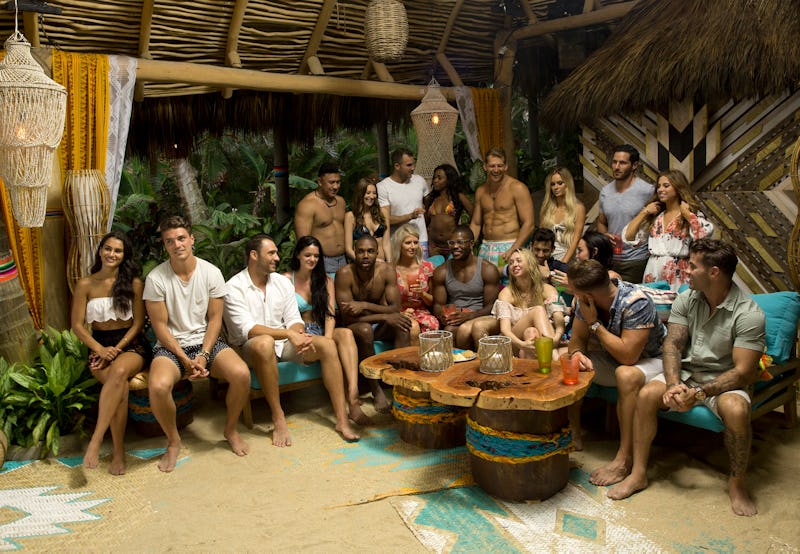 ABC/Paul Hebert
After an immense amount of media coverage, Bachelor in Paradise returns for its fourth season on Monday night. While the spinoff has always had a short filming period, the controversy early in the season trimmed this one down even further. Exactly how long did Bachelor In Paradise Season 4 filmed for has been suggested to be between 10 and 14 days. (Bustle has reached out to ABC for comment, but did not receive an immediate response.) That means you probably shouldn't hold your breath for any engagements at the end of this season. Or maybe do, because who knows? Whirlwind romances are Bachelor Nation's bread and butter.
ABC hasn't released any official numbers, but according to reported insider accounts, filming seems to have begun on or slightly before June 4. On that day, Corinne Olympios and DeMario Jackson's alleged sexual encounter took place. (Warner Bros. investigated the incident and found no evidence of wrongdoing.) Production was halted soon afterward and didn't resume until June 24, at which point they had already lost a lot of time. What's unclear is exactly how much.
On the low end of the range of numbers we have Wet Paint, who quoted returning cast member Vinny Ventiera as saying, "[Filming] was cut down to 10 days." But Reality Steve claims that the show resumed for 10 days, but most likely won't throw out the footage from the time before filming was halted.
He went on to claim that the early film reportedly includes three one-on-one dates, which production is unlikely to trash. According to the numbers he's working with, Bachelor In Paradise Season 4 filmed for 14 days total, from June 3 to June 5 and then from June 24 to July 4. Regardless, while it's certainly a decrease, it isn't actually that significant a difference from any other year.
For reference, a typical season of Bachelor in Paradise films for just under three weeks. According to Reality Steve, Season 2 filmed for 20 days, from June 4-24, 2015. As you might recall, that season resulted in one engagement, between Jade Roper and Tanner Tolbert. (They later married and are now expecting their first child.) Season 3 was even shorter, at 18 days; Reality Steve reported that it filmed from June 8-26, 2016. Despite that, the show turned out more engagements, with three couples taking the leap in the finale. (Only one actually made it down the aisle, however: Carly Waddell and Evan Bass, who are now also married and expecting their first child.)
Two weeks might sound like the blink of an eye to you, Vinny describeed the experience to Wet Paint as "rapid-fire," saying it involved "'less hours of sleeping, up bright and early." So, don't rule out any Season 4 engagements just yet.