It's Way Too Soon To Demand Pics Of Kim K's New Baby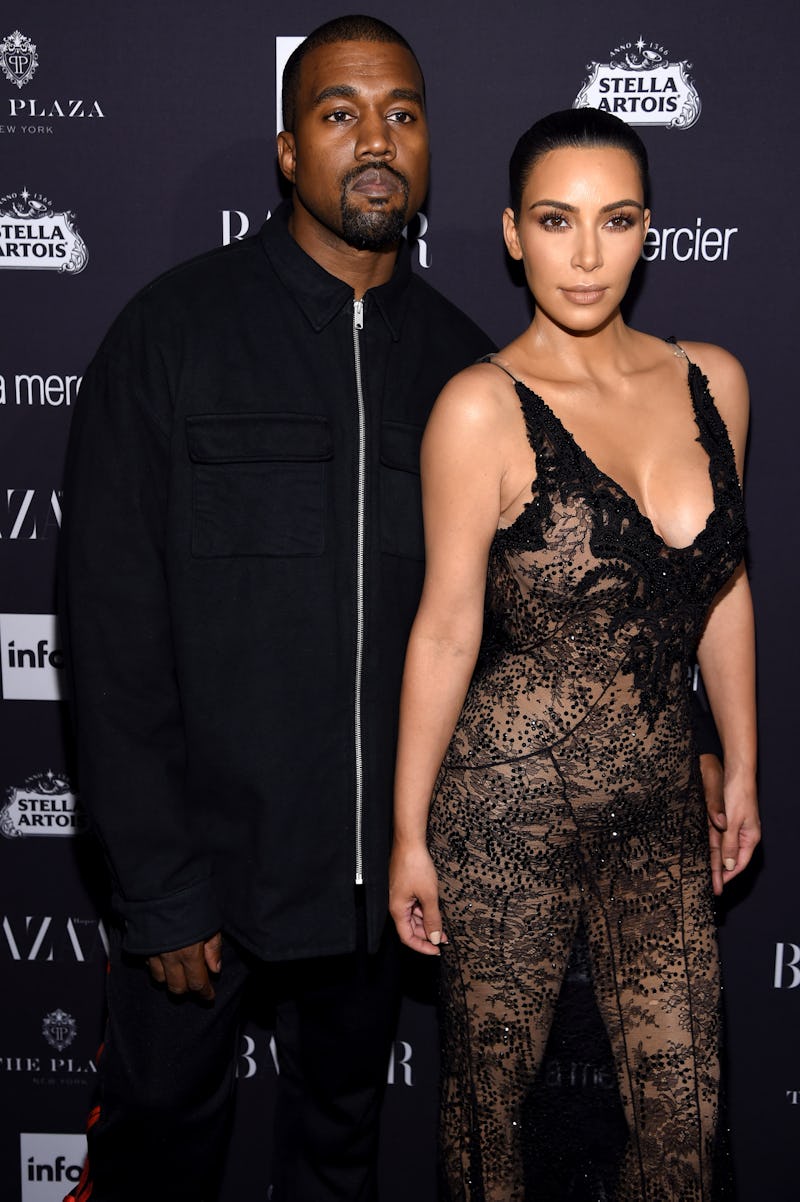 Dimitrios Kambouris/Getty Images Entertainment/Getty Images
The wait is officially over as Kim Kardashian's third baby with husband Kanye West has reportedly finally arrived. The couple welcomed the tiny tot via surrogate on Monday, according to TMZ, and Kardashian confirmed the news on her website, writing, "We are incredibly grateful to our surrogate who made our dreams come true." But if you're looking for photos of Kim Kardashian's new baby, you may be in for a wait. While there's no doubt that parents are over the moon about the new baby's arrival, that doesn't mean they're ready to share snapshots with fans just yet. But even if the little girl isn't yet popping up on Instagram, it's only a matter of time before she takes her rightful place in reality royalty alongside big sister, North, 4, and brother, Saint, 2, as the brood's youngest in charge.
Both Kardashian and West have been notoriously secretive when it comes to photos of their newborns in the past. It took them nearly three months to share the first photo of their son Saint following his birth in December 2015. In similar fashion, it would be more than two months before they would reveal adorable photos of their first born daughter North in 2013. That said, the timing of the newest baby's photo release couldn't be more perfect as fans have remained curious ever since Kim revealed they were expecting a baby girl back in September on The Ellen DeGeneres Show.
Soon after the baby's highly-anticipated arrival via surrogate was announced, fans took to social media to share their well wishes with the three-time parents. "January 15, 2018, 12:47am, 7lbs 6oz," Kardashian wrote of the birth. "Kanye and I are happy to announce the arrival of our healthy, beautiful baby girl," which is more detail that she's given about the process for months. However, she has been notably forthcoming about her choice to use a surrogate in light of her past pregnancy complications. In order to protect the identity of the women who gave birth to the baby, Kim has remained relatively private about everything.
In preparation for the baby's birth, Kim hosted a star-studded baby shower, which was decked out with pink cherry blossoms. While on The Real, Kim explained her reason for not inviting the surrogate to join in on the soirée. She explained,
"Of course I would have wanted [my surrogate] to be there, but I hadn't really gone that far in explaining it to my kids yet ... I think I'd have to explain it to my kids first."
It was seemingly an intricate and long thought out process the whole way for Kim as she attempted to make things as close to perfect for the baby's arrival.
It's certainly been a busy year for the Kardashian-Jenner collective when it comes to baby news. Khloé recently confirmed she's pregnant as well. In a black-and-white photo of her baby bump, Khloé wrote,
"My greatest dream realized! We are having a baby! I had been waiting and wondering but God had a plan all along. He knew what He was doing. I simply had to trust in Him and be patient. I still at times can't believe that our love created life!"
Meanwhile, younger sibling Kylie Jenner has been the subject of baby rumors since September, but has yet to confirm anything publicly. If all the speculation winds up being true, these new additions to the family would make grandchildren seven, eight, and nine for momager Kris Jenner.
With all of the new baby arrivals taking over this year, it's safe to say that the Kardashian's 2018 Christmas card is going to be even more chaotic than the last. And considering it was a whole photo series with 25 pictures, that is certainly saying a lot.