These Theories About Kim K's New Baby's Name Sound Unreasonable… At First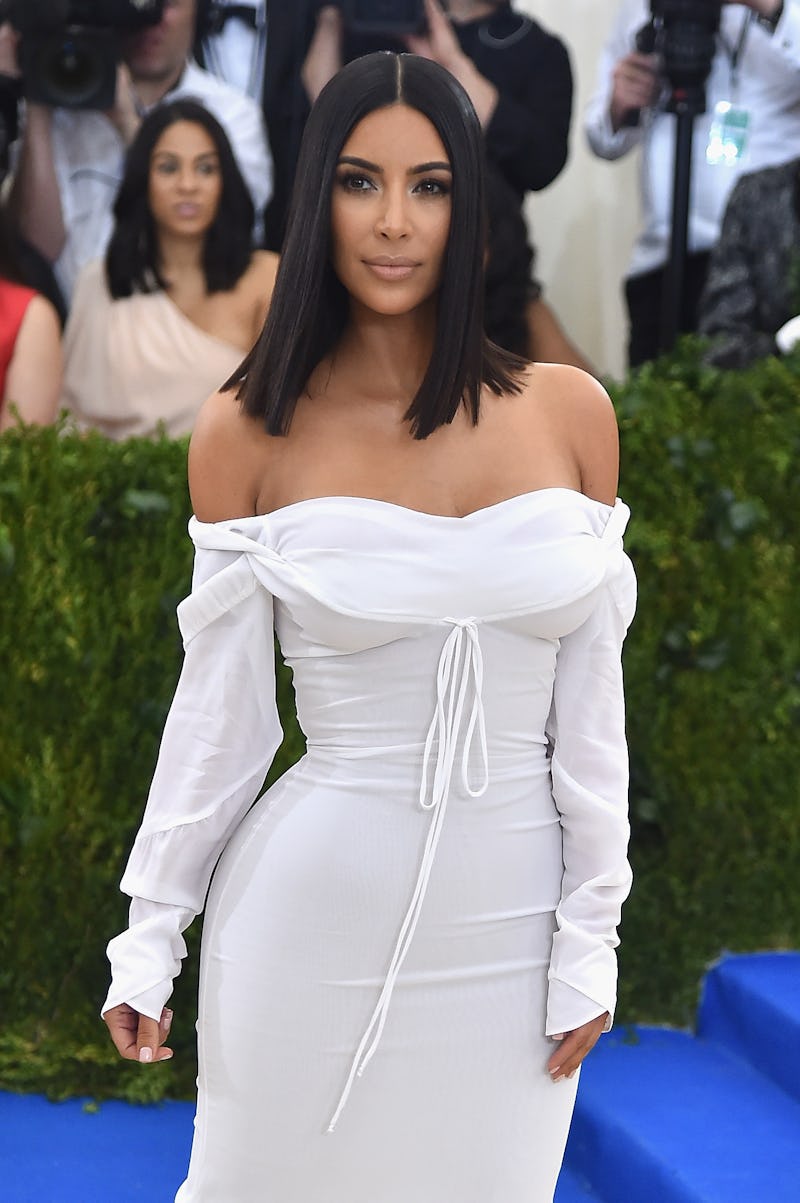 Theo Wargo/Getty Images Entertainment/Getty Images
It's official: Kim Kardashian is a mother of three. In the wee hours of Monday morning, Kardashian's new baby girl was born via surrogate, and now, fans are clamoring for details. Already, there are so many theories about Kardashian's baby's name, but which one is the right one? Are any of them correct?
UPDATE: Kardashian tweeted in response to an Us Weekly tweet about whether her Louis Vuitton Instagram hinted at her baby's name and shut that theory down. "NOPE!" she wrote. "It was Kim Jones last show and wanted to snap a LV pic How amazing did Naomi & Kate look?!" Jones is the artistic director of Louis Vuitton menswear and had his final show on Thursday.
EARLIER: Although Kardashian has kept so many things about her surrogate's pregnancy under wraps, she has shared a little information about her new baby. In the announcement she posted on her website, she wrote:
Kanye and I are happy to announce the arrival of our healthy, beautiful baby girl. We are incredibly grateful to our surrogate who made our dreams come true with the greatest gift one could give and to our wonderful doctors and nurses for their special care. North and Saint are especially thrilled to welcome their baby sister.
In the post, she shared the baby's weight and time of birth (seven pounds, six ounces and 12:47 am, for the record), but so far, she hasn't offered up her name. Now, her fans are left to fill in the blanks... and boy, are they ever.
Here are all the theories about what baby West number three could be named, ranging from ridiculous to realistic. One of these guesses could be right, but chances are, Kardashian is going to shock us all.
She Named The Baby Louis After A Few Snapchat Clues
On Wednesday, Kardashian posted an Instagram of Louis Vuitton logos on a bag, and some fans are convinced that it's meant to be a clue about what she's named her baby — especially since this photo is a follow-up to a photo of Louis Vuitton garbage cans she posted last week on her Instagram story. Maybe she named the baby Louis, or maybe she's going to name her Elle V after the LV logo? It could be a stretch, but it would be pretty typical of Kardashian to drop a few hints for her fans before making the official announcement.
Kardashian & Kylie Jenner Are Fighting Over A Name
According to a report from Radar Online, Kardashian and Jenner are fighting because they both want to name their baby "Love." It definitely makes sense that both women would want a unique name for their babies, but it's hard to imagine that they'd fight over the same name. Plus, since all of the grandchildren call Kris Jenner "Lovie," wouldn't that get a little confusing?
The Baby Will Be Named After Kanye's Late Mother
When photographers caught up with West in Los Angeles earlier this week, one suggested that he name the baby Donda, after his late mother, who he frequently talks about. As the Daily Mail reported, West replied, "Oh, that's fire." Maybe he'll honor his mother by naming his new daughter after her?
The Baby's Name Will Start With The Letter E
A fan on Twitter shared this well thought out theory, and it actually makes a lot of sense. If they're trying to cover all the cardinal directions as a theme, this baby's name could start with E. And since Kardashian told Ellen DeGeneres that her baby's name has to be "short, easy to spell, one syllable," Eve would totally fit.
They Still Haven't Named Her At All
According to what a source told People, West and Kardashian haven't revealed their baby's name yet because they reportedly haven't named their baby yet. "They still don't have a name," the insider told the magazine. "They've been thinking about it for months and they want to make sure it's right. They will get there eventually!" West also mentioned to paparazzi that he and Kardashian "can't think of a name" on Wednesday, so this theory might be legit.
Of course, Kardashian and West wouldn't share the name until they were 100 percent settled on one, but are they really still trying to figure it out, or are they just keeping us in suspense for now? Hmm.
And The Best Name Suggestion Ever
This tweet speaks for itself.
Kardashian will announce her baby's name when she's ready, and for now, she's probably just enjoying some much needed bonding time with her new baby girl. The reveal will be worth the wait.