Khloé's Baby Name Announcement Seems To Say A LOT About Her Relationship With Tristan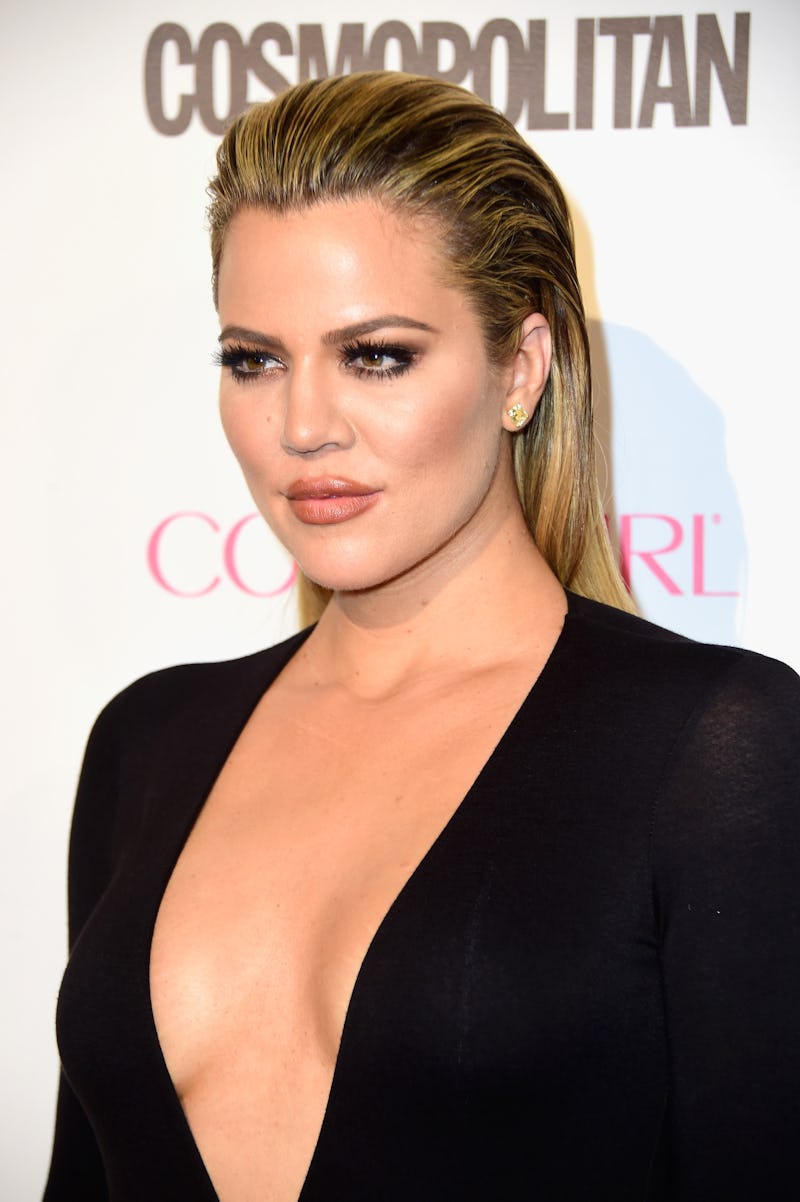 Frazer Harrison/Getty Images Entertainment/Getty Images
After much anticipation, Khloé Kardashian and Tristan Thompson's daughter's name is here: True Thompson. Seeing as it starts with a "T" and has the NBA player's last name, does Khloé Kardashian's baby name mean she's staying with Thompson? It's hard to say for certain what the status of their relationship is, but based on the Instagram photo and caption the Keeping Up With the Kardashians star shared Monday announcing the moniker, they sure do sound like a happy family.
"Our little girl, True Thompson, has completely stolen our hearts and we are overwhelmed with LOVE," Kardashian wrote next to an image of pink balloons filling her home. "Such a blessing to welcome this angel into the family! Mommy and Daddy loooooove you True!"
Of course, the reality star is going to be over the moon about the arrival of her first child, which is evident in her caption. And if you take a closer look at what the 33-year-old wrote, her post seems pretty telling. First, she uses "we" not "I" and "our" not "my", which might be a clue she and the basketball star are staying together.
Finally, the last two lines spea volumes. The Revenge Body star is overjoyed True is part of "the family". Kardashian could simply be referring to both she and Thompson's families or she could mean her own little family made up of herself, Thompson, and True. As for the final line, Kardashian calls herself and the Cleveland Cavaliers athlete "Mommy and Daddy". Furthermore, on Kardashian's website, she released a birth announcement partially reading, "Proud Parents Tristan Thompson and Khloé Kardashian," which seems to show a united front.
All of this is pure conjecture, but her word choice is hard to ignore. Whether they are or aren't staying together, Kardashian is definitely recognizing her child's father. She's making it clear that she wouldn't leave him out of the equation. Obviously, what she wrote doesn't prove she and Thompson are still a couple or are trying to work out things. It could just be a loving Instagram caption expressing how they both feel as new parents to baby True.
On April 12, People reported Kardashian had forgiven Thompson for reportedly cheating on her. (Bustle reached out to representatives for Kardashian and Thompson about the cheating rumors, but did not receive a response.) "Khloé is feeling nothing but happiness right now," a "Kardashian family source" told People. "She is head over heels in love with her little girl — she is just consumed with love. Absolutely nothing else matters."
If she really is trying to move forward with Thompson beside her, then that could also mean the two are staying together. As a source told People on April 11, "She's a hopeless romantic and she'll try to make this work. She tried forever to make it work with Lamar [Odom]. She's having a child with Tristan, and she's going to try to rebuild this."
It's important to remember if Kardashian chooses to remain with Thompson, it's her decision. This is her life and if she wants to be with him, then fans should try to accept it, as hard as it might be. Plus, the Strong Looks Better Naked author now has a daughter to think about, not just herself. Maybe she wants to work it out for the sake of True, so her little girl grows up with her parents together? Who knows what she's currently thinking, but to have to deal with all of this publicly can't be easy.
It's understandable Kardashian's fans want her to be undeniably happy and to not have the love of her life reportedly cheat on her. But, this should happy time for Kardashian, where her fans support her. It's best to keep True's birth surrounded with positivity, exactly like Kardashian is doing.