Donated Blood? Here's What Else You Can Do To Help Las Vegas Victims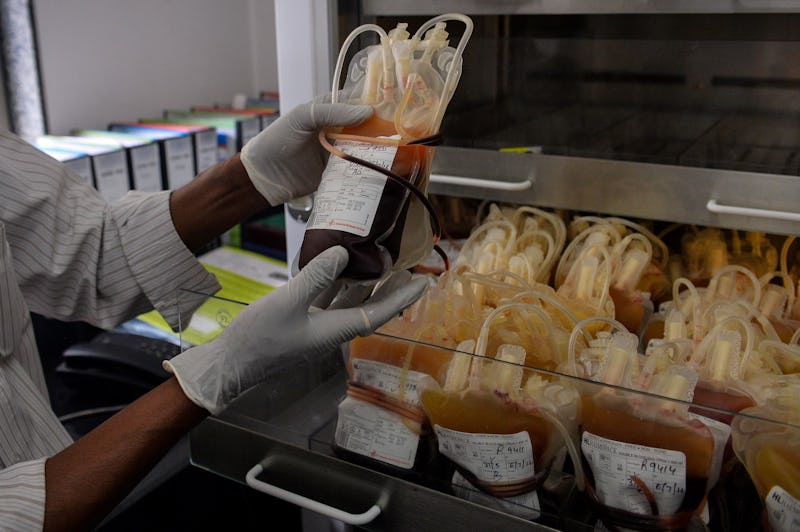 CHANDAN KHANNA/AFP/Getty Images
In the aftermath of America's deadliest shooting in the modern era, people across the country are eager to help. And with over 400 people hospitalized with gun-related wounds, many people are likely considering making a blood donation in Las Vegas. According to Julie Scott, the Head of Communications for the United Blood Service in a phone call with Bustle, the immediate need for blood has been satisfied in Las Vegas for the moment — though, of course, that shouldn't discourage anyone from making a blood donation now, or at any time. So, it's worth looking into what else hospitals may need in the wake of this tragedy, and other ways to help in addition to donating blood.
Once a local blood bank fulfills their inventory requirements, they're able to send excess donations to other areas in need. While, of course, each location must take care of their own hospitals first, in tragic events like this when people flock to donation centers to contribute to the national blood supply, they're able to help local blood banks reach other banks more in need because of the significant increase in donations.
But Scott says that it's important for people to donate blood year-round. Red blood cells have a shelf life of 42 days, which means when a crisis happens, the first wave of units sent are the ones that have been sitting on the shelves. Once those are gone, inventory dips low and there's a great need for new donations. Which is exactly why Scott wants to encourage people to set up appointments to donate blood regularly. There's no reason to wait for a tragedy to occur, as your contribution will always be valuable.
So while Nevada hospitals reportedly have the enough blood supply to give the 400 plus shooting victims the care they need, banks that have emptied their supply will be in need of replenishing in the days and weeks to come. So contact your local blood bank and make an appointment to donate blood in a few day or weeks, and try to make a habit out of it. No matter where you are in the country, once your blood is processed, it will make its way to people in need.
So long as you're over the age of 17, considered in good health and weigh over 110 pounds, you're likely eligible to donate blood, and should. You can donate whole blood 24 times a year. The entire process takes roughly an hour, though the blood donation portion of the process takes less than ten minutes and it's considered a safe, painless and sterile process. Most people feel completely fine after giving blood and a can go on with their day. Within 24 hours, the plasma will be replenished, but it will take six weeks to completely replenish the red cells. The act of giving blood is really just an hour of your time in exchange for saving a life.
So while Nevada might have things under control right now, we can never be too prepared with usable stocked blood donations. Unfortunately for our country, which has experienced nearly as many mass shootings as it has days in 2017, blood banks will always need our support. The Las Vegas shooting marks the 273rd shooting in America just this year.
And just because immediate need for blood supply might be taken care of right now, there are still ways that you can help those affected by the senseless crime. Donations to shooting victims and their families will go a long way. From medical bills, to funeral costs and counseling and rehabilitation in between, there's a great need for financial support in Las Vegas right now. Click here to learn more about how to donate.
Additionally, the Mandalay Bay resort is looking for local grief counselors to help out on site:
So if you're certified, or know someone who is, you could be of great, immediate help to the people directly affected. Also, if you're in the general Las Vegas area, you might want to consider signing up as a volunteer. If you check out the official Facebook safety check-in page, you'll notice a constantly updating feed which features local volunteer opportunities, like giving food, offering rides, and helping people find their loved ones.
But to really make a change that might help prevent future tragedies, call your local representative and talk to them about gun control reform.