'Better Call Saul' May Solve Another 'Breaking Bad' Mystery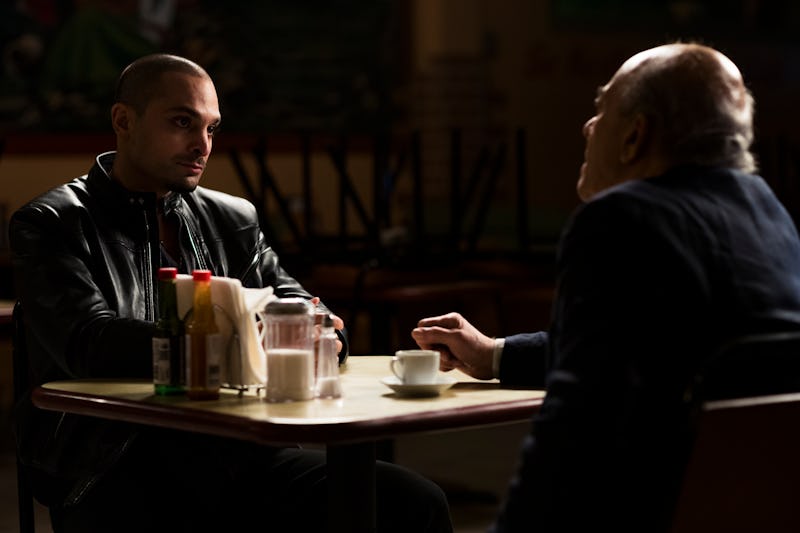 Michele K. Short/AMC/Sony Pictures Television
If you weren't certain before, the May 22 episode of Better Call Saul has made it 100 percent clear — Nacho wants to kill Hector. But the thing about prequels is that fans know that Hector is alive (not alive and well, but certainly alive) in Breaking Bad. Hector Salamanca is partially paralyzed and in a wheelchair in the original AMC series while he is currently fully mobile in Better Call Saul. Although Hank Schrader's DEA partner Steve Gomez indicated in Season 2 of Breaking Bad that Hector had previously had a stroke, Better Call Saul is showing what actually happened to Hector. And if Nacho's plan comes to fruition, he just may be the cause of Hector's health issues.
During the May 15 episode, "Off Brand," Nacho started to formulate his plan to take down his boss Hector. This isn't the first time that Nacho has targeted a member of the Salamanca family, but this time it's because Hector wants to use Nacho's father's business as a front to transport drugs across the border. As Nacho knows this will eventually lead to his father's death, Nacho decides to kill Hector stealthily by swapping out his pills. While viewers have seen Hector take his pills before, in the May 22 episode, "Expenses," Mike states that Hector takes nitroglycerin because he has a bad heart.
According to WebMD, nitroglycerin is typically prescribed to people with coronary artery disease as it widens the blood vessels so blood can flow more easily to the heart. Yet, there are two ways to take nitroglycerin — one is for fast-acting relief and one is for long-lasting relief. Although the pill that Nacho wants to get from his prescription med supplier — the bumbling Daniel Wormald (who goes by the name of Pryce) — would indicate that Hector uses the long-acting form, his dependence on it in "Off Brand" when he gets angry about his nephew Tuco knifing someone in jail makes it seem like he needs the quick-acting form. Either way, if Nacho fills those pills with poison, it doesn't matter why Hector takes them — they'll kill him anyway.
But that's just the thing — Hector doesn't die from any swapped pills since his demise occurs in Breaking Bad. That means that Nacho's plan could fail, as Mike worries about in "Expenses," and that Hector's future condition is caused by something else. Or perhaps Nacho does swap the pills, but instead of killing Hector, they lead him to have a stroke. Either way, I'm less concerned with what happens to Hector since I know what eventually will become of him and much more concerned with the sympathetic character of Nacho.
Since Saul references Ignacio in Breaking Bad (Nacho's full name) in the first episode that he appears in, it wouldn't make sense that Nacho's plan to kill his boss is found out just yet. That could mean a number of things — like that Mike and Nacho devise another plan to hurt Hector with Gus Fring — but no matter how this goes down, Breaking Bad fans should rejoice in the fact that the mystery of what happened to Hector Salamanca will be solved before Better Call Saul is through.