Does What You Eat Affect The Taste Of Oral Sex? We Asked An Expert About This Myth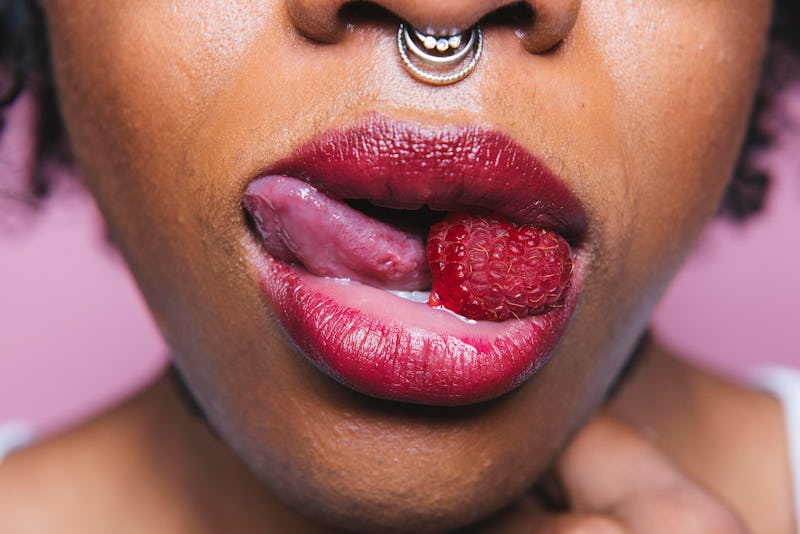 BDG Media, Inc.
If you're a fan of Sex and the City, you've probably found yourself wondering if what you eat really affects how you taste to your partner during oral. It was in one of the many iconic episodes that Samantha went to great lengths to help the "spunk" of her partner taste less, well, "funky," as she called it. One such attempt was to make him drink wheatgrass before having sex in the hopes of remedying the issue — no such luck. Funky Spunk remained Funky Spunk.
Although the vagina is supposed to taste and smell like a vagina and semen isn't exactly a trip to Baskin Robbins, as Samantha pointed out, taste and smell can vary. Not just from person to person, but even in the same person. Whether it be because someone's in a certain phase of their menstrual cycle, or because of something like an untreated STI, there's no one smell or taste for bodily fluids. But as for food affecting how you taste? Well, the jury is still out.
"We do not currently have evidence-based medicine with strong research or long term data to support or disprove what you eat does, or doesn't, influence the way you taste," Dr. Sheila Loanzon, board certified OB-GYN and author of Yes, I Have Herpes, tells Bustle.
But while that may be the case — a whopping IDK from the science community — there are still some things to consider if this question has been on your mind.