Dolly Parton Looked So Pretty At The SAG Awards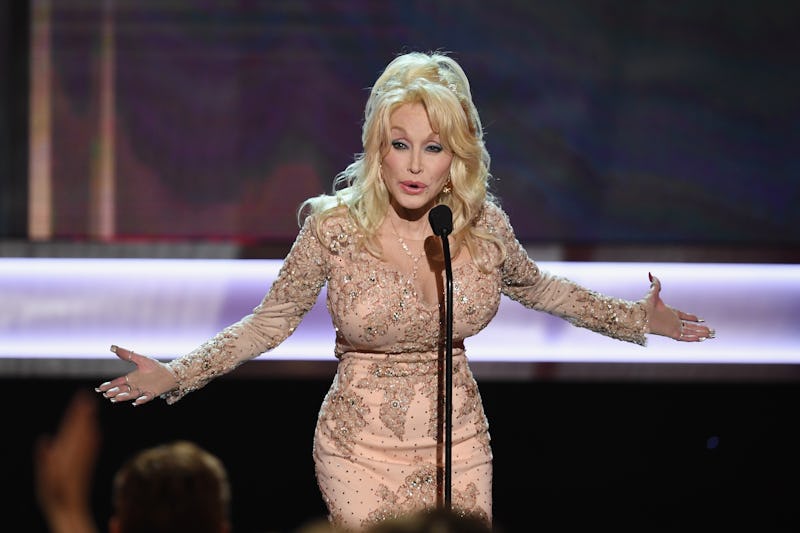 Kevin Winter/Getty Images Entertainment/Getty Images
No one's ever accused her of being subtle, which is why I always love to see my girl Dolly Parton on the red carpet. With her big hair, glittery dresses, and adorable personality, she's got to be one of my favorite people ever.
The talented actress (and singer, and musician, and author) didn't disappoint on Sunday night at the SAG awards. She was there to present a Lifetime Achievement Award to friend and former co-star, Lily Tomlin. (Jane Fonda was supposed to be there, but sadly was home sick.) The three comedic geniuses starred in the hilarious movie 9 to 5 way back in 1980, and have remained friends ever since. (I love them.)
For the special occasion, Parton wore a beautiful long-sleeved blush pink gown. It was, of course, covered in sequins and embroidery and showed off her legendary curves. It even had a sheer portion at the bottom, which allowed a peek of her cute shoes.
Dazzling outfits have been Parton's go-to for decades, along with her big hair. I'm so glad she didn't disappoint, and showed up in all her Dolly glory. She may not make the most relatable of fashion choices, but she always pulls them off. And, they kind of make me want to whip out a bedazzler.
She's such a star.
Without even trying, she had the whole audience laughing with her.
Her dress was seriously pretty.
And her speech about Tomlin seriously sweet.
Cutest friends ever? I think so.