Why Dean Is The One You Should Be Mad At On 'Bachelor In Paradise' — Not Danielle Or Kristina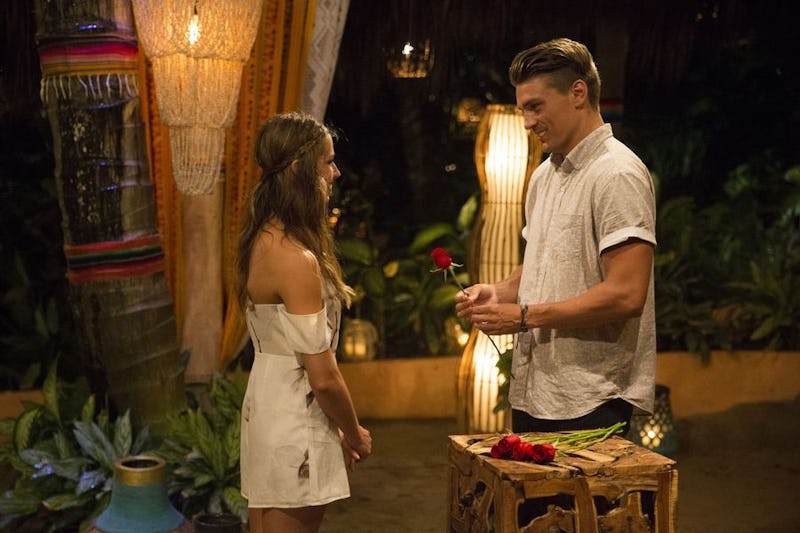 Paul Hebert/ABC
Love triangles are not just a natural occurrence on Bachelor In Paradise, they are strongly encouraged by the show's format of introducing more men and women into the show after couples have already begun to form. Because of that, there shouldn't be any major judgment thrown at any of the contestants for dating around — 'cause, uh, that's kind of why they are on the show. That is, of course, as long as everyone is being as respectful and honest as possible to the people they are dating. Unfortunately, that's not what has been happening with the Dean, Kristina, and Danielle L. love triangle on Bachelor In Paradise. And if you've been siding with Kristina over Danielle or vice versa, it's time to stop and place blame where blame is due. Dean is treating both Kristina and Danielle horribly on Bachelor In Paradise and, after the Aug. 29 episode, there's no longer any way to justify his actions.
Dean was so lovable on Rachel's season of The Bachelorette that it's understandable that fans had been giving him the benefit of the doubt for his guilt in causing the biggest love triangle of Bachelor in Paradise Season 4. And, as previously stated, dating multiple people doesn't make you a bad person in Paradise. But Dean has been tiptoeing a dangerous line that he eventually crossed during the sixth episode of Bachelor In Paradise. Dean gave his rose to Kristina, which was slightly surprising since he kept stating how attracted he was to Danielle. "Kristina is definitely the right option, but Danielle's the more exciting option," he said. And considering how Danielle asked him to make a decision between her and Kristina and how emotionally invested Kristina was in their relationship, when Dean said Kristina's name, that should have been his clear way of saying he chose Kristina.
However, since Danielle stayed in Paradise because of Ben Z. giving her a rose, Dean took that as another opportunity to toy with their emotions while figuring out his own. And he got more explicit about what exactly he had meant earlier about the "right" and "exciting" options regarding the two women. "Kristina is just so much more perceptive and smart and is an interesting person altogether," Dean said to Diggy. "But D. Lo is just so f*cking hot."
While Kristina has been gaining more sympathy from fans since she hung out with Dean outside of Paradise when production was halted before Danielle came onto the scene, Dean's comment is completely disrespectful and objectifying to Danielle and further illustrates that he's not being fair to either woman. And, the rest of Dean's comments during the Aug. 29 episode kept damning him — and there's no one to blame for that but himself.
"I don't want to make anyone feel bad, but I'm very interested and attracted to Danielle L. and yeah, I mean, that's pretty much the long and short of it, I guess," Dean said in a camera interview. Yet, Dean's too immature or selfish to realize that by not making anyone (aka, Kristina) feel bad, he's making matters worse. Then he told Kristina, "I know the second that I lose you, I'm gonna regret the moment I ever let you get away."
At this point, Kristina probably could have saved herself a lot of trouble by stopping pursuing Dean — but Dean, as the less-invested one in the relationship, is more in the wrong. He should be the one to let her go since he knows he's not willing to give her the commitment she needs. That was further proven when he acknowledged Kristina's deep feelings during a camera interview. "I know if and when I pass on Kristina to move onto Danielle, I know that Danielle will never be as into me as Kristina is at this point," he said. So, he's keeping Kristina around because he likes the attention even though he knows he and Danielle probably won't work out? So lame.
Then, while Dean was in the pool flirting with Danielle at night, Kristina talked to Robby about how she spent the morning with Dean — he was really ping ponging back and forth between the women. Later, Dean told D. Lo that she is "the type of person that I could fall in love with." Not only does that not necessarily match his objectifying assessment of D. Lo that he had given to Diggy earlier, but if he felt that way, he should absolutely not be toying with Kristina's emotions by still spending time with her — especially since Kristina is clearly looking for a serious relationship from him.
Fans need to remember that the one to blame here isn't either of the women — just Dean. Just like with the Christen, Jasmine, and Matt triangle, it's Matt's fault for saying yes to Christen and not being honest with Jasmine about his feelings — not Christen's fault for asking Matt out. It's also not Danielle's fault that she came to Paradise and wanted to date Dean. If Dean was more interested in Kristina, he should have said no. And, if he did want to explore things with Danielle, then he should have been more honest with Kristina. The heart wants what it wants, but that doesn't excuse Dean's poor treatment of both women.
Kristina said she was done with Dean by the end of the episode and I hope that's true when Bachelor In Paradise airs on Sept. 4. Just as Kristina doesn't deserve to be placed on Dean's back burner, D. Lo doesn't deserve to be used by Dean just because he finds her "hot," and someone needs to put a stop to this since it doesn't seem like Dean is stepping up to do the right thing. So rather than fans choosing between Kristina or Danielle, they should be directing that energy toward Dean and call him out for continually disregarding these women's feelings. Because although he claims he doesn't want to hurt anyone, he's causing much more significant heartache for both women by his noncommittal and self-centered antics — and it needs to end now. At this point, he doesn't deserve either woman.