Dorit & Erika Laughed Off This Super Awkward 'Real Housewives Of Beverly Hills' Moment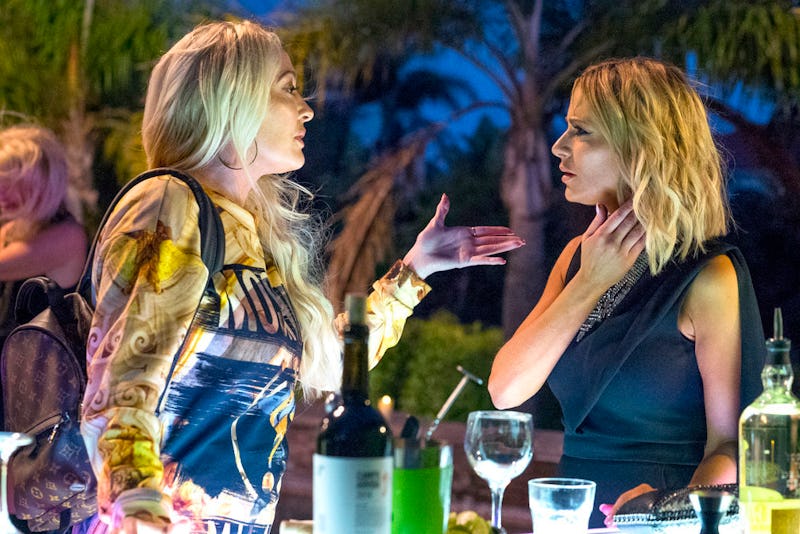 Nicole Weingart/Bravo
We're less than a handful of episodes into Season 8 of Real Housewives Of Beverly Hills, but everything is dangerously copacetic. Mortal enemies are now getting along, friendships are better than ever, and even teasing jokes are taken as compliments. Is this Real Housewives Of Beverly Hills or The Twilight Zone? Erika and Dorit, who in Season 7 hated each other's stinkin' guts, are even chummy. Even when Dorit's son pointed at Erika and called her "bad guy" in the Jan. 2 episode, "Bad Guys." It could have been so much worse.
Between Pantygate and all of the ensuing arguments that took place after it last season, I didn't think that Erika and Dorit would want to speak to each other ever again. But in the Season 8 premiere, these gals were on a private plane to Vegas together, they're playing blackjack together, and suddenly they're besties. Or they're just simply mature enough to say "bygones" and move forward into the future. As Dorit told TooFab, "Pantygate had its day, and… everybody can agree that you need to let sleeping dogs lie." Nothing is rattling these two right now, not even an embarrassing comment by Dorit's son, Jagger. At a dinner for his mommy, Jagger showed up in a white tuxedo (which is the cutest thing on a three-year-old, I have to admit) to wish Dorit a happy birthday. While sitting on Dorit's lap, Jagger then pointed across the table and said "bad guy" a few times. Oops! Kids say the darnedest things, don't they?
In old seasons of Real Housewives Of Beverly Hills, this would be the sort of thing that reignites a fight, because Jagger's obviously learned that language somewhere (Dorit swears it wasn't her, but… come on. Was it the nanny?). But Erika laughed it off, even telling the little tyke that she would wear the "bad guy" label like a badge of honor. Jagger then pointed at Lisa Vanderpump and repeated his "bad guy" accusations, and it was cute, but we all know whom he meant — Erika. Erika and Daddy called each other all sorts of names last season, and some of that trickled into Jagger's little baby brain.
This is a kinder, gentler Real Housewives Of Beverly Hills (so far, at least), and Erika and Dorit are on the right path. I suppose why wouldn't they be? They're close-ish in age, with older husbands and the same interests in fashion and beauty. They both have glam squads that they bring on vacation. They both have their own businesses and entrepreneur opportunities. There's more that would unite Dorit and Erika on paper than would divide them, so it's nice to see that this burning bridge has been restored.
In the aforementioned TooFab interview, Dorit said, "Erika and I didn't really start off on the right foot last year, so we really hadn't gotten to know one another. This season, that's very different. We actually get to know one another. I can tell you that there are some unexpected friendships. There are definitely twists and turns." Those twists and turns are beginning to show themselves already, like ripples under the surface.
Dorit and Lisa faux made up while in Las Vegas, but now Dorit is talking smack behind Lisa's back to anyone who will listen. Kyle and Lisa Vanderpump have a little snip in the preview for the next episode, and Erika and Teddi aren't 100 right now, either. Erika is hard to get to know and she comes off as aloof, so she better watch that before Teddi takes it as being plain old rude. It just goes to show you that nothing gold can stay, and this détente in Real Housewives land is all just a temporary utopia of teeny dogs and private planes.