Drop Everything: Drake Wants To Return To Acting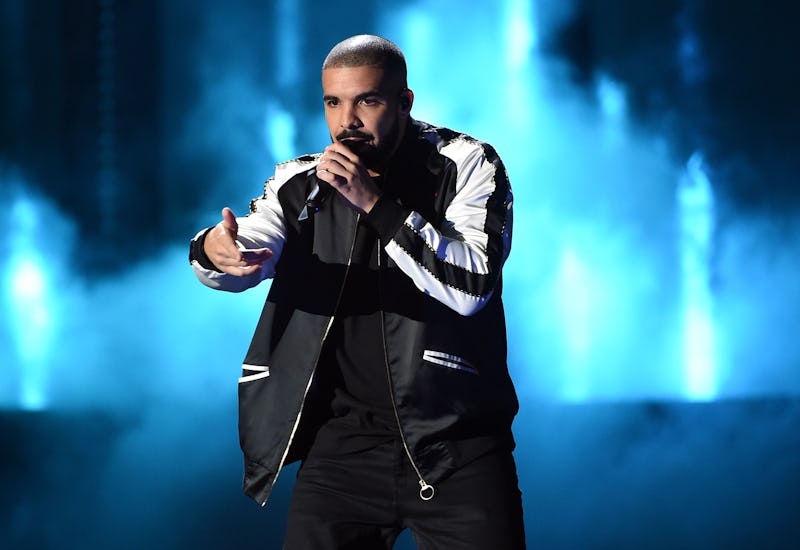 Kevin Winter/Getty Images Entertainment/Getty Images
If your Drake fandom is the kind that needs a constant top up of new projects from the multi-talented performer, then you may well find yourself gazing at various screens and thinking, "he should be on this." Well, worry not, because, on Thursday, Drake revealed he hopes to return to acting soon, which means that all of us might be able to look forward to seeing a whole lot more of his talents in the future.
He divulged his career plans in an interview with the Cal Cast podcast, where he explained:
Acting is another thing that I just can't wait to really dive into. I think after I release More Life, which is this playlist I'm working on, and finish this tour, I think I'm going to really start to position myself in the acting world and, hopefully, take some great roles.
Of course, we all lovingly remember Drake's first big acting role as Degrassi's Jimmy Brooks, but, since then, the performer has managed to continue to show his charming screen presence and flair for acting in various minor roles. While we might all love his music and be thirsty for our next fresh drop of Drake to listen to, it's still fantastic news to hear that the artist is also considering a serious return to acting, too.
Whether he's taking over comedy sketches, dropping iconic music video appearances, or serving some legendary cameos, Drake was made to be on screen.
As An Uncool, But Totally Hot, Dad On SNL
Somehow, Drake manages to channel total Ned Flanders vibes and still be a dream. I'm just going to call this one right here and now: This is Drake's best role, ever.
As A Street Harasser In Anchorman 2
Sure, he was in only in the movie for the briefest of moments, but just being reminded of his facial expressions is enough to tickle me stupid.
As A New Guy At Work Who Just Doesn't Get It On SNL
All I want to do is make a soundboard of all the different weird phrases that Drake says in this sketch. It's comedy gold.
Making Those Dance Moves Look Hella Cool In The "Hotline Bling" Video
Listen, there are many reasons why this video blew up the way that it did, but one of the main ones is Drake's completely amazing dance moves in it. There are few people in entertainment who can pull off this level of awkward and make it look ridiculously cool. Drake's on-screen charm game is stacked, people.
Resisting The Alluring Power Of Nicki Minaj In The "Anaconda" Video
Another proof of that could be seen when Drake was forced to withstand the tremendously sultry appeal of Minaj as she gave him a intimate dance in the video for "Anaconda." Sure, he didn't have to do a whole lot except be there and his reactions were likely all totally real, but damn. Just look at him. The guy's a star.
As Katt Williams On SNL
A flawless impression. So good that I just want him to become a permanent guest star on Saturday Night Live for all time.
As A Fake News Reporter
Whenever Drake turns up on a talk show all I can think is, "this guy clearly deserves a spinoff." And no appearance more clearly cemented that fact in my mind as this one where he appeared as a fake newscaster on Jimmy Kimmel Live!. In fact, during his Cal Cast interview, he also revealed that he harbors aspirations to be a late-night TV host, saying that he wants to, "give people something to watch every night that makes them feel good and laugh" He's just too adorable.
As Jimmy Brooks In Degrassi
Where it all began, you guys. Never forget.
So, OK, I know that not all of these show examples of Drake's acting prowess. But the point is that he's got that special something, people. And I, for one, can't wait to see that special something applied to some roles where he can really, truly show off his acting skills