Drake References J. Lo On 'More Life' — Twice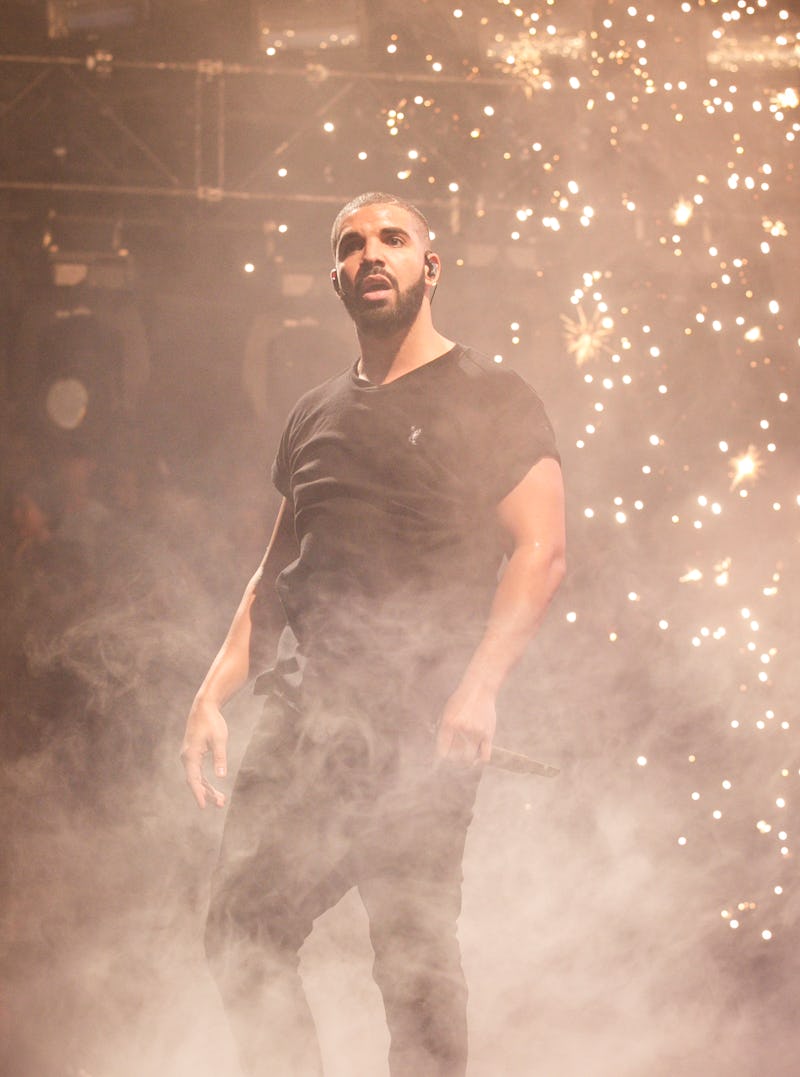 John Phillips/Getty Images Entertainment/Getty Images
It's March 18, and you know what that means: It's More Life Day. While many of us are eagerly streaming More Life on iTunes and Spotify, it seems I'm not the only one who has noticed that one of Drake's rumored romantic interests has popped up. Drake references Jennifer Lopez twice on More Life, and it's sent fans in a tizzy. This is not just a random, casual pop culture reference here. No, this is major. This is the rapper possibly giving us clues to the exact nature of his relationship with Lopez, who denied a relationship with Drake and maintained they they just worked together on a song. This is Drake maybe toying with our emotions, knowing that we would be waiting to hear him drop some kind of commentary on his connection to Lopez. In short, this is revelatory.
Lopez appears twice on More Life, but it's not her, per se. Instead, she comes up in the lyrics of the playlist's first track, "Free Smoke," and the chorus of "Teenage Fever" is actually just the chorus from Lopez's hit song "If You Had My Love." This is major for those of us who were stans for Drake and Lopez earlier this year, because it indicates that there may be something bigger going on between the two artists.
The first time J.Lo appears, it's on "Free Smoke." The damning "Free Smoke" lyrics are as follows:
"Iced up, my day slow
Silk pajamas when I wake though
Mirror bound to the face though
I drunk text J-Lo
Old number so it bounce back"
Is Drake talking about trying to get in touch with Lopez on a personal level once they finished collaborating musically, and she maybe just ghosted him?
You can listen to "Teenage Fever" below:
Fans quickly picked up both J.Lo references and promptly lost their minds on Twitter. Honestly, all the feels about J.Lo popping up on More Life were present and accounted for, especially when it came to that "Free Smoke" shoutout.
This GIF has never summed up my feelings about a thing more accurately. Then, you had this amazing Twitter reaction coming in hot with the literal fire emoji come to life:
And then, to top it off, there's this speculative Drake reaction to the greatness of his own J. Lo references:
Who knows if we're meant to read any deeper into these references, but one thing is for certain — Drake knows how to keep things spicy.