J.Lo Talks About Drake At The Grammys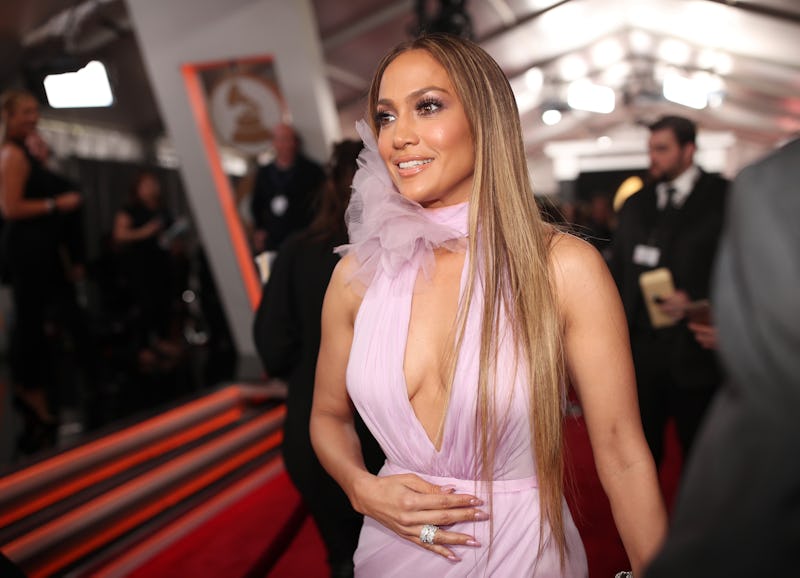 Christopher Polk/Getty Images Entertainment/Getty Images
The moment Jennifer Lopez stepped onto the red carpet at the Grammys, it was inevitable that someone would ask about her alleged romance with Drake. When asked about the rap superstar and her maybe-partner, Jennifer Lopez did comment on Drake, and said, "He's amazing. I have so much love for that boy."
2017 has been filled with rumors that the two pop stars might be a lot closer than they appear. Attentive fans suspected that Drake and J. Lo may be collaborating on a song after an Instagram picture featuring the two of them debuted, and some suspect that they are also collaborating on a relationship. On top of that, there are several unconfirmed reports that Lopez and Drake were dating but broke it off. The possible romance/breakup added even more fuel (or possibly water) to the fire when Lopez spoke about Drake on the Grammys red carpet.
When asked how she feels about Drake, Lopez told E! that "Of course, I love Drake. He's so brilliant, talented, amazing." Lopez may have literally said "I love Drake," but it certainly wasn't said in a way that confirms that they are, or were, anything more than friends and collaborators at this point. "We made the song together. Yes, [there were creative sparks]. We hung out. We had a great time."
It's possible that Lopez and Drake truly did just collaborate, but it looks like the two aren't trying particularly hard to squash any rumors. As it stands, the pairing of Lopez and Drake is still one big, glamorous question mark.