Dunkin' Donuts Will Have A PEANUT BUTTER Coffee Inspired By Girl Scout Cookies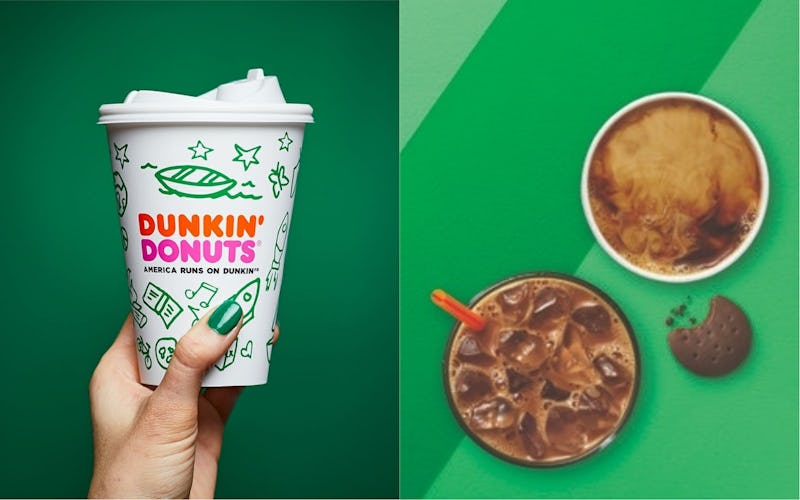 Not to alarm you or anything, but the year is more than half over. As summer fades into fall, it may just be time to begin thinking about what is to come in the months ahead. Now, this doesn't mean big plans need to be made right now. Just be aware that the end (of the year) is near, because at least one major coffee chain is already planning for the next one. Dunkin' Donuts popular Girl Scout cookie-inspired coffee flavors are coming back in 2019 — and in today's announcement, they let customers know that there's a new flavor in next year's lineup, too.
Initially released in February of this year, the Dunkin' Donuts and Girl Scouts crossover lineup included three sweet and flavors inspired by some of the absolute best Girl Scout Cookies: Coconut Caramel (a nod to Samoas), Peanut Butter Cookie (a nod to Tagalongs), and Thin Mint (you can probably guess this one).
The original press release described the Coconut Caramel flavor as, "treat[ing] guests to the taste of toasted coconut together with creamy caramel," the Peanut Butter Cookie flavor as, "crafted... featuring the flavor of mouth-watering peanut butter, "and the Thin Mint flavor as, "featur[ing] the classic cookie's combination of cool mint and decadent chocolate."
Dunkin' Donuts reported that these flavors exceeded expectations, quickly becoming some of the most popular products in all of 2018. So, next year, Dunkin' Donuts plans to reintroduce some of the favorites in addition to one surprise, brand NEW mystery flavor!
In addition, Dunkin' Donuts plans to continue a longstanding partnership with Girl Scouts by opening the doors of franchises to some of the littlest entrepreneurs. Per a press release, Dunkin' also plays a key role in the Beyond the Girl Scout Cookie Program. The initiative, "...teaches girls business and entrepreneurial skills imperative to their success," in addition to, "...offer[ing] fun and engaging all-girl programming in outdoor adventure, STEM (science, technology, engineering, and math), and more."
To say Dunkin' Donuts has had an eventful year would be an understatement. Taking a cue from the stars, earlier this year the chain introduced an unprecedented Cosmic Doughnut and complementary Coollatta. The frozen, pastel-colored slushes tasted were released in both Cotton Candy and Pineapple varieties; the donut was a traditional yeast donut decorated with white icing, and topped with pink, blue and purple cotton candy flavored popping candy to give it a textured, rocky look.
Not to mention, just last week the chain announced its special additions to the fall menu. In addition to a typical lineup of pumpkin-flavored snacks and sips, highlights of the fall menu include an Apple Crisp Donut, as well as Maple Cream Cheese one can choose to spread on a bagel. The donut features, "apple filling, frosted with caramel icing and topped with crispy sweet oat topping." So, snackin' on this is basically the closest you can get to eating pie for breakfast without *actually* eating pie for breakfast.
There is a lot to look forward to in the future, and Dunkin' Donuts is making what is yet to come even sweeter.