You Need To Read Elisabeth Moss' Super Moving Golden Globes Speech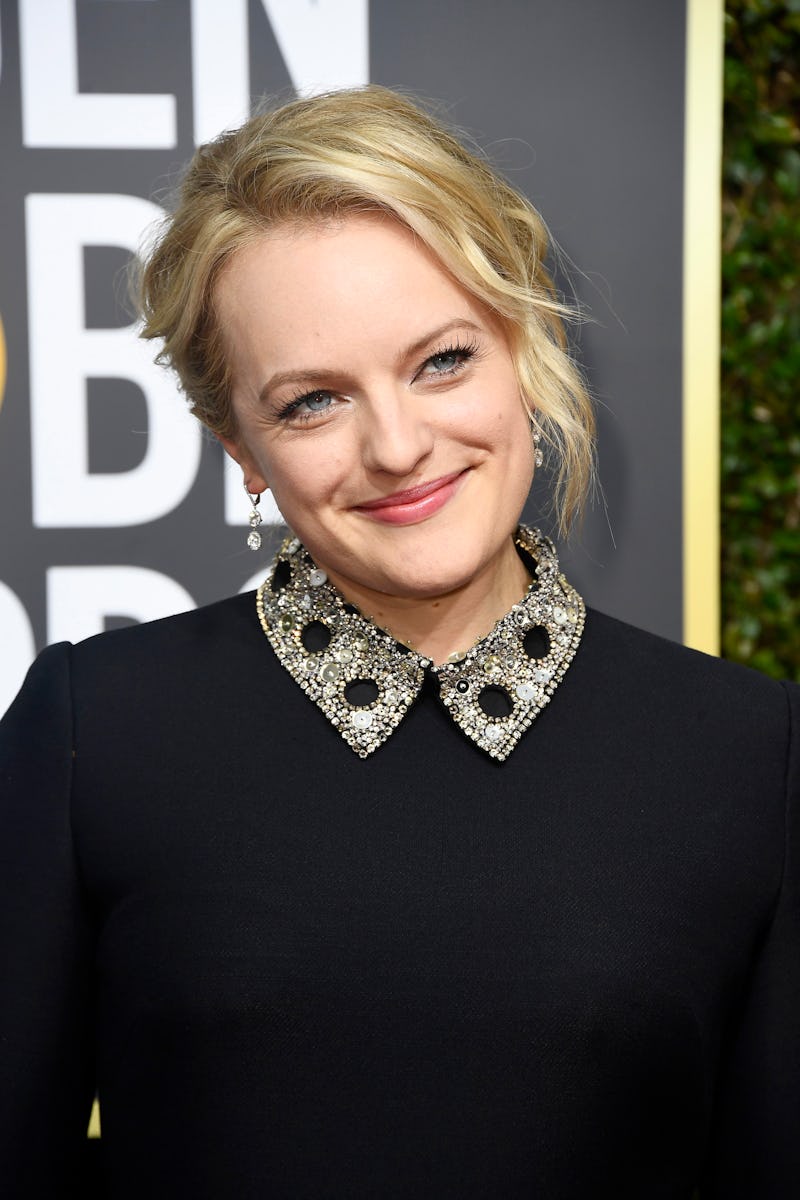 Frazer Harrison/Getty Images Entertainment/Getty Images
Was anyone really quite prepared for this speech? When Elizabeth Moss' 2018 Golden Globes acceptance speech really got going, after she thanked everyone that she needed to thank, she brought out a piece of paper because, according to her, she "can't be trusted." On that paper was a quote from The Handmaid's Tale by Margaret Atwood, and the way she built upon that quote transformed it into something new, something even more powerful, something that will make you feeling more inspired than her win for Best Actress in a Television Series — Drama.
"'We were the people who were not in the papers. We lived in the blank, white spaces at the edge of print. It gave us more freedom. We lived in the gaps between the stories,'" Moss read, before she continued. "Margaret Atwood, this is for you and all the women who came before you and after you who were brave enough to speak out against intolerance and injustice and to fight for equality and freedom in this world. We no longer live in the blank white spaces at the edge of print. We no longer live in the gaps between the stories. We are the story in print, and we are writing the story ourselves."
Moss' speech was clearly dedicated to the silence breakers who gained national attention in 2017 for using their platforms to speak out about the long history of sexual harassment and assault in the entertainment industry. Of course, 2017 was far from the first time that women have tried to speak out; just as recently, in 2014, a viral standup set by Hannibal Buress alerted the country to exactly how long women had been publicly accusing Bill Cosby of sexual assault. (Cosby's team denied the allegations from over 60 women; when criminal charges were brought against the comedian for his alleged assault of Andrea Constand in 2004, a hung jury resulted in a mistrial.)
However, it wasn't until the New York Times' landmark 2017 exposé about the sexual assault allegations against Harvey Weinstein — Weinstein's spokesperson has denied any charges of nonconsensual sex — gained national attention that more and more women had the opportunity to come forward with their claims against Weinstein and other men. And, more importantly, that those alleged victims had the opportunity to be taken seriously — and even to become TIME Magazine's Person(s) of the Year.
The quote that Moss read comes from Chapter 10 of The Handmaid's Tale, during a scene in which Offred is reflecting on the time before Gilead, when gruesome crimes that occurred could be ignored by people — by her — because they didn't affect their lives directly. Before the line that Moss quotes, Offred reflected,
"Nothing changes instantaneously: in a gradually heating bathtub you'd be boiled to death before you knew it. There were stories in the newspapers, of course, corpses in ditches or the woods, bludgeoned to death or mutilated, interfered with, as they used to say, but they were about other women, and the men who did such things were other men. None of them were the men we knew. The newspaper stories were like dreams to us, bad dreams dreamt by others. How awful, we would say, and they were, but they were awful without being believable. They were too melodramatic, they had a dimension that was not the dimension of our lives."
It's a powerful scene to parallel with our current reality, particularly in the wake of the #MeToo movement and the Time's Up initiative being supported at the Golden Globes on Sunday. And it's yet another reason why Moss' speech is so beautiful, because she's right: women are writing their own stories now, and it's about damn time.
If you or someone you know has been sexually assaulted, call the National Sexual Assault Telephone Hotline at 800-656-HOPE (4673) or visit online.rainn.org