Belle & Hermione Have More In Common Than You Think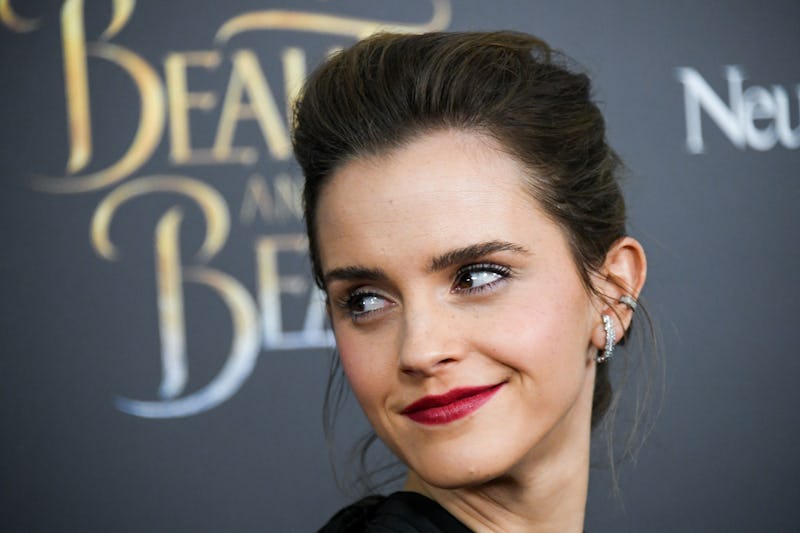 Mike Coppola/Getty Images Entertainment/Getty Images
Having played a completely iconic role in the Harry Potter franchise, it makes sense that Emma Watson is still getting asked questions about Hermione Granger years later. With the release of the live-action Beauty And The Beast, Watson gets to embody another much-loved icon by bringing a classic Disney Princess to life in a refreshing way. Belle has evolved into a feminist with a career and a can-do attitude, thanks to Watson's staunch influence. Refusing to be pigeonholed, Belle is headstrong and very much in charge of her own destiny in this movie. Which is why it's unsurprising that when Emma Watson compares Belle and Hermione, the two characters have a lot in common.
In the cutest interview with BuzzFeed, Watson answered fan questions regarding her new movie, as well as the roles she's best known for. Luckily, the entire interview was caught on camera, and thank goodness, because Watson was surrounded by kittens. Yes, you heard right: The star of Beauty And The Beast star answered fan questions while she petted the most adorable tiny kittens you've ever seen in your life. And as well as revealing lots of behind-the-scenes gossip about Beauty And The Beast, Watson compared Hermione to Belle and the similarities are astounding.
When asked by a fan if Hermione and Belle have any commonalities, Watson said,
"Yes! They share their love of books. Hermione and Belle are like perfect head and heart girls — they have both. They're super smart but they also have this incredible empathy and compassion and ability to see, kind of, beyond things and be nonjudgmental."
It makes a lot of sense that Watson was drawn to playing both characters, especially as there is such an overlap in their personalities. As two extremely smart women, Belle and Hermione are in charge of their destinies and are more than capable of standing up for themselves.
Interestingly, Watson mentions that both women are "nonjudgmental," an attribute she embodies in her work on a daily basis. Her constant regard for feminism and her passion for human rights are evidence that Watson has so much in common with Belle and Hermione. I can't wait to see whoever she decides to play next.