Emma Watson Just Made A Huge Donation To Time's Up As The Movement Gains Momentum In The UK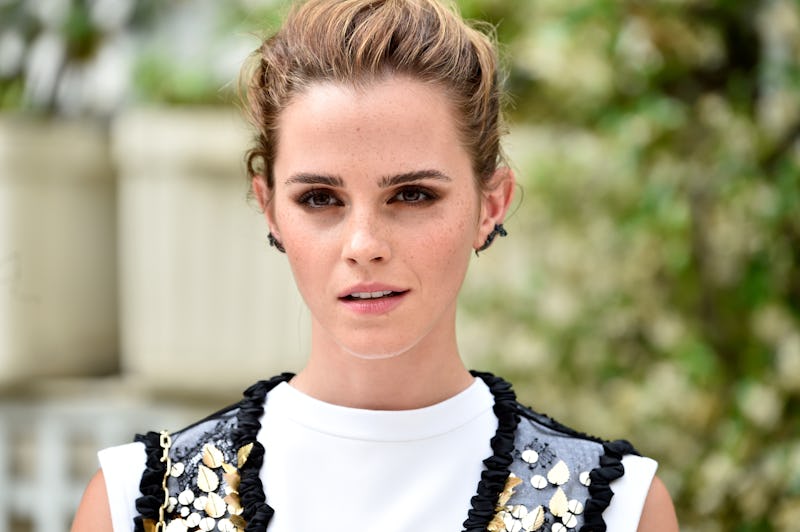 Pascal Le Segretain/Getty Images Entertainment/Getty Images
The Time's Up movement has officially made its way across the pond. As reported by the BBC, Emma Watson donated £1 million to Time's Up in order to help the UK Justice and Equality Fund reach its goal to create a new advice network. Watson also added her name to a list of 200 of her British and Irish peers who signed an open letter published on Feb. 18, similar to the one that launched the Time's Up movement in the U.S. on Jan. 1.
Shared by the Guardian, the open letter calls for an end to sexual harassment in the workplace, and addresses the pay disparity facing British women in the work force. In addition to Watson, other notable signers include Emma Thompson, Gugu Mbatha-Raw, Jodie Whittaker, Claire Foy, Tessa Thompson, Gwendoline Christie, and Carey Mulligan. The letter outlines the goals of the U.K.'s branch of the movement, and notes that Time's Up is so much bigger than the film and TV industry. It reads:
"In autumn of last year, when stories came out in the press about sexual harassment, discrimination and abuse in the entertainment industry, 700,000 female farm workers wrote to us to say they stood with us in solidarity. Their letter explained that they knew what we were going through, that they stood shoulder to shoulder with us in our pain and in our belief that a better world was possible. This solidarity between women – activists and survivors – across all industries is what inspired Time's Up and what continues to galvanize us. This movement is bigger than just a change in our industry alone. This movement is intersectional, with conversations across race, class, community, ability and work environment, to talk about the imbalance of power."
The letter continues,
"The gender pay gap for women in their 20s is now five times greater than it was six years ago. Research in the UK has found that more than half of all women said they have experienced sexual harassment at work."
Seeing Time's Up expand to include voices from around the globe is pivotal to its success, and that fact clearly isn't lost on the British and Irish women who are pledging to make a difference in the United Kingdom and beyond.
Perhaps the most poignant part of the open letter is the one that highlights just how important it is to challenge the idea that sexual harassment can ever be "just a joke." For far too long women have been told that dealing with unwanted comments and advancements from men is simply a part of life. However, the women of the U.K. are ready to change that idea for good. They wrote,
"In the very near past, we lived in a world where sexual harassment was an uncomfortable joke; an unavoidable, awkward part of being a girl or a woman. It was certainly not to be discussed, let alone addressed. In 2018, we seem to have woken up in a world ripe for change. If we truly embrace this moment, a line in the sand will turn to stone."
The letter was released to coincide with the 2018 BAFTAs, which are taking place this Sunday, Feb. 18. Stars are following in the footsteps of the actors who wore black as a sign of solidarity at the Golden Globes, by doing the same thing at the BAFTAs. Additionally, actors like Thompson are taking activists as their dates to the BAFTAs, and there are protesters on the red carpet sporting Time's Up shirts, according to the Daily Mail.
While there has been speculation that Time's Up could slow down or simply fade away, seeing members of the U.K.'s film and television industry join the movement and commit to nurturing its growth feels like proof that women have had enough of being silenced. Two months in, and Time's Up is continuing to grow and find new ways to help the people who are most vulnerable to sexual harassment and discrimination.
Thanks to Watson and her peers, it seems that the Time's Up movement is not only here to stay, it's continuing to grow and expand in ways that can only lead to a brighter tomorrow for disenfranchised workers everywhere.