Laura Dern Reveals Why Time's Up Is The Opposite Of A Silent Protest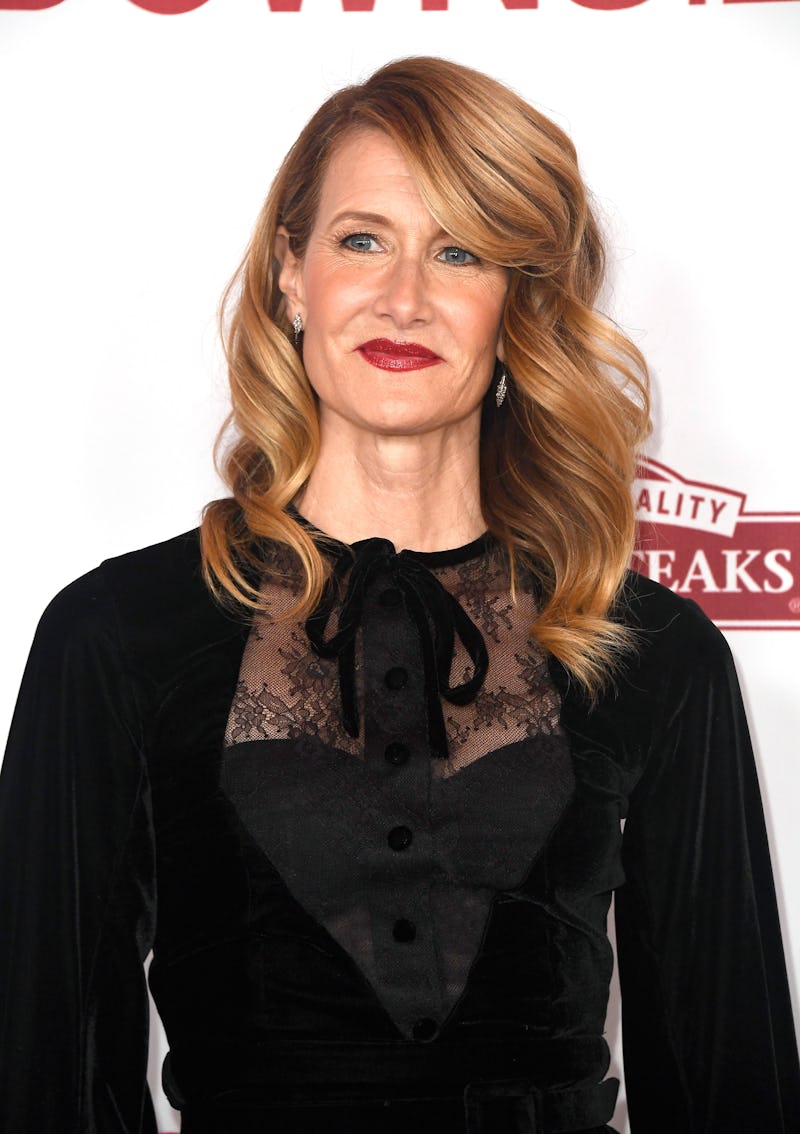 Frazer Harrison/Getty Images Entertainment/Getty Images
Throughout 2017, wrenching stories of sexual assault and harassment in Hollywood and beyond came out in the wake of the accusations against Harvey Weinstein. (All allegations of non-consensual sex have been denied by Weinstein's spokesperson.) Now women are ready to change the system that wrought such inequality for good. In an interview with In Style, Laura Dern reveals why Time's Up isn't a silent protest, it's the beginning of a movement to promote solidarity and equality across all industries — and yes, the Time's Up initiative is a movement that will start with a sea of little black dresses.
Dern along with her friend and Big Little Lies (producer: Barbara A. Hall) co-star Reese Witherspoon, Shonda Rhimes, and hundreds of other women in Hollywood came together to create the Time's Up initiative. On New Year's Day, women across the entertainment industry made a pledge to encourage companies to install more women leaders in workplaces, start a legal defense fund for women who have experienced sexual harassment across all industries, and focus on making workplaces more intersectional.
As part of the initiative, many actors in Hollywood have pledged to wear black to the Golden Globes as a sign of solidarity. Some people, including Weinstein accuser Rose McGowan, have blasted the move as a silent protest. However, Dern revealed to In Style why the decision to wear black is anything but an act of silence. Dern told In Style,
"The red carpet has been a place where a lot of people benefit from the moment of publicity, supporting a film, supporting a label, supporting a story. And for that story to be unity at the source of competition, it felt like a gorgeous place to say that — to say this is not a competition; this is a place of honoring each other's voice, each other's abilities, each other's opportunity. To be a public figure and have voice is a luxury, so why not then use it for all those who haven't had that luxury?"
Wearing black is just part of the plan. It seems that actors who support the Time's Up initiative are ready to use the red carpet to speak out about the change they are working together to create.
As for the argument that many men already wear black to the Golden Globes anyway, Dern explained that it's not about the color of their clothes, it's about how they use their voices. Costume designer Arianne Phillips has designed "Time's Up" pins for people in Hollywood to sport on the red carpet, and men like The Rock, who has been open about supporting the movement, can wear those on their tuxes as well.
Dern offered up a few tips for her male colleagues who want to show that they stand with accusers and sexual assault survivors in a meaningful way as they walk the red carpet. In her interview, Dern said,
"Beyond wearing black, they can wear a pin to support the Times Up legal defense fund. But also, in terms of what they talk about, sharing what Times Up is, asking for diversity and gender equality, asking their agencies, board rooms, labor unions for 50/50 by 2020, we need those voices desperately."
Time's Up is far bigger than a single night. It's even bigger than Hollywood. The movement is about enacting institutional change that will lead to safer work environments for women, people of color, members of the LGBTQ+ community, and anyone who has ever felt they had to stay silent in the face of discrimination or harassment. The amazing group of women who came together to create Time's Up have actionable plans that they are actively putting into motion.
And yes, one of those plans is to wear black at the Golden Globes. As Dern so eloquently explained, this move is about ending silence, not perpetuating it.
If you or someone you know has been sexually assaulted, call the National Sexual Assault Telephone Hotline at 800-656-HOPE (4673) or visit online.rainn.org.