Emma Watson's Favorite Kids' Book Is A Must-Read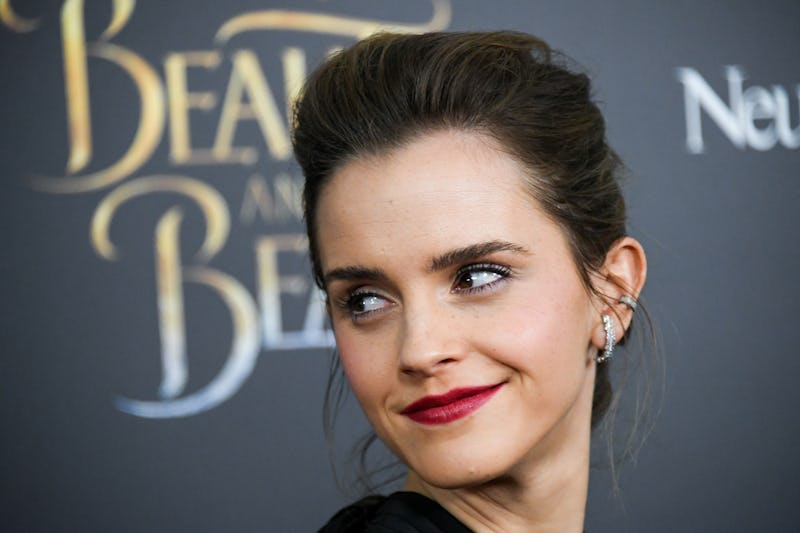 Mike Coppola/Getty Images Entertainment/Getty Images
In a new interview with NBC, Emma Watson reveals the books she "absolutely adored" as a child, and they're just as magical as the Harry Potter series. The Beauty and the Beast star names Philip Pullman's His Dark Materials trilogy as "the first time I really felt like a reading experience had been almost spiritual."
His Dark Materials centers on Lyra Belacqua, a young girl growing up in an alternate version of Oxford, England, in which each person has a daemon: a familiar that represents their true, inner self. Given an alethiometer — a golden compass that measures truth instead of direction — Lyra learns that the Magisterium, a Church of scientists, is researching the Dust particle and its relationship to humans. To do so, the Church has been kidnapping children and permanently severing the bonds between them and their daemons, which generates a massive amount of energy, but leaves both victims physically and spiritually drained.
"Lyra was an obsession of mine," Watson tells NBC. Unfortunately, her interview is too short for us to learn whether or not she's excited about Pullman's return to Lyra's Oxford in The Book of Dust trilogy, set to kick off on Oct. 19, nor do we know whether she'll appear in the upcoming BBC/Bad Wolf TV show based on the original series, which will see Harry Potter and the Cursed Child co-creator Jack Thorne adapting Pullman's work for the screen. We do, however, learn that Watson's Beauty and the Beast co-star, Dan Stevens, really loved Matilda as a child.
Check out the full interview here. Disney's live-action Beauty and the Beast comes to theaters on Mar. 17.