Evan Rachel Wood's Story About Sexism In Hollywood Highlights The Need For Change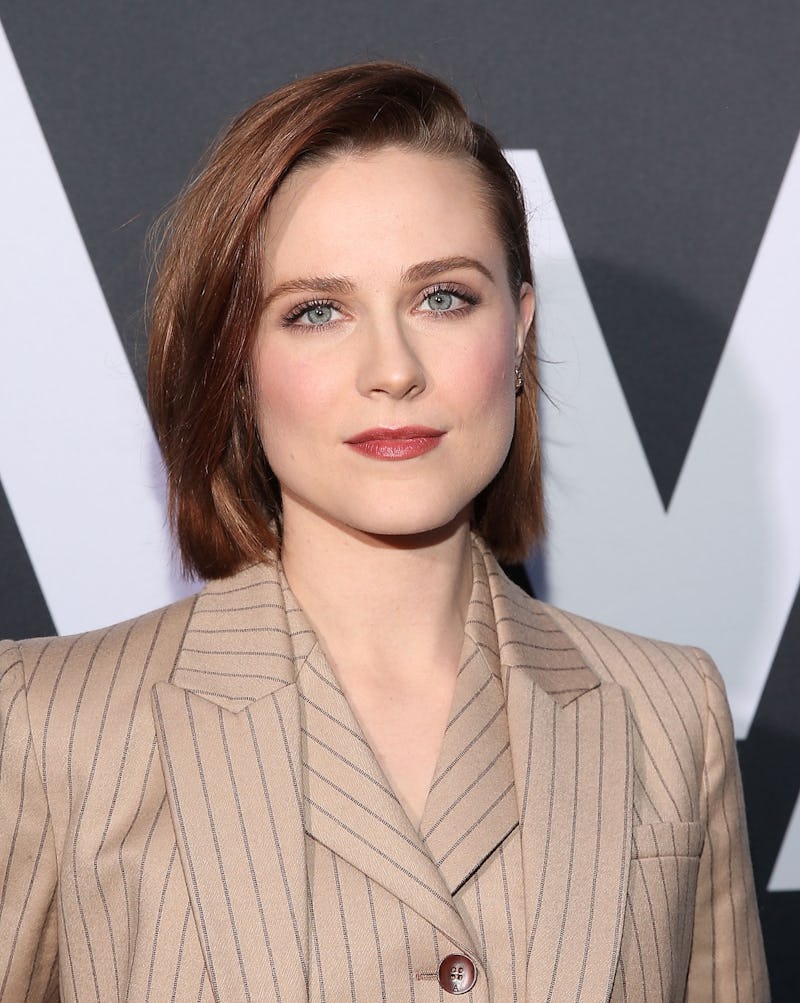 Jesse Grant/Getty Images Entertainment/Getty Images
Evan Rachel Wood spends a lot of her on-screen time playing the formidable and rebellious host Dolores on Westworld. But even when she isn't busy fighting the patriarchy on-screen, she's making a point of doing that very same thing in real life as well. And thanks to the wonderful world of social media, fans are able to instantly see the hard truths that she's known to deliver. Most recently, Wood revealed the difficulties of pitching movies to men in Hollywood during a recent Twitter rant, and the struggle she describes is frustratingly all too real. But her decision to call Hollywood out on these bias antics will make you admire her even more than you already do.
Wood started off the discussion by revealing details about a film she's been trying to get put into the works for two years that would both star and be written by women. She herself (a woman) would also direct. (Anyone else seeing a distinct pattern here?) And yet, each and every time she gets denied the financial backing by a room full of white men. So she decided to use her platform for the greater good and make an official declaration of what she feels to be a clear injustice.
"Fyi I have been pitching a film, starring 4 amazing actresses, written by 2 women, to be directed by me, for TWO YEARS, to nothing but room after room of white MEN and 'weirdly' no one has given it money," one of Wood's tweets read. "And we wonder why there is a bias in Hollywood?? Your move guys."
But Wood's story didn't just end there. She quickly followed this up with a second tweet that's guaranteed to make your eyes roll all the way into the back of your head:
"One guy I was pitching it to actually said, "well you're a 30 year old mom, what gets you out of the house to see a movie?" AS IF ALL WOMEN ARE JUST AT HOME FEEDING BABIES AND HAVE NO LIVES.
It's no wonder the actor is so frustrated with pitching process in Hollywood.
The year may be 2018, but even now drawing women to the theater appears to be of little interest to the entertainment industry. Granted, there have been significant improvements in the past few years, and the astounding success of both Wonder Woman and Greta Gerwig's Lady Bird — which featured women in front of and behind the camera — proved that blockbuster hits and Academy accolades aren't just a man's game. Women-led projects can make a lot of money and earn a lot of awards too.
In fact, Ocean's 8 earned $41.5 million for its opening weekend at the box office, which was better than its predecessor Ocean's Eleven did during its own opening weekend. The movie — which starred an all-female cast — proved to be an undeniable success. However, as Wood's story shows, there's still a lot of work that needs to be done, meaning it's more important now than ever to speak out and fight for change — which is exactly what Wood is doing. Dolores would definitely approve.
Some fans, though, couldn't understand why Wood even needs the approval of these men to get funded, to which she responded by saying:
"They are the ones in power. Thats [sic] my point. If the pitch rooms arent [sic] diverse with women and people of color chances are the films about them wont make sense or resonate with the room. Which is why there is an imbalance in the film industry which SUCKS."
Without inclusive pitch rooms, it's harder for projects like the one Wood is so passionate about to receive funds.
Hopefully, Wood's powerful words will resonate with enough people in order to enact real change in the industry so that women can tell their stories without bias and sexism holding them back.