The One Detail You Definitely Missed In JAY-Z's Futuristic "Family Feud" Video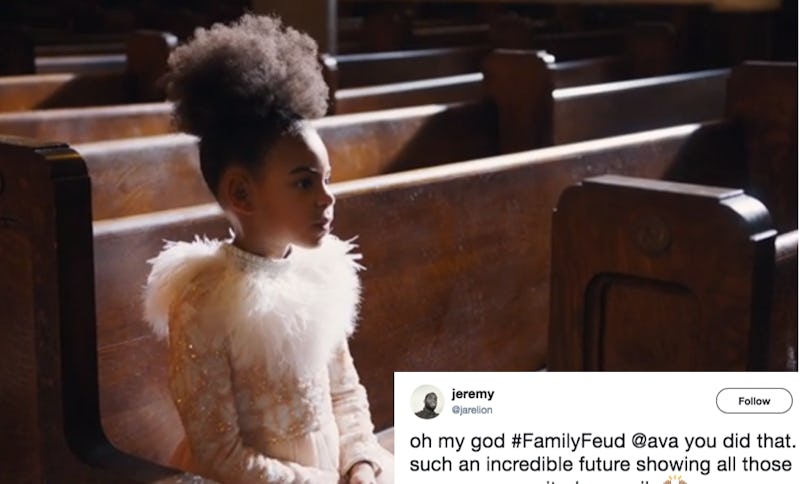 TIDAL
To close out an artistically fruitful year, JAY-Z released a music video for "Family Feud" on TIDAL on Friday, Dec. 29. The epic clip spans decades and includes an Oscar ceremony's worth of celebrity cameos, but this one detail about "Family Feud" makes Jay's vision of the future even better: Blue Ivy appears to grow up to be president.
Sitting at the head of a table full of powerful women in the year 2050, the adult version of Blue operates as leader of the free world in Jay's latest video off his 4:44 album. Wearing a feather-adorned, white power ensemble that rivals the fierceness of Olivia Pope's suits, adult Blue leads a discussion centered around the revision of America's constitution.
Starring as the adult version of the oldest heir to the Knowles-Carter throne is Susan Kelechi Watson, who plays Beth on This Is Us. While Blue — also known as one of America's Founding Mothers — is never directly addressed by her name at the table, it is pretty clear to the audience that the woman in charge is her given what happens next. After listening to the women at the table go back in forth about various topics like gun control, Blue speaks.
"America is a family and the whole family should be free," she declares after briefly referencing the 13th Amendment. "It's like I remember my father saying when I was a little girl. Nobody wins when the family feuds." Then the video immediately cuts to the young, present-day version of Blue Ivy as she and her dad walk down the aisle of a beautiful church, wearing a version of the same outfit.
Jay is no stranger to praising strong women or supporting girl power — he is married to Beyoncé after all. But beyond his admiration for Bey and her hustle, the Brooklyn-bred rapper and mogul has spoken about the power of people when it comes to issues like the ones the "Founding Mothers" discuss in the video. He also supported Hilary Clinton in the 2016 Presidential Election.
"More than ever, the people have to come together," said JAY-Z at the 2017 Sundance Film Festival after a screening of TIME: The Kalief Browder Story, which he executive produced. He continued,
"We have to tell these stories, and we have to organize in a way that we never have before, because that's the only thing that effects change. I've been in these meetings, I've spoken with people, I've done many things behind the scenes, but most important: We are the power. I'm sure a lot of you guys participated in it, but that display of woman power the other day was so amazing and we saw the effect: That no matter what, no matter who's in office, we are the people that's in power."
Fans were so for Jay's showing of girl power in "Family Feud" — directed by Ava DuVernay — and promptly took to Twitter to praise the video. In addition to grown Blue Ivy, fan-favorite elements include Pope Beyoncé and the diverse congress featuring some of Hollywood's most popular actors including Niecy Nash, Rosario Dawson, Mindy Kaling, Constance Wu, and Brie Larson.
This showing of girl power and diversity in "Family Feud" couldn't have come at a more perfect time. From the Women's March, to the #MeToo movement, to all the inspiring moments in between, it's safe to say that 2017 was all about women. And while ultimately America fell short in electing a woman as President in 2016, it's nice to see JAY-Z keeping the dream alive for his children and others. Because how awesome would it be for millennials to look back in 30 years and tell their grandchildren all about that time President Blu Ivy Carter did carpool karaoke at the Grammy Awards?