Experts Say If These 9 Things Happen During Intimacy, Your Relationship May Be Toxic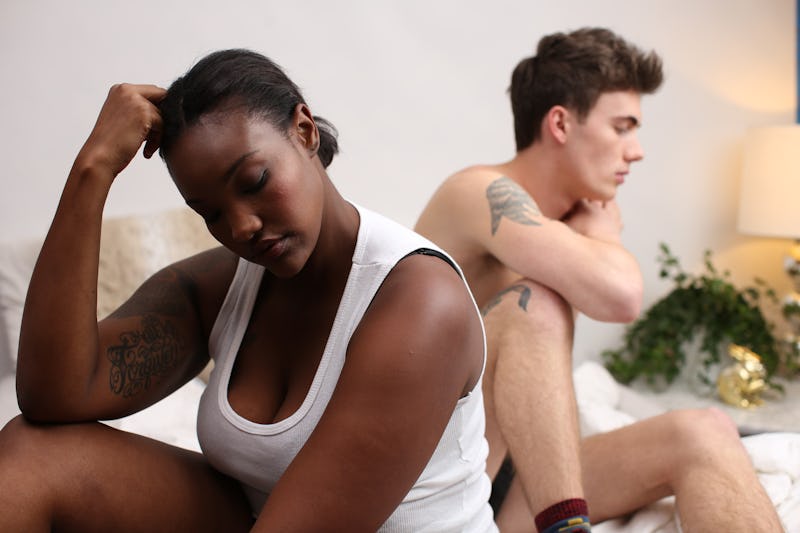 Ashley Batz for Bustle
After a delicious dinner, a super entertaining movie, and a good cuddle on the couch, you and your partner may be ready to start getting a little steamy. But even in a long-term committed relationship, certain things that happen during sex could be indicative of problems. Every time you get busy isn't going to be picture-perfect in terms of your chemistry or your sexual pleasure, but there are some habits during sex that might mean your relationship is toxic. According to experts, anything from unequal effort to pushing boundaries can be a sign that your relationship isn't healthy.
"Respect and consent are mandatory for both emotional and physical safety in a sexual relationship," Christine Scott-Hudson, MA, MFT, ATR, a licensed psychotherapist, marriage and family therapist, and owner of Create Your Life Studio, tells Bustle. This doesn't mean that every sexual experience has to be perfectly calm and polite, though. "Even if getting shamed is your thing in the bedroom, in healthy relationships," she says, "there will be a discussion of consent beforehand to make sure both (or all) partners are on board with the parameters."
If what you and your partner are doing in bed is having a negative impact on you, whether it's feeling like you have to fake your orgasms or something as serious as nonconsensual violence, don't hesitate to seek support from loved ones or a professional.