These "Families Belong Together" Protest Signs Tear Right Into Trump's Immigration Policy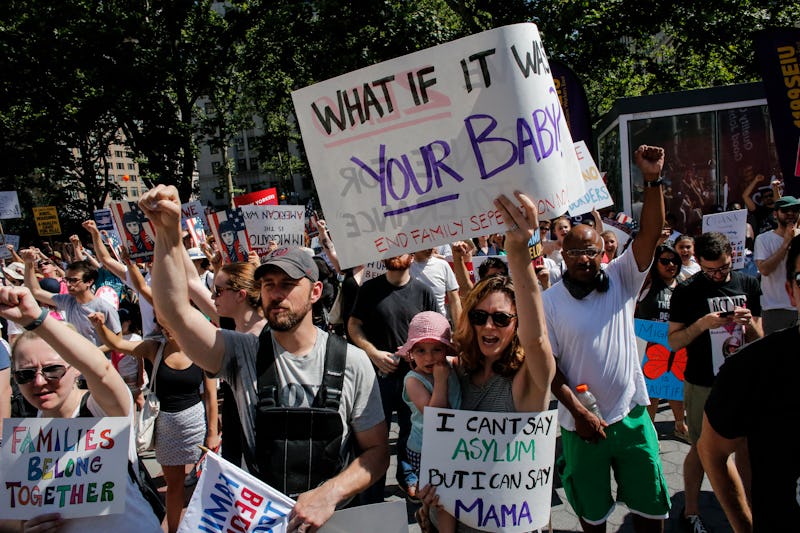 Kena Betancur/Getty Images News/Getty Images
A massive crowd turned out at the Families Belong Together march in Washington, D.C. and at sister marches around the country on Saturday. From the thousands of people who showed up, there were some truly powerful protest signs at the Families Belong Together marches around the country.
The Washington, D.C. march began at Lafayette Square, next to the White House. (President Donald Trump is at his golf club in New Jersey.) More than 700 cities around the country hosted sister marches on Saturday.
The march came about as a result of the Trump administration's zero-tolerance policy. The policy prosecuted every illegal entry into the United States as a criminal offense, which meant parents were sent into the criminal justice system and separated from their children, who went into the custody of government. After mass outcry, Trump signed an executive order to end the practice and detain families together.
The executive order detains families together indefinitely, which organizers of the march don't see as an improvement. "At the end of the day what was announced today doesn't actually solve the problem, in a bunch of ways," Karthik Ganapathy, spokesperson for the Families Belong Together March and MoveOn, a group helping to organize the protest told Vox. "In terms of the kids who've already been separated, in terms of clarity on whether or not they'll ever do this again ... and lastly, on this question of indefinite detention — and in some ways that's even worse."
In addition to the news of family detention, there's been little guidance on the 2,000-plus children who were separated from their parents as a result of the zero-tolerance policy. There are numerous hurdles for reuniting children who are currently living in government-run facilities.
In protest of Trump's immigration policies, people across the country came out in droves for the Families Belong Together marches. These are some of the best signs they brought.