'Fargo' Season 3 May Be Completely Different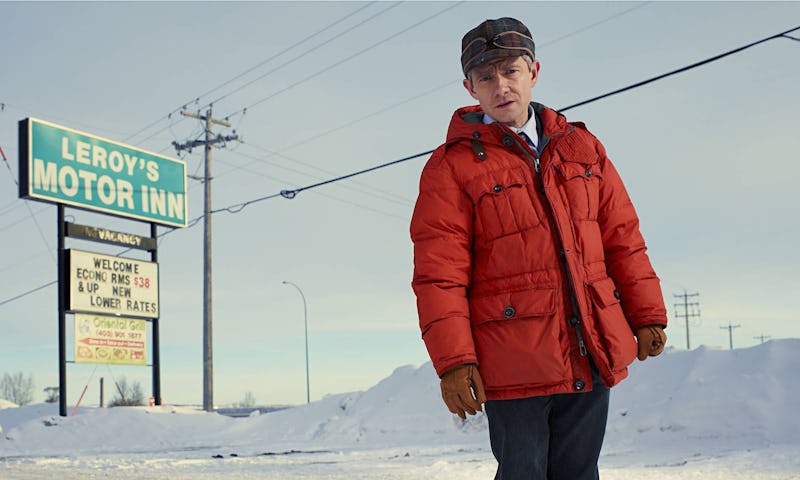 FX
Fargo fans were gifted a bevy of information during the show's Television Critics Association winter panel on Thursday. As soon as it was announced that FX's Fargo would be coming back for round three, viewers have been clamoring for details. As we've previously learned, the cast boasts a wide variety of talent with the likes of Ewan McGregor, Carrie Coon, Mary Elizabeth Winstead, Jim Gaffigan, and David Thewlis. Now, we know more about Fargo Season 3's premiere date, as well as its setting.
According to The Hollywood Reporter, per the TCA panel, Fargo has just started filming. (Though they must be working hard, since they had enough footage to show the panel a few scenes, including McGregor's anticipated portrayal of two brothers.) As production's currently underway, the third season of Fargo is set to premiere sometime in April. Aww, jeez, that's sort of far away, you know?
As for setting, Season 3 still takes place in the cold trenches of good ol' Minnesota, but the timing will be different than what we've seen in Season 1 and Season 2. Where Season 1 took place in the mid 2000s, Season 2 brought us all the way back to the late '70s. Season 3, however, will reportedly redirect the audience to present day.
Showrunner Noah Hawley had to exit the panel early, but executive producer Warren Littlefield commented on his behalf, regarding this jump in time. "Noah is going to have a lot of fun embracing and commenting on the world today," he said, according to THR.
In fact, if you were to try and pin Season 3's theme down at this point (granted with only a small amount of information), you'd probably land on something involving this premise of modernity. Or maybe more aptly, the perils of our particular modernity. According to Fargo's official Twitter account, "Season 3 demonstrates how technology is supposed to unite us, but often doesn't."
Season 3's connection — character-wise — to Season 1 and 2 will be restricted, if at all. When Littlefield was asked about cameos from Season 1 actors, he responded, "It's a big region. I think the important thing about year three is intimacy. We're a smaller cast. And it allows us to go deeper with each of these characters. Noah does not want to repeat himself." Unfortunately, for us, that means probably no Peggy Blumquist.
On a happier note, it sounds like Season 3 will be its own autonomous story, separate from any outstanding blood lines of seasons yore. Meaning Hawley has room to take these new Minnesotans to some new (and most likely distorted) directions.
With the space to expand in its tertiary season, you betcha Season 3 will explore uncharted territory and push the boundaries even further, toying with its audience in the delightful debauchery that Season 1 and 2 are predicated on. Winstead made sure to emphasize that Hawley "likes characters that can be a hero or a villain in any given moment."
To give you a little taste, Winstead described her own character as "smart and savvy, and has the capacity to be conniving."
The last nugget of info to leave you with is one you'll spend the better part of these coming months mulling over. Apparently, "each season of Fargo could be seen as a chapter in the History of True Crime in the Midwest book referenced in Season 2," according to a tweet from a TV reporter at The Wrap. Hawley has actually hinted at this idea before. Last July, he explained,
The movie was Chapter 4, Season 1 was Chapter 9 and this [Season 2] is Chapter 2. You can turn the pages of this book, and you just find this collection of stories. But I like the idea that these things are connected somehow, whether it's linearly or literally or thematically. That's what we play around with.
But how does Season 3 connect — linearly, literally, or thematically — with Seasons 1 and 2? Aw heck, we'll just have to wait until April to find out, you know?