The Second Most Popular Hashtag Of 2017 Brought Fashion Lovers Together For A Powerful Reason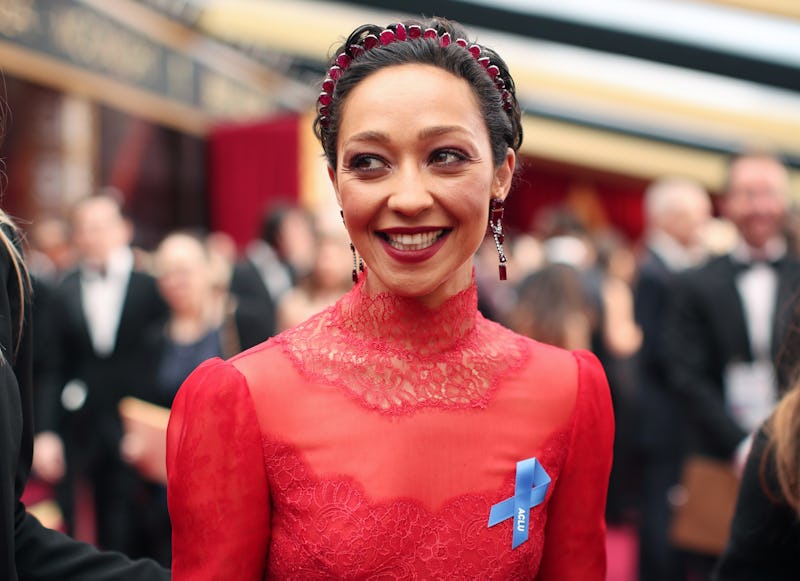 Christopher Polk/Getty Images Entertainment/Getty Images
This past year was filled with very high highs and extremely low lows. No matter where we were on the never-stopping rollercoaster of 2017, there was one thing that brought us all together — fashion. Well, that and social media. According to Instagram's 2017 Year In Review, #fashion was the second most used hashtag on social media platform this year. Other than personal style and #OOTDs, there was a bigger reason that this hashtag surged in 2017. And it's all about activism.
One search for the hashtag #fashion on Instagram, and you'll find over 446 million photos. There's everything from gorgeous celebrity gowns to sports bra selfies. But the popular tag means a lot more than killer outfits and curated flat lays. In 2017, it was no longer about what you wore, but about why you wore it.
#Fashion changed with the 2016 election and the shifting political environment. There was a rapid influx of people wearing #NastyWoman T-shirts and brands supporting charities through fashion. The trend of speaking out and giving back carried over to 2017 — and was even bigger and better than before.
In January 2017, the Pussy Hat Project took over the Women's March. The knitting group took something as simple as a pink knitted hat, which is not your usual fashion statement, and made it an iconic part of the movement. In February 2017, Emma Watson made headlines for her Instagram page devoted to eco-friendly fashions. In September 2017, and well throughout the beginning of awards season, actors stepped out onto the red carpet wearing blue ACLU ribbons in support of the human rights organization.
What do all these instances have in common? Activism, awareness, and a call for unity.
On top of the well-publicized fashions that raised political awareness this year, plenty of brands joined the fight with charitable collections, too. There are simple collections, like the Madewell and Girls Inc. fashion and accessory collection, and brands that are founded with the sole purpose to give back.
For example, the brand My Sister was created this year to help end trafficking. My Sister doesn't just give back to charities, but the apparel sold by the brand also support the same cause with powerful slogans.
Even Fashion Week has gotten involved on making clothing political, with designers sending graphic tees down the runway boasting statements like "Girls Just Want To Have Fundamental Rights" and "We Should All Be Feminists." Some designers even soundtracked their runways to politically-driven songs like, "This Land Is Your Land."
In 2017, New York Fashion Week also teamed up with The Council of Fashion Designers of America (CDFA) to distribute blue pins to Fashion Week designers and patrons in support of the ACLU.
According to Instagram's Year In Review, #fashion was second to only one other hashtag — #love. Whether you're loving the outfit you're in or loving the message it helps you spread, #fashion is filled with love.
After all, what you wear has power. Don't believe me? There's over 400 million posts to back me up. With fashion, you can speak without saying a thing.
No matter how you decide to wear your message or what message you decide to wear, you hold the power through your personal style. That's a whole lot of #fashion to talk about.