A New Study Shows Women On-Screen Have It Just As Bad Now As 10 Years Ago, But There's A Fix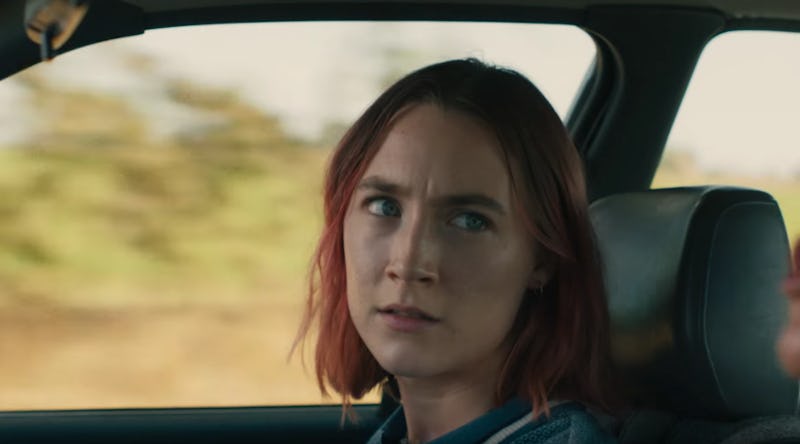 A24
In the past few years, Hollywood has been trying to become more female-friendly through initiatives that look to hire more women in front of the camera and behind the scenes. But, Hollywood still has a serious woman problem. The newly released 2018 USC Annenberg Inclusion Initiative, a yearly study that looks at the representation of gender, race/ethnicity, LGBT, and disability in popular films, found that when it comes to women's roles little has changed in the last ten years. In fact, last year, women had fewer speaking roles in movies than they did a decade ago, according to the study. While the fact that women are still underrepresented in movies isn't surprising, it's still disappointing to know how slow progress towards gender equality has been in Hollywood.
The study, "Inequality in 1,100 Popular Films: Examining Portrayals of Gender, Race/Ethnicity, LGBT & Disability from 2007 to 2017," took a closer look at what they're calling the "inclusion crisis" and found that after looking at the top 100 movies of 2017, male characters outnumber female ones more than 2 to 1. But, the need for inclusion is about more than just numbers, it's about the quality of female characters that are gracing the screen when they actually get a chance to be there.
Women Make Up 31.8% Of All Speaking Roles In 2017
The study found that last year, female speaking characters in the top 100 movies accounted for just 31.8 percent of all roles. That was up just .2 percent from the year before, but was less than 2008 and 2009 in which female speaking roles were 32.8 percent. The Wrap reported that, across the past 11 years — not counting 2011 when there was no study — female speaking characters on screen filled just 30.6 percent of all roles. Clearly, when it comes to female inclusion, progress has been stagnant at under 33 percent for the last decade and to get over this hump, action needs to be taken.
"This is a punch to the gut reminder that we still have a long way to go," Amber Tamblyn, one of the leading voices of Time's Up, tweeted after the study went public. "The #InclusionCrisis is real and demands our attention."
In her tweet, Tamblyn also noted an interesting, but majorly depressing fact from the study: "Out of 1,100 films over the last decade, 43 were directed by women, a small fraction of which were women of color and other underrepresented voices."
Women Made Up 4.3% Of Directors Studied
The study found that out of the 1,223 directors who worked over 11 years, just 4.3 percent were female and women of color were even less represented. "Once again, we see that women of color are most affected by exclusionary hiring practices," Stacy Smith, founding director of the Annenberg Inclusion Initiative, stated in the study. "Just four Black/African-American women, three Asian women, and one Latina directed a film across the 1,100 we examined." To put that into even sadder stats, over the past 11 years, just eight women of color have directed a film that landed in the top 100 of the year — eight.
The Annenberg Inclusion Initiative went further to highlight the need for more female directors. "Only a third of all speaking characters across 100 films were female. Female directors tell female-driven stories. Do the math," the Annenberg Inclusion Initiative tweeted. "Hire more female directors."
And there is strong evidence that just hiring more female directors would help the inclusion crisis. According to the 2016 Celluloid Ceiling study by the Center for the Study of Women in Television & Film at San Diego State University, films directed or co-directed by women employed "greater percentages of women working as writers, editors, cinematographers, and composers than films with exclusively male directors." If you hire more women behind the camera, you'll get a more diverse crew and cast to tell these stories that are also more inclusive.
43% Of The Top 100 Films In 2017 Had ZERO Black Female Characters
While women are under-represented onscreen, women of color are nearly invisible. According to the study, out of the top 100 films in 2017 they looked at, 43 films didn't include a single Black/African American female character. Sixty-five of those films were missing Asian or Asian-American female characters, and 64 didn't include a Latina character. Not to mention the devastatingly low numbers of characters with disabilities and LGBTQ characters in the films surveyed.
The Hollywood Reporter called the USC Annenberg Inclusion Initiative statistics "sobering" in that they paint a different picture than the one Hollywood is trying to sell. Throughout the past year, Hollywood has been giving itself a pat on the back for all it's doing to help achieve gender parity, but the numbers don't lie. Out of the top 100 films in 2017, only 33 of those films featured a female lead or co-lead, and only four of these women were from an underrepresented racial or ethnic group.
"In prior years, I have referred to these findings as the 'epidemic of invisibility' in film," Smith said in regards to her study's findings. "After witnessing little change in these numbers, it is clear that Hollywood must do more to ensure that marginalized groups are a part of the fabric of storytelling."
Fixing The "Inclusion Crisis"
Changing the way Hollywood represents, or fails to represent, people who are no white, straight, or male, will require making systemic changes to Hollywood's hiring practices. In the report, Smith suggested Hollywood stars push for inclusion riders, which allows actors to include a stipulation in their contract that demands a certain level of diversity in a film's cast and crew. Frances McDormand first brought this up in her Best Actress speech at this year's Oscars, explaining backstage, "You can ask for, or demand, 50 percent diversity in the cast or the crew. The whole idea of women trending? No. African Americans trending? No. It changes now. I think the Inclusion Rider has something to do with that."
Since then, Brie Larson, Michael B. Jordan, and Mudbound director Dee Rees have all spoken publicly about using an inclusion rider. "It's great to make it contractual because that is what will change the business," Rees told Vanity Fair earlier this year.
These kinds of changes, Smith said are what will finally lead to real inclusion in Hollywood. "Good intentions are not enough to create change," she said. "Hollywood needs tangible, actionable solutions that will usher in real transformation. Our work brings to light the steps that companies and individuals can take if they want to see results."
And as The Hollywood Reporter pointed out, it's not hard at all to fix this problem of female representation in film, it just takes action. By just adding "five female speaking characters — even in minor supporting parts — to each of the top 100 movies each year would make 50-50 onscreen gender parity achievable by the year 2020," THR wrote. That doesn't sound very hard at all, now does it? With all of these solutions out there for Hollywood to see, it also means there's no excuse if female representation isn't up moving forward. It's time to hold Hollywood accountable and push for real change that leads us to the future and not keep us back another decade.