This Video Of 'Fixer Upper's Chip Gaines Supporting Wife Joanna Is So Charming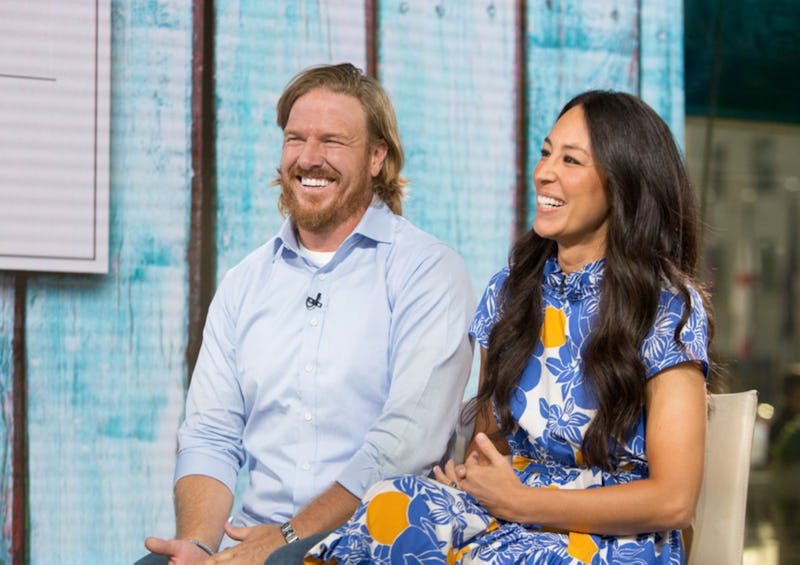 Nathan Congleton/NBC
Chip and Joanna Gaines have moved on from Fixer Upper, but they have not moved on from being charming as all get-out on TV. On Tuesday, April 24, Fixer Upper's Chip and Joanna appeared on The Today Show. Joanna was there to promote her new cookbook, Magnolia Table: A Collection of Recipes for Gathering. Chip was there to cheer Joanna on while she promoted her new cookbook. And yes, it was charming as all get-out.
At some point during the episode of the daily morning show, Chip left the warm studio, stood outside with the show's audience, and held up an "I <3 Joanna Gaines!" poster. He was there to root for his wife like the number one Jo fan that he is. Chip tweeted,
"Jo's cookbook is officially out! Let me tell you, she's poured her heart into this book, and I couldn't be more proud. I think your belly is gonna love it as much as mine does. #fangirling #MagnoliaTableCookbook"
Chip and Joanna are household names thanks to their hit HGTV program, Fixer Upper. The Waco, Texas-based series followed the couple as they flipped houses, wheeled away enormous "before" pictures, and knocked clients' socks off for five seasons. But alas, all good things eventually come to an end. Last year, the Gaineses announced that their show would be over after Season 5. The final episode of their home renovation series aired on April 3.
In a blog post that went up on Magnolia's website on Sept. 2017, Chip and Joanna announced that they were officially stepping away from Fixer Upper after Season 5. The couple wrote,
"It is with both sadness and expectation that we share the news that season 5 of Fixer Upper will be our last. While we are confident that this is the right choice for us, it has for sure not been an easy one to come to terms with. Our family has grown up alongside yours, and we have felt you rooting us on from the other side of the screen. How bittersweet to say goodbye to the very thing that introduced us all in the first place."
They added,
"Though our Fixer Upper chapter is coming to a close, we aren't done with Waco. We aren't done renovating homes. We aren't done designing things to make your home your favorite place on earth. We aren't done working towards restoration in all things or helping out those who could use a hand. In fact, in all of these things, we are just getting started. Who knows what the future holds, but we're excited for whatever is around the bend and in the meantime, we will definitely be staying in touch."
Apparently, HGTV realized that fans needed to be eased into the post-Fixer Upper era, and so the channel gave fans Fixer Upper: Behind the Design, a companion series that premiered on April 10. Chip and Joanna did not film new episodes for Behind the Design, but the offshoot does feature behind-the-scenes footage of Jo's design process that was filmed when the HGTV power couple shot Season 5. Every episode of the 15-episode companion series corresponds to a renovation from the final season of Fixer Upper. As the HGTV site put it,
"Joanna Gaines shares an in-depth look at how all the design decisions, details and decorating come together before the final reveal of each Fixer Upper house. She also reveals some never-before-seen design elements and shows how she, Chip and her design assistants work to meet their clients' needs and style while overcoming design challenges that pop up along the way."
So, what are Chip and Joanna doing now that they're done with Fixer Upper? Oh, you know, just running a house flipping business, running a restaurant, running a furniture line, running a magazine, expecting their fifth child, and promoting Jo's new cookbook.
And Tuesday's cookbook promotion was about as lovely as a brand new farmhouse sink.