Carrie Fisher Was Wary Of 'Bright Lights' At First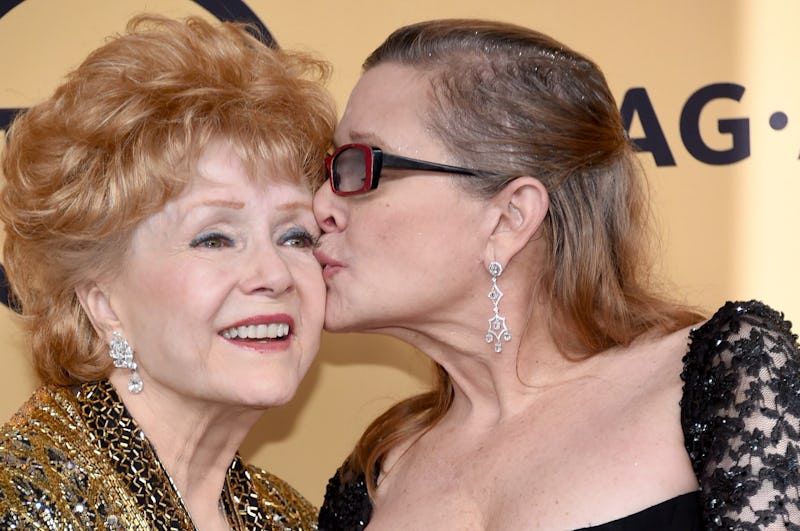 Ethan Miller/Getty Images Entertainment/Getty Images
Though she was known as much for her candor as for her film career, Carrie Fisher had reservations about the intimacy shown in Bright Lights, the HBO documentary about her relationship with her mother, Debbie Reynolds, which premieres Jan. 7. Which means you should definitely watch it, if you weren't already planning to, but gird your emotional loins. In an interview with E!, one of the documentary's directors, Fisher Stevens, revealed that it took some convincing for Fisher to get totally on board with the final cut, as she thought it was a touch too close and too personal, which is surprising, as she was known for being such an open book (and writing several very revealing ones).
Stevens (who co-directed the documentary with Alexis Bloom) assured potential viewers that Fisher loved Bright Lights, but that it took some convincing to get her to that point.
"At first we had to kind of...she was a little shocked at the intimacy of it," Stevens said. He recruited some of her friends and colleagues to ensure her that it was "wonderful and beautiful."
Stevens said, "There were little things that really bugged her, but in the end she fell in love with the film and thought it was a love letter to her and her mother. And that's the good news, is that she loved it." No one deserves love letters more than the team of Fisher and Reynolds.
For Fisher to believe something to be too exposing must mean that the documentary is quite the inside look into the lives of her and her mother. After all, throughout her career Fisher embraced her flaws and never apologized for them. She wrote books detailing her substance abuse, struggles with mental illness, and living with bipolar disorder, and the difficulties she endured growing up in a show business family where not all was glamorous and glitzy.
But it's her complicated but ultimately adoring relationship with her mother that is the heart of Bright Lights. In one of the film's trailers, you can see hints of the intimacy that Fisher might have at first been afraid of — bickering between mother and daughter about outdated technology. (Debbie Reynolds had a very old cell phone.) Fisher, who lived next door to her mother, walks over to her mother's home with a meal, saying that her mother was doing a performance soon even though Fisher tried to stop her out of concern for Reynolds' health. Walking along the sidewalk to Reynolds' house, Fisher says, "I usually come to her... I always come to her."