Fran Drescher & Cardi B Might Be Hitting The Small Screen Together In An Unexpected Way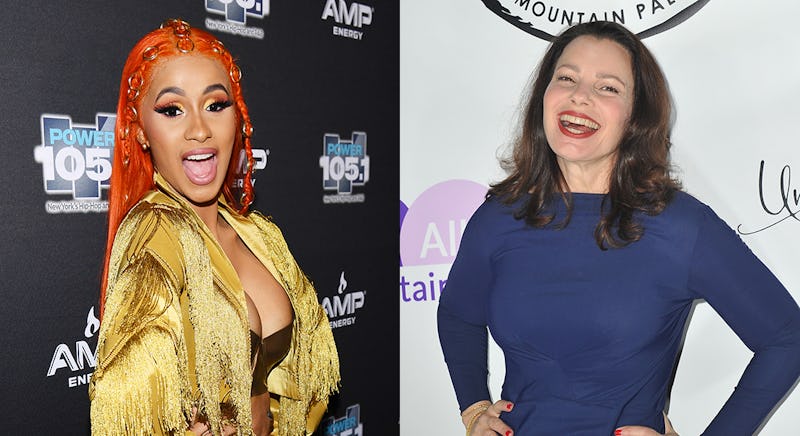 Dave Kotinsky/Getty Images Entertainment/Getty Images; Rachel Luna/Getty Images Entertainment/Getty Images
The "flashy girl from Flushing" may just be collaborating with a Bronx rapper after all. A project starring Fran Drescher and Cardi B is in the works, according to the actor who played the iconic big-haired, fashion-forward Fran Fine in '90s CBS sitcom The Nanny. "I am actually talking to her representation, and it may not be for The Nanny, but it could be for something else," Drescher revealed in a Nov. 1 interview with Entertainment Tonight. "A millennial-meets-baby-boomer kind of concept. I would love to work with her."
For the "Bodak Yellow" rapper, that feeling is definitely mutual. In fact, Cardi B is the one who indirectly put the mashup idea in Drescher's mind to begin with, posting an Instagram photo of herself slaying a head-to-toe animal print look — comprised partly of a Dolce & Gabbana tiger-print coat dress and furry "DG" glasses — during Milan Fashion Week in September. Bardi's caption? "Fran Drescher in @dolcegabbana"
Having not yet heard any of the Grammy Award nominee's hits (or amazing, unfiltered one-liners and catchphrases) at the time, Drescher said she instantly became a proud member of the Bardi Gang, quickly following her on Instagram and listening to her music. "I think we could make a great combo," Drescher added to ET. "We both are style icons and have funny voices! And I just think she's funny, so we'll see."
Initially, Drescher wanted Cardi B to play her daughter in a potential Nanny reboot, as she revealed in an October interview with People. ("Wouldn't she be great?" gushed Drescher.) After fan fervor picked up some major steam, Cardi gave her enthusiastic "okurrr" to the idea. The "I Like It" rapper posted an Instagram video with her official co-sign in the caption on Oct. 12: "IM WITH IT !!!!This makes me so happy cause i love her ❤️"
Cardi B isn't without small-screen experience either. After starring in VH1's reality series Love & Hip Hop: New York for two seasons, the hitmaker went on to appear in a 2017 episode of BET's Being Mary Jane as Mercedes, who just so happened to be a fictional version of herself.
Fans of the original Nanny may have some, uh, questions, though, as "Miss Fine" was (at long last!) married to (the very Caucasian) Maxwell Sheffield AKA Mistah Sheffield (played by British actor Charles Shaughnessy) when the Emmy-winning series ended in 1999 after six seasons. So just who would be Cardi's onscreen father? "Not from me and Mr. Sheffield," Drescher also joked to People. "I would have to have a man of color. I'm down with the brothers."
Despite having not yet been able to find a home for a reboot of The Nanny, Drescher isn't giving up hope. "I don't know what is going on with some of these networks out there because they do not seem to be hip to the fact that there's an obsession amongst millennials for the show and moi!"
Even if the Drescher-Cardi B doesn't end up having anything to do with The Nanny — which celebrated the 25th anniversary of its 1993 premiere on Nov. 3 — Drescher has many fond memories from her time on the comedy. "I just remember having my own parking space!" she recalled to ET of her first day on set. "I was like, 'Wow. I've really made it!' It was very special."
With the news of a possible collaboration between her and Cardi B on the horizon, hopefully there will be many more special (and most likely loud) moments to come.