Gabourey Sidibe Went Behind The Camera To Celebrate Black Womanhood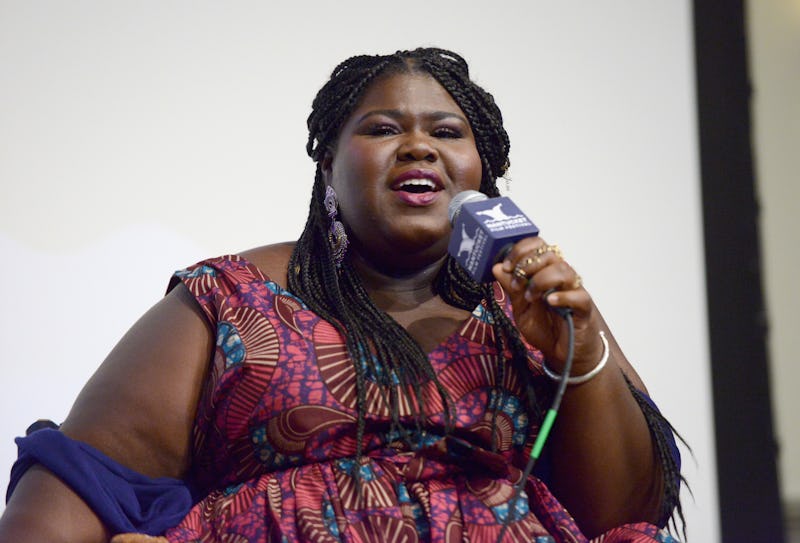 Noam Galai/Getty Images Entertainment/Getty Images
In 1966, jazz singer Nina Simone released the song, "Four Women." The lyrics give names and narratives to four distinct archetypes of African-American women. More than 50 years later, the stories of hardworking Aunt Sarah, biracial Saffronia, promiscuous Sweet Thing, and tough as nails Peaches still resonate with black women who see themselves in Simone's characters. Actor Gabourey Sidibe's directorial debut The Tale Of Four uses "Four Women" as its backdrop. The film premiered at the Nantucket Film Festival on June 25, just a month after Sidibe's memoir This Is Just My Face: Try Not To Stare hit shelves. The short film and the book both aim to reconstruct the public's damaging, surface-level understanding of black women so they can be seen as multidimensional human beings.
"I know each one of those women," Sidibe tells Bustle over the phone about the characters in her film. "I've been each one of those women. Each one of those women has raised me and has taught me and loved me and hurt me."
The Tale Of Four shows a day in the life of Aunt Sarah, who's caring for her sister's children while she's in jail; Saffronia, who's pleading with her mother to tell her the truth about her white father; Sweet Thing, who's searching for love in the wrong places; and Peaches, who's dealing with the loss of her son to police brutality.
The Empire star's work is part of Refinery29's Shatterbox Anthology short film series. The film initiative seeks out young, female voices to step behind the camera and bring a story to life. Sidibe agreed take the director's chair because she felt a responsibility to not only bring more women of color to the big screen, but also to craft an updated narrative that allows audiences to see the humanity of black women.
"In telling the story of these four women, I'm telling my story," she says. "I'm talking about my fear. I'm talking about my family. I'm talking about injustice. I don't know what else is to be done other than to say, 'I'm human. See my humanity before you see my skin color.' That's what I'm trying to do most with this film. This story is important to tell now because it's not going away. I needed a place to channel [my] anger and fear."
Sidibe also found a more directly personal way of letting people see who she truly is. The 34-year-old released her first memoir in May. Sidibe says her blunt title expresses her desire to be seen for who she is rather than how she looks.
"It's taken some time for me to not decide what [people] are staring at and why they're staring at me," she says. "I had to stop assuming and start taking in the love from people even if they're not giving me love — just expecting love."
The actor best known for playing the embattled titular character in the 2009 film Precious is often asked about her weight and her health journey after undergoing laparoscopic bariatric surgery in 2016 because of her Type 2 Diabetes diagnosis.
"It always makes me feel strange whenever someone talks about my body in a good way or a bad way," Sidibe explains. "If I had a different body, they wouldn't feel the need to say anything."
Rather than dwell on other people's unsolicited comments and unrealistic expectations, Sidibe said her memoir is meant to uphold her strong sense of self and inspire others to do the same. As for The Tale of Four, Sidibe hopes the message that "people of color are no less human than anyone else" resonates with audiences of all backgrounds. Thanks to her work on screen and behind the camera, the actor-director-author is becoming an even greater force to be reckoned with in the entertainment industry — and that is certainly worth giving a stare.