Gabourey Sidibe Has The Perfect Oscars Reaction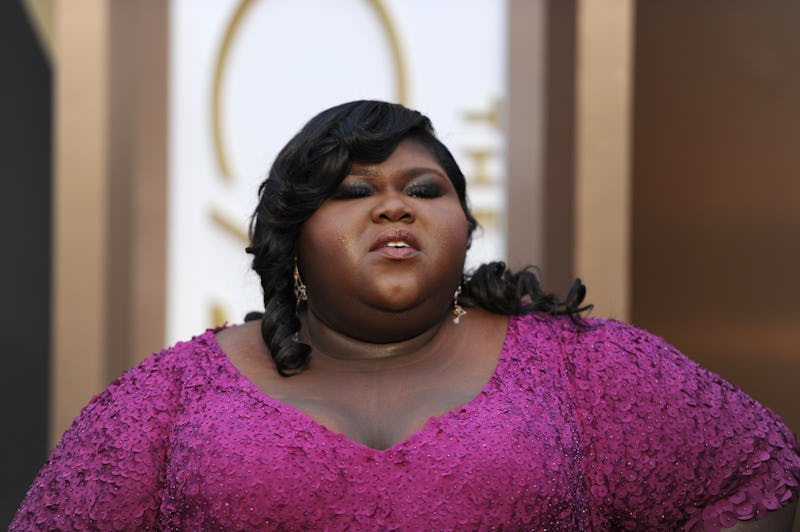 ROBYN BECK/Getty Images
The 2017 Oscar nominations on Tuesday included a smorgasbord of surprises, and one of them was the super cute introductions by previous Oscar nominees and winners. One of the stand out moments of the broadcast has to be Gabourey Sidibe discussing her Oscar nomination. She was nominated for her role in the Best Actress category for 2009's Precious, the movie that helped cement her as one of the most exciting new talents in Hollywood. And the reason Sidibe's reaction to being nominated for an Oscar is so perfect is because she refuses to be humble, which is so relatable.
In a segment that ran throughout the 2017 Oscar nominations, previous nominees opened up about the moment they found out that they were in the running for an award. Clearly, being nominated for an Oscar is the pinnacle of a person's career, and Sidibe definitely enjoyed her moment in the spotlight. When asked how she felt about her Oscar nomination, she said, "People were like, I feel, I'm so humbled by this moment. Like, no, I feel like the f*cking greatest." The American Horror Story actor's reaction is completely refreshing, and of course she should be proud and celebrate her impressive achievements.
Far too often, women are told to be humble and demure and to not outwardly celebrate their achievements, as if success isn't "ladylike". So to hear Sidibe really revel in her Oscar nomination is amazing. The expected reaction to being nominated for the award to end all awards is to quietly and graciously thank the Academy, while wiping a tear from one's cheek. But why shouldn't a person that's been nominated for an Oscar for Best Actress appreciate just how great that is?
Sidibe's reaction to her Oscar nomination isn't humble at all, and that's more than OK. We could all do with appreciating our own talents as much as she does, and should be telling ourselves daily that we're the "f*cking greatest." Basically, Sidibe just gave us all a new mantra.