George R.R. Martin Just Launched A Scholarship To Help Aspiring Fantasy Authors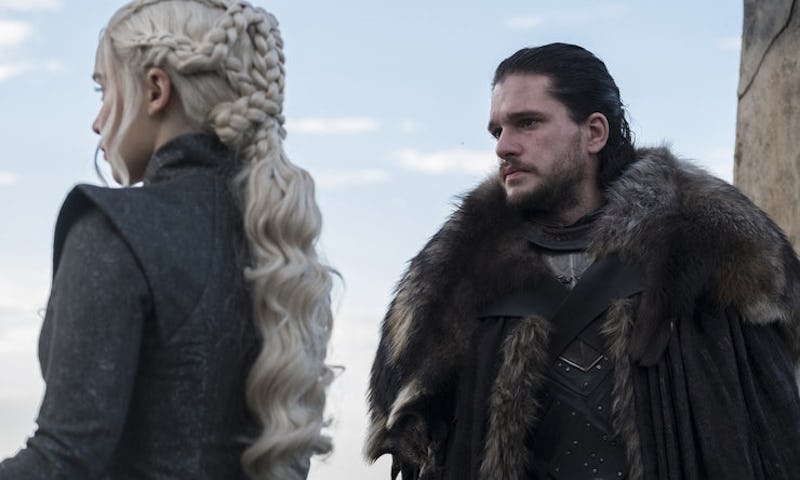 Helen Sloan/courtesy of HBO
If you've always wanted to attend a writing workshop, but were deterred by the cost, one popular author may just pay your way in. George R.R. Martin is funding a scholarship for science-fiction and fantasy writers at the Clarion West Writers Workshop. The "Worldbuilder" scholarship will cover the cost of one, six-week workshop course for one student each year, and will take into account a student's talent and financial need.
Since 1971, the Clarion West Writers Workshop has been committed to nurturing the careers of up-and-coming speculative-fiction writers. Its inaugural class fell under the tutelage of George Clayton Johnson (Logan's Run), Harlan Ellison ("I Have No Mouth and I Must Scream"), Joanna Russ (The Female Man), Samuel R. Delany (Dhalgren), and Ursula K. Le Guin (A Wizard of Earthsea). Recent Clarion West alumni include Ann Leckie (Ancillary Justice), Indrapramit Das (The Devourers), Ibi Zoboi (American Street), Kameron Hurley (The Geek Feminist Revolution), and E. Lily Yu ("The View from the Top of the Stair").
Each summer, the Clarion West Writers Workshop admits 18 students to a six-week program that includes dormitory housing and instruction by a handful of acclaimed science-fiction and fantasy authors. For the class of 2018, those authors include Yoon Ha Lee (Ninefox Gambit), Karen Lord (The Best of All Possible Worlds), and Karen Joy Fowler (We Are All Completely Beside Ourselves).
If Lee, Lord, and Fowler are some of your favorite authors, you're in luck! George R.R. Martin's first Worldbuilder scholarship will be awarded to a Clarion West Writers Workshop student in 2018. Martin intends to fund the full $4,200 a writer needs to attend Clarion West, which covers tuition fees, room, and most meals. The Worldbuilder scholarship joins Clarion West's already rich lineup of funding possibilities for students in need of financial support.
Discussing his decision to found a new scholarship for aspiring writers of science fiction and fantasy on his LiveJournal, Martin explains: "These days, the world is more need of wonder than ever before." He goes on to say:
Our new WORLDBUILDER SCHOLARSHIP will cover tuition, fees, and lodging for one student each year. The award will not be limited by age, race, sex, religion, skin color, place of origin, or field of study. The winner will be selected each year in a blind judging to an applicant who demonstrates both financial need and a talent for worldbuilding and the creation of secondary universes. For further details, query Clarion West at info@clarionwest.org
Clarion West offers a wide range of other scholarships and financial aid packages, but you can never have too many. I remember very well what it was like to be a writer starting out, struggling for sales, and counting every dime. It is my hope that the Worldbuilder Scholarship will help the next great fantasist on the long journey ahead. As Tolkien himself wrote, every journey begins with a single step [sic]
Clarion West Writers Workshop will accept applications for its 2018 session through March 1.