This Iconic 'Game Of Thrones' Castle Is For Sale For A Somewhat Reasonable Price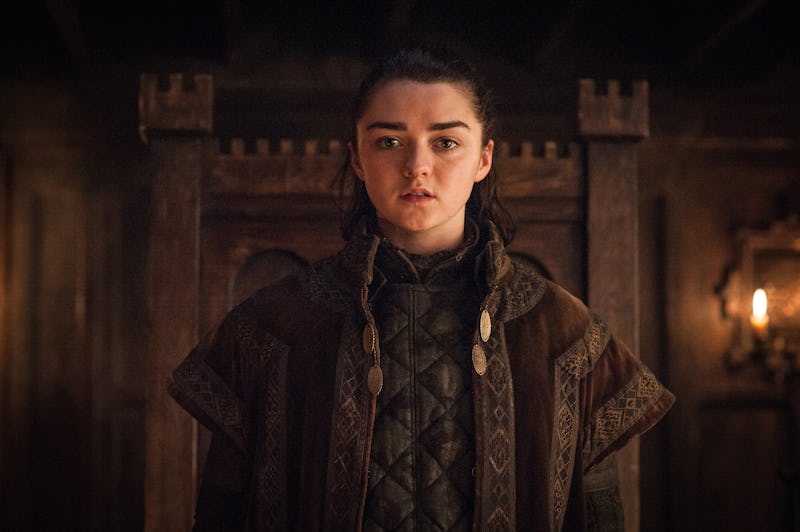 Helen Sloan/courtesy of HBO
As Game of Thrones fans know, the only thing more important to a Westerosi family than their words is their home. But what if you could have a taste of that castle life? Game of Thrones fans can move into Riverrun, and the wildest thing about it is that it's actually kind of affordable (if you're looking for a house, that is).
For prominent families, like the Starks, a home base like Winterfell is everything. The late Lady Catelyn Stark was from the Tully family, who hailed from Riverrun toward the south. In the show, Riverrun is a large, somewhat gloomy castle that oversees the lush riverlands, and it's been home to some of the most heart-stopping moments of the show. And now you can buy it. Well, half of it. The entire castle has been divided into individual living units, but a block of the largest ones are available to purchase together, according to Irish Central.
Riverrun didn't get a whole lot of screen time in the series, but it is notable for being the location where Robb separated Richard Karstark's head from his body. In real life, Riverrun is known as Gosford Castle. Per local paper the Irish Central, it's located in County Armagh, Ireland, and is thought to have been built in the late-1800s for the 2nd Earl of Gosford. Oddly enough, website BroBible got the scoop on the castle's recent history:
"It was occupied by British soldiers during the Second World War and the grounds were used as a war camp for prisoners. The castle was then sold to the Ministry of Agriculture before falling back into military use during the Troubles. It was used as a hotel from 1983."
And then it fell into the hands of those dastardly Freys, as Game of Thrones fans well know. (OK, so maybe that's not exactly historically accurate.)
According to the Irish Central, the castle was renovated in 2006. It now boasts 23 luxury apartments, but interested buyers can purchase six luxury units that together comprise half of Riverrun. Er, Gosford Castle. According to the listing, the half-castle retails at approximately $660,000, which is surprisingly low for an old Irish castle that was featured on Game of Thrones.
To add to the exciting Irishness of it all, each unit has its own name:
"Each apartment measures an average of 3,500 square feet, and has its own title: the Inner Bailey, the Great Hall, the Old Keep, the Dining Room House, the Library Wing, and the Round Tower."
Just imagine the Clue-themed dinner parties you could throw for your guests.
Fortunately, Maison real estate knows they have something special on their hands. It's deep into the castle's official listing, but an acknowledgment — an encouragement, even — is there:
"A potential purchaser could also invest with a commercial direction in mind as the buildings have been used previously as a hotel and as a movie set for the world famous 'Game of Thrones' TV show. The possibilities are endless and only on inspection can this castle and its beautiful location be truly appreciated."
Also, there are options to buy units with rooftop gardens. Just put up some fencing to ward off an encroaching Lannister army and you should be all set.