'GOT' Season 7 May Finally Have A Premiere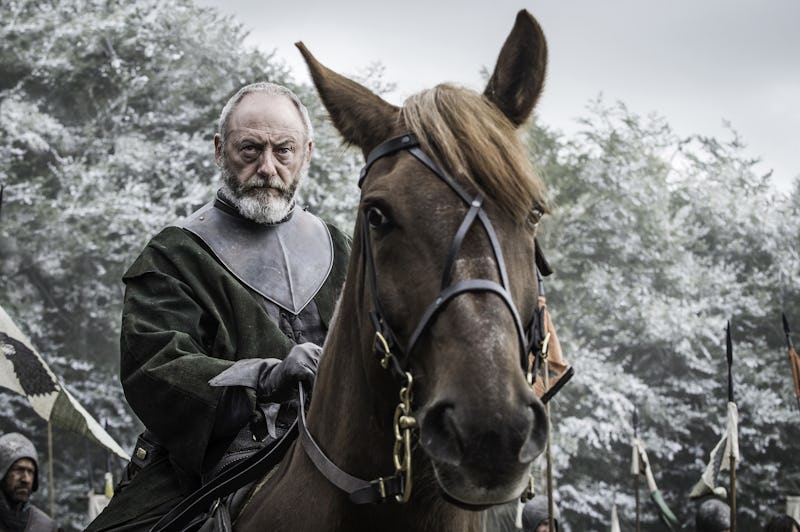 HBO
Sweet summer children, you may have an excellent reason to look forward to the warmer months this year. In an interview with the Irish Independent, Ser Davos, aka Liam Cunningham, hinted that Game of Thrones Season 7 will premiere in July. Now HBO and showrunners David Benioff and D.B. Weiss have yet to confirm the premiere date for Season 7, so Cunningham may have inadvertently revealed the month the new season will start. He could also just be estimating based on what he has been told, but either way, this is the closest fans have gotten to an answer on when they will be returning to Westeros.
Thanks to winter finally arriving, filming for Season 7 was pushed back to the fall to accommodate the show's chillier look overall. As a result, the show's standard April premiere also had to be abandoned. Knowing there won't be any new Game of Thrones episodes premiering in April is a letdown, but I'm not got going to say no to spending the dog days of summer with Jon Snow and Arya Stark.
Cunningham told the Independent,
I've been disappointing various people around the world because it was meant to come out in April. It's July now, I think.
There's going to be a launch and something special happening this year for the premiere. The bad news is, there will only be seven episodes and the final season starts again as far as I know in September.
As much as I want Cunningham's prediction about a July premiere to be true, I am an even more interested about his promise that there "is something special happening for the premiere." Ser Davos, explain yourself immediately.
Does he mean special as in the premiere being shown theatrically, perhaps? Is HBO planning some of sort of retrospective to prepare fans for the final two episodes? What is happening?
Leave it to Game of Thrones to half-answer one mystery, and immediately introduce another. For now, you will just have to wait for official word from HBO. Still, I would keep your July schedule open for some fantasy TV goodness, just in case. Ser Davos is one of the most honest men in Westeros, so even though he didn't swear he knew the premiere date by the old gods and the new, his July estimation is likely close to the mark.
In other words, winter is coming in the summer this year, you guys. Prepare yourselves accordingly.