'Game Of Thrones' Took The Most *Extreme* Measure To Prevent Season 8 Spoilers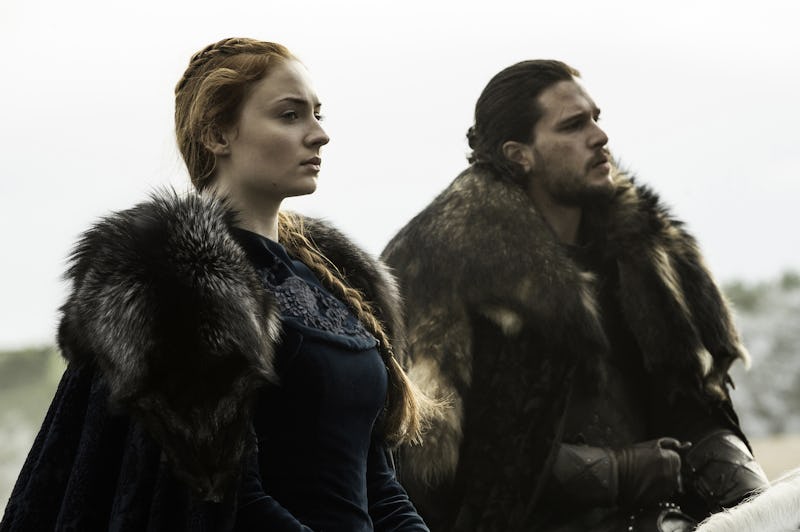 Helen Sloan/HBO
The real hero of Game Of Thrones' final season may be a little electronic device that's not taking down White Walkers, but taking down drones. Game Of Thrones reportedly used a "drone killer" to stop Season 8 spoilers, something Sansa Stark herself, Sophie Turner teased during her recent appearance at New York Comic Con. And let's be honest, it's just one of the extreme measures GoT has tried to stop spoilers.
Now, what is a "drone killer"? Well, it's actually pretty self-explanatory. According to the Los Angeles Times, it's "an electronic device that can disable a drone in the sky and force it back to the ground." In this case, the device GoT used was trying to stop a camera drone from catching snaps of the set and who's on it in hopes of giving away Game Of Thrones final season secrets.
But, Thrones fans might prefer the way cooler way Turner described it when she visited The Studio @ NYCC. "If a drone flies above sets, there's a thing that can kill the drones, which is really cool," she said. "It creates a field around it and the drones just drop. It's very X-Men." Something the X-Men: Dark Phoenix star certainly knows something about.
Drones weren't the only thing that GoT used while filming the upcoming final season, which will premiere next year, to keep secrets under wraps. "The secrecy is crazy," Turner said at NYCC. "We have a whole different name for it when we're shooting it. I think this season it was like the Tree of Life or something." She also said that the actors' names were changed on the script and the call sheets to keep leakers on their toes.
When Kit Harington visited Jimmy Kimmel Live! before the Season 7 premiere, he told the host that the Game Of Thrones crew had filmed decoy scenes. "We did fake some scenes," he said. "We put together people in situations where we knew the paparazzi was around so they'd take photos, and that would get on the Internet to fake scenes." See, the show's intentionally trying to confuse viewers.
Last year, Casey Bloys, HBO's programming president, talked about Game Of Thrones filming decoy endings. "I know in Game of Thrones, the ending, they're going to shoot multiple versions so that nobody really knows what happens," Bloys said during a 2017 speech at Pennsylvania's Moravian College, according to VICE. "You have to do that on a long show. Because when you're shooting something, people know. So they're going to shoot multiple versions so that there's no real definitive answer until the end."
Last fall, while on a Scandinavian talk show, Vulture reported that Nikolaj Coster-Waldau said the Game of Thrones actors won't receive physical Season 8 scripts, but will be fed their lines through earpieces. He said this was due to last year's HBO hack, which resulted in episodes of GoT being leaked online early. "We're all going to have earpieces for the scene and then someone's going to tell you the line and then your going to do the line," he said.
Now Coster-Waldau may have been joking, since Liam Cunningham, better known as Ser Davos, told IGTV around the same time that scripts could only be accessed in digital form at the show's Belfast headquarters. But knowing the lengths GoT has gone to to keep a secret, it's quite possible Coster-Waldau's actually telling the truth here.
After all, Emilia Clarke created a second private Instagram so that she wouldn't accidentally spoil anything. "I created another, very secret account in which post scenes from my life that are relevant or fun for me and my closest friends," Clarke told the UK newspaper The Express earlier this year. "I learned to live with the idea that secrecy is the soul of my business."
While Clarke's learned to live with a lot of fans haven't. It's why the show needed the drone killer in the first place. Already, photos from the set of the final season have been leaked including shots of a fire destroying what appears to be Winterfell that has fans already coming up with their Season 8 theories.
But, knowing the many, many, many things GoT has done to keep things secret, fans might not want to read too much into these images. It could very well be a bit of subterfuge, a necessary trick to make sure the season's biggest surprises aren't ruined. If this list of all the ways the show has tried to contain spoilers shows fans anything it's that they should expect nothing less from Game Of Thrones.