Here's What Tyrion Was Really Thinking During That Jon Snow-Daenerys Hookup Scene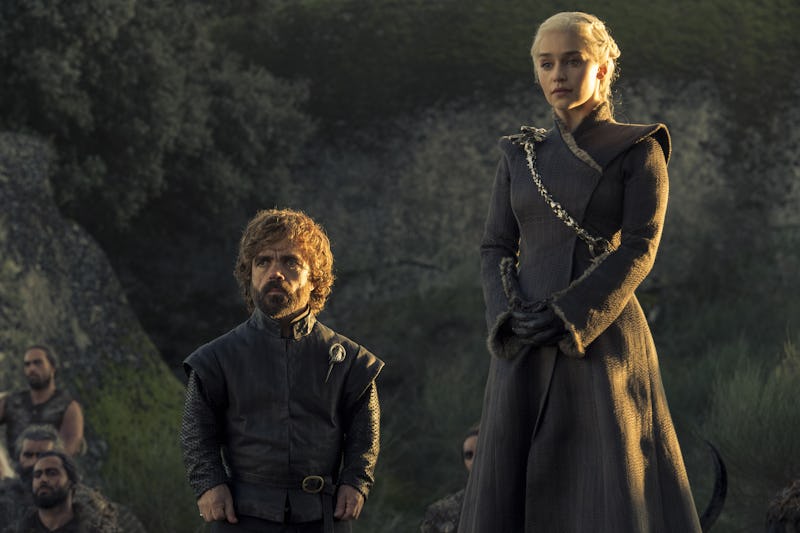 Macall B. Polay/HBO
The final season of Game Of Thrones is inching ever closer, but fans still have a lot of questions about last season. Specifically, what was Tyrion thinking during the scene of Daenerys and Jon Snow spending the night together? Turns out, the Game of Thrones Season 7 finale hookup might mean big things for Tyrion. And in a recent interview, Peter Dinklage revealed that it has everythign to do with Tyrion's complicated feelings for Dany and Jon Snow.
When Entertainment Weekly asked Dinklage about the pained look on Tyrion's face as he stood outside Dany's door while she got intimate with Jon Snow in the Season 7 finale, at first he didn't take it seriously. "Keep it down over there, I'm trying to get some sleep!" Dinklage joked as to what Tyrion was thinking. But then he amended his answer and got at the very deep thoughts that Khaleesi's right hand man had to be worrying over in that moment.
With Tyrion, Dinklage explained, it's always "professional and personal," admitting that like many fans, he believes Tyrion has a crush on Daenerys. "Obviously, he has feelings for Daenerys," Dinklage said. "He loves her — or thinks he does. She's awe-inspiring. He's questioning that because he doesn't have a good track record for falling in love."
That's an understatement considering what happened the last time his character was in love — Tyrion killed his love interest Shae (Sibel Kekilli) for betraying him before killing his father. And his second pseudo love interest, Sansa (Sophie Turner), was too young for him to think of as anything other than a sister despite being forced by his family to marry her.
To throw a wrench in this whole thing, Dinklage says that Tyrion also loves Jon Snow. "They're the two people [Tyrion] has the most in common with, in a way," Dinklage said of Jon and Daenerys. "They're both outsiders in their own families who have refused to follow the path their family has taken, and hopefully for the better."
Dinklage didn't deny that some of what Tyrion is feeling is jealousy. Tyrion's well aware that he's become the third wheel and will likely lose both of them if this relationship continues. But his worries about a Daenerys and Jon Snow romance go beyond his own feelings, he's worried about the future of the Iron Throne. "He's wondering how smart of a move [Jon and Dany getting romantically involved is], because passion and politics don't mix well," Dinklage said. "He knows the two of them getting together could be very dangerous."
Even more dangerous, perhaps, once Daenerys and Jon Snow find out that they're related. It was revealed last season that Jon Snow is actually the son of Rhaegar Targaryen and Lyanna Stark, which means Dany is technically his aunt. Some fans even wondered if Tyrion knows who Jon Snow's parents are and that's why he had such a worried look over his incestuous tryst with Dany.
While Dinklage didn't comment on that particular theory, it's clear that this this love triangle will play out next season. There are already Game Of Thrones final season theories about Daenerys and Jon Snow, including that the two may have a baby that could be the answer to the Azor Ahai mystery. Others think Daenerys will send Tyrion off after becoming more serious with Jon Snow. That is, if the rumors that Daenerys will die in the final season aren't true.
Whatever happens at the end of GoT, it's clear that Tyrion's feelings for Daenerys are likely only going to get even more complicated in Season 8. That makes it even harder to wait until next year for it to come back, but at least that gives fans time to come up with their Tyrion theories.