George & Amal Clooney Just Stepped In To Fight Trump's Immigration Policy In A Major Way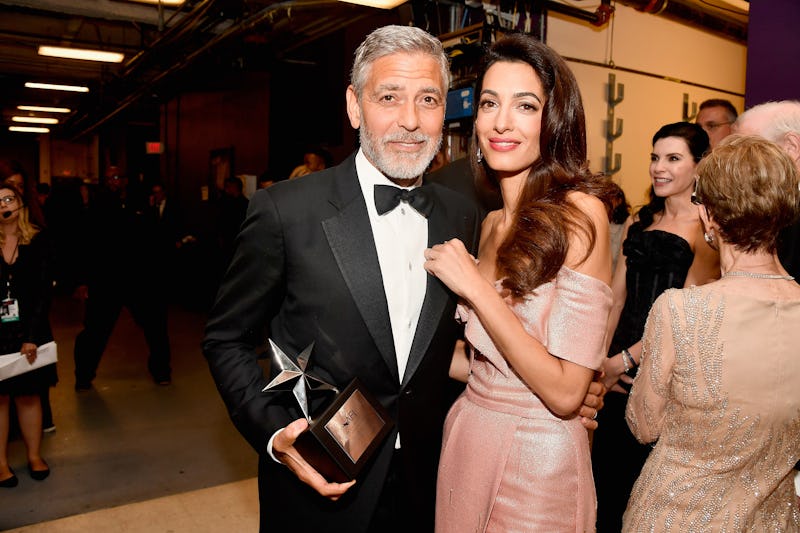 Frazer Harrison/Getty Images Entertainment/Getty Images
Hollywood isn't staying silent about the United States' border separation policy, which has led to children being taken from their parents. George and Amal Clooney donated $100,000 to help immigrant children, and they're far from the only ones who have taken action. The Clooney Foundation for Justice's donation will go to the the Young Center for Immigrant Children's Rights.
Clooney and his wife announced their donation on Wednesday amidst the news that immigrant children are being forcibly removed from their parents upon crossing the border illegally. In a statement provided to People about the donation, the Clooneys mentioned their own children, Ella and Alexander, who recently celebrated their first birthday. Here is the statement in full:
"At some point in the future our children will ask us: 'Is it true, did our country really take babies from their parents and put them in detention centers?' And when we answer yes, they'll ask us what we did about it. What we said. Where we stood. We can't change this administration's policy but we can help defend the victims of it."
Other celebrities have also taken action and spoken out about the separations. The people behind Netflix's One Day at a Time and Starz' Vida, for example, are working together to raise awareness about the border separations. One Day at a Time executive producer Gloria Kellett encouraged fans to donate to RAICES, which helps immigrant families pay their bonds.
A Wrinkle in Time director Ava DuVernay tweeted about the border separations, asking her followers to remember when they were children. "I look at myself as a girl and imagine having to travel unsafely in a quest for safety. Be forcibly separated from my mother," she wrote, sharing a photo of herself as a child. "Caged with people I don't know and who don't know me. Alone in a world I don't understand. Imagine this for the child you were. We cannot allow this."
And John Legend and Chrissy Teigen used President Trump's recent birthday as an occasion to donate to the ACLU to help immigrant families. Teigen wrote in a note she shared on Twitter,
"John and I are outraged to see and hear the horror stories of immigrant families seeking asylum and refuge in America being ripped apart due to the inhumane policies of the Trump administration. These actions are cruel, anti-family and go against everything we believe this country should represent. The ACLU is committed to defending the rights and humanity of these vulnerable families."
Angelina Jolie also wrote an op-ed for The Economist about the world refugee crisis, which some people have interpreted as being critical of the U.S. border separations. And George Takei wrote an essay for Foreign Policy about his experience at a Japanese internment camp. In his essay, Takei also referenced former first lady Laura Bush's Washington Post op-ed criticizing the border separations.
Of course, it's not just Hollywood speaking out against separating children from their parents at the border. Pope Francis has also criticized the policy and tweeted a reminder about human dignity, which transcends immigration status. "A person's dignity does not depend on them being a citizen, a migrant, or a refugee. Saving the life of someone fleeing war and poverty is an act of humanity," the Pope tweeted on Wednesday. And even Melania Trump released a statement to People, saying she "hates to see children separated from their families."
When criticized over the administration's policy, President Trump has said that Democrats are to blame for the separations at the U.S./Mexico border. On Wednesday, the president said that he'll soon "be signing something" addressing the policy, CNN reported. The executive action could end the process of separating parents and children.
It looks like people from plenty of different backgrounds, whether they're Hollywood stars or religious leaders, aren't happy about the border separations. And with his announcement Wednesday, President Trump might have confirmed that he's heard them loud and clear.