'Girl Meets World' May Be Saved By Its Loyal Fans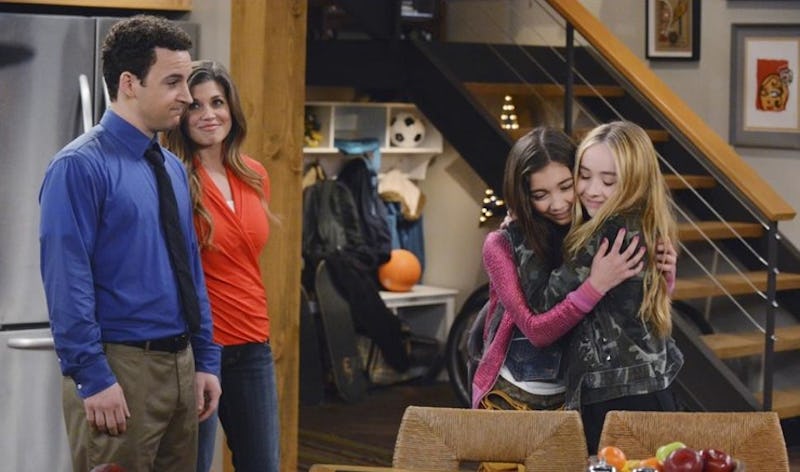 Disney Channel
Disney Channel's latest canceled series might not be done taking on the world just yet. According to Girl Meets World series creator Michael Jacobs, there's some real, tangible hope to hold onto. Hope in the form of another network — or streaming service — picking up the show. Jacobs told TVLine that Girl Meets World might be saved. Girl, meet an outpouring of support.
Jacob said, "There are talks underway, but we're at the very very beginning stages." He continued,
And I can tell you it's because of the audience's reaction to the cancellation that there is interest in other places. For anyone in show business, if you ask them why they're doing something and they say they're doing it for themselves, they won't sustain long. Those that answer "We're doing it for the audience" and mean it, they sustain.
Disney's spin-off to the millennial revered, TGIF masterpiece Boy Meets World, only aired for three seasons. Meaning GMW would not return for Season Four. Also meaning the viewers who expected to follow this cast into the throes of college, as was done in the original, are rightfully bummed. But in light — or in spite — of this, they're banding together with one goal in mind: to rescue Riley Matthews' world.
In the midst of a TV era where no one's immune to a revival or reboot, saving the show isn't some grandiose, pipe dream. With enough perseverance, it could happen. It certainly has before. (See: Arrested Development, The Killing, The Mindy Project, etc.)
To help with the cause, some savvy Girl Meets World supporters created a paper airplanes campaign. It enlists supporters to "make three paper airplanes," and then "send one to Hulu and one to Netflix requesting that they acquire Girl Meets World and produce new episodes. Then send one more to Disney Channel asking them to please sell the rights if someone offers." Additionally, fans put together a petition on Change.org, where they are "asking for another station such as Netflix, Hulu, Yahoo, or Freeform to pick the series up at it's fourth season." As of right now, more than 16,000 people have signed.
According to Jacobs, all this internet noise won't fall on deaf ears. He told TVLine, "Networks want to do something to gather an audience. The fact that there is an audience who's been so loyal says a lot."
Sabrina Carpenter quoted Federico Fellini in her recent, obligatory farewell-to-the-show post via Instagram and wrote, "There is no end. There is no beginning. There is only the infinite passion of life." To that effect, for fans of Girl Meets World, maybe this ending is just the beginning.
Netflix (or Hulu, or Yahoo, or Freeform), are you listening?