Nope, 'Girl Meets World' Isn't Heading To Netflix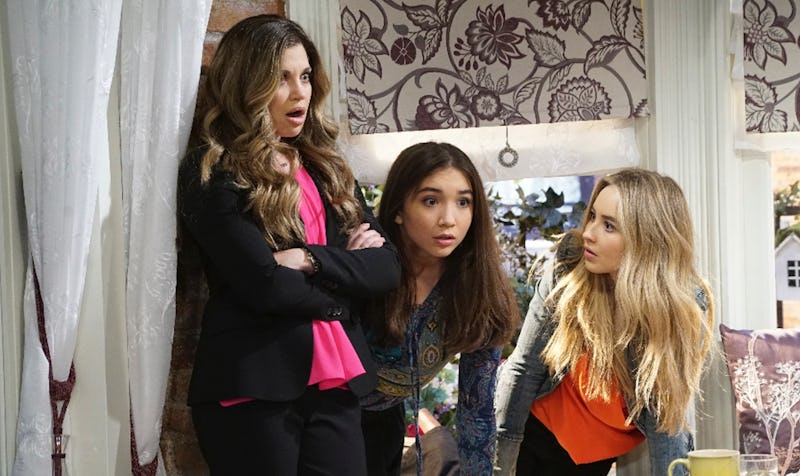 Disney Channel
Well, this is a bummer news item: On Thursday, The Wrap reported that Netflix will not pick up Girl Meets World. On Jan. 4, the news broke that the Disney Channel's spinoff of beloved sitcom Boy Meets World was canceled. In response, fans rallied behind the series, hoping that it might get scooped up by a streaming service. Alas, it looks like Netflix will not be the one to pull a Degrassi: Next Class (i.e., rescue the show) after all.
Now, Girl Meets World devotees should not give up quite yet, because another platform could still feasibly step up to the plate and save the day. And thank goodness for that possibility, because there is still a lot of story left. As showrunner Michael Jacobs previously told The Wrap,
"I don't think Girl should have been canceled. We signed to do four seasons. I thought we would be able to tell stories through four seasons. That's the way we set it up. It was going to be a remarkable final year. But I understand, things end."
Hey, Hulu? Or Amazon? Or Seeso? Or Apple TV? Not to be super pushy or anything, but I bet a lot of Girl Meets World fans would be beyond happy to see that fourth and final season. Just, uh, putting that out there.
In addition to being a funny and wildly charming show, Girl Meets World is an incredibly vital part of the Disney Channel roster. The program does not shy away from real-life subjects, addressing topics such as cultural appropriation, autism, and cyberbullying. It also has proven itself to be a feminist and empowering series, tackling subjects like girls in STEM and the importance of female friendships. Truly a shame to see it (potentially) leave us once and for all.
But again, it might not be gone for good. If you're a Girl Meets World fan, keep on crossing those fingers and speaking out; there are other streaming platforms that could save the series. Let's hope this Friday's Season 3 finale isn't the last we see of Riley Matthews and Maya Hart.