Glenn Close's Massive Gold Oscars Cape Apparently Weighs 42 Pounds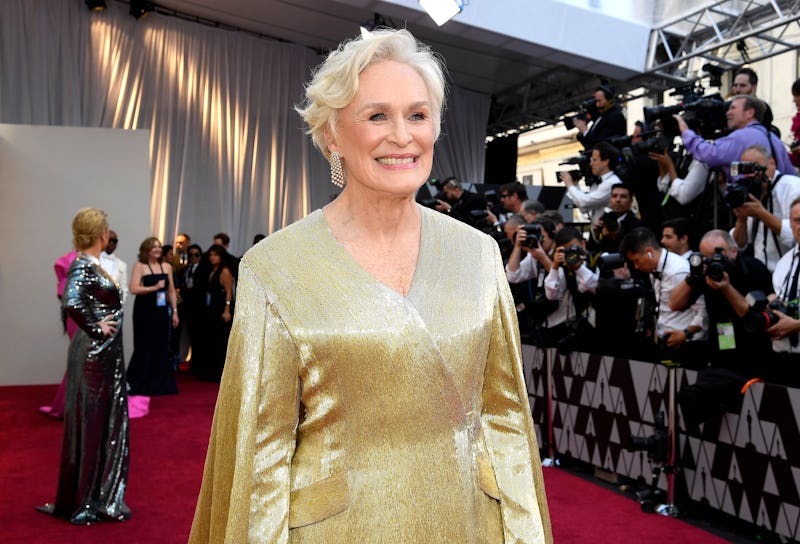 Kevork Djansezian/Getty Images Entertainment/Getty Images
If you think that red is a power color when it comes to award season, think again because Glenn Close's 2019 Oscars red carpet outfit proves that nothing says winner like a giant gold cape. The acclaimed actor took to the Oscars carpet matching the famous trophy and looking like Queen Midas.
While pantsuits and pink seemed to be ruling the 2019 Oscars red carpet, Glenn Close appeared and shut down the entire thing in a giant gold cape and column silhouette gown. The golden, metallic ensemble is regal AF, and given that it matches the trophy she's nominated for tonight, the veteran actor could be trying to send winning vibes out into the universe. Or, you know, she's just wearing a stunning gown.
The dress's golden sheen isn't the only impressive part of Close's ensemble. In an interview with E!'s Ryan Seacrest, Close revealed that her cape weighs a massive 42 pounds. In fact, in her interview with Seacrest, the host attempted to pick up the cape only to remark on just how heavy it truly is. The dress, by Wes Gordon of Carolina Herrera, also features a truly jaw dropping 4 millions beads. If you were wondering why the dress is so heavy, those beads are probably why.
If you're going to have a train, why not a train of 4 million gold beads?
You may have thought Close's ensemble couldn't get any more shiny, but check out her accessories. The star of The Wife is wearing Cartier earrings and two Cartier rings with her fashion super woman cape.
At the 2019 Oscars, Close is nominated for her role in The Wife. The film, based on the novel by Meg Woltizer, follows Joan Castleman whose husband is awarded the Noble Prize for Literature. In the movie, audiences watch as Close's character questions her life and reflects on the choices that led her to Stockholm with her husband as he accepts the award.
Close's performance in the film has already won her accolades. In Jan. 2019, she won the Golden Globe for Best Actress in a Motion Picture Drama. At the award show, Close used her role in the film to send a message to women stating, "We have to find personal fulfillment. We have to follow our dreams. We have to say: I can do that. And I should be allowed to do that."
Glenn Close's 400 million bead, 42 pound golden Oscars cape may just be a way to carry her luck from the Golden Globes into the Oscars. The actor may not have wore a fully beaded cape to the first award show of 2019, but she did, in fact, wear a cape. The solid black cape dress with crystal details served her well that night. Her 2019 Oscars cape could do the same tonight.
If you were hoping for a show stopping moment on the 2019 Oscars red carpet, Glenn Close's 42 pound, 4 million bead cape dress was definitely it.